July/August 2021
By Kelsey Davenport and Julia Masterson
Iran's election of conservative cleric Ebrahim Raisi to be the country's next president may complicate efforts to restore the United States and Iran to compliance with the 2015 nuclear deal, but is unlikely to alter Tehran's interest in reviving the accord.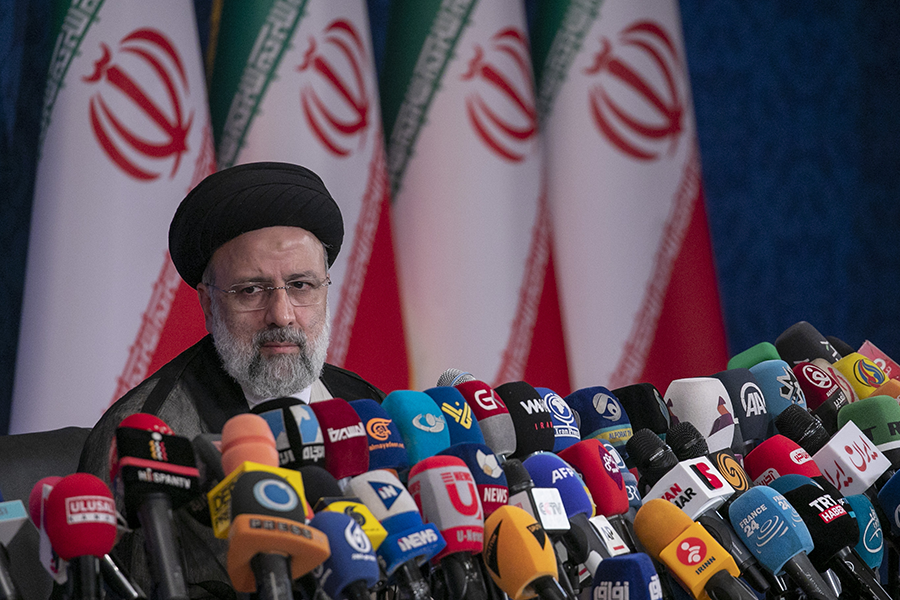 Raisi, the former head of the judiciary and a potential successor to Supreme Leader Ayatollah Ali Khamenei, opposed the nuclear deal in 2015, but during the campaign voiced his support for restoring it. Although Raisi will not take office until August, he is expected to weigh in on the ongoing negotiations to restore the deal, known as the Joint Comprehensive Plan of Action (JCPOA).
Raisi's election was expected after a number of possible challengers were ruled ineligible to run by the 12-member Guardian Council, which vets and approves all presidential candidates.
Raisi won 62 percent of the vote, but less than half of eligible voters cast ballots, suggesting low enthusiasm for the candidates. In the 2017 presidential election, when Raisi ran unsuccessfully against incumbent Hassan Rouhani, 73 percent of the population voted.
Prior to the election, Deputy Foreign Minister Abbas Araghchi, Iran's lead nuclear negotiator, told al-Jazeera that if Raisi were elected, "there will be no disruption" in talks to restore the nuclear deal. He said that Iran's policies are "unchanging, irrespective of different administrations."
U.S. National Security Advisor Jake Sullivan similarly said that Iran's position on talks to restore the JCPOA is unlikely to change with Raisi's election. Sullivan told ABC on June 20 that the "ultimate decision" to return to the deal will be made by the supreme leader and "he was the same person before the election as he is after the election."
In a June 21 press conference, Raisi reiterated Iran's position on restoring the deal, saying that U.S. sanctions must be lifted and their removal verified.
The sixth round of indirect talks between the United States and Iran on restoring the JCPOA wrapped up June 20, two days after the election.
Araghchi told journalists that day that progress has been made in all areas, but some "major differences" have not been resolved. He said the remaining issues "require serious decisions in the capitals."
Mikhail Ulyanov, Russia's ambassador to international organizations in Vienna, tweeted on June 17 that progress was made during recent talks on one of the most controversial issues, the sequencing of steps each side needs to take. He also noted that "difficult and time-consuming topics" remain unresolved.
One of the outstanding issues appears to be Iran's demand that the United States provide some guarantee that it will not withdraw from the nuclear deal again and reimpose sanctions, as President Donald Trump did in May 2018. Araghchi told Iranian state TV on June 20 that Iran seeks "guarantees that assure" that "what the previous [U.S.] administration did…will not happen again." He said some progress has been made on this issue but it requires more work.
Another issue that does not appear to have been resolved is the U.S. desire for Iran to agree to future talks on a range of issues once the nuclear deal is restored. U.S. President Joe Biden has signaled his determination to pursue further negotiations with Iran to build on the nuclear deal and to address regional security issues.
Raisi's election may complicate those goals. In his June 21 press conference, Raisi said Iran seeks a balanced relationship with the outside world and the country's foreign policy does not begin and end with the nuclear deal. He said that Iran's ballistic missile program will not be a subject of negotiations. Raisi also asked why Iran should engage with the United States on a broader range of issues when Washington has not met its obligations under the nuclear deal.
U.S. policymakers have frequently raised concerns about Iran's ballistic missile activities, which are limited by UN Security Council Resolution 2231 but not covered by the nuclear deal. Biden is also under pressure to force Iran to end support for its militant proxies such as Hamas in Gaza and the Houthis in Yemen. State Department spokesperson Ned Price said in a June 21 press briefing that the administration is confident that if the nuclear deal is restored, the United States will have "additional tools" to address issues outside of the nuclear deal, including ballistic missiles. He said Iran has "no doubt" about where the United States stands on follow-on diplomacy.