July/August 2020
By Julia Masterson
Tensions between North and South Korea have escalated after Pyongyang cut all communications lines and later demolished the inter-Korean liaison office in Kaesong, North Korea, on June 16. South Korean Unification Minister Kim Yeon-chul, who previously oversaw relations between South and North Korea, resigned June 19.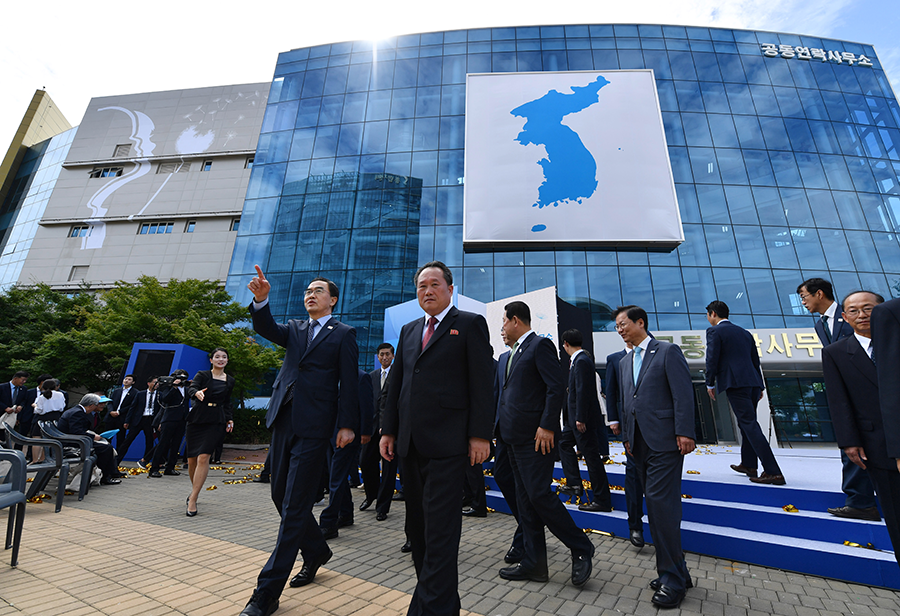 The liaison office was established following the 2018 Panmunjom Declaration, which laid out a list of commitments shared by the two Koreas "to boldly approach a new era of national reconciliation, peace and prosperity, and to improve and cultivate inter-Korean relations in a more active manner." The declaration was concluded at an April summit between South Korean President Moon Jae-in and North Korean leader Kim Jong Un, following a period of newfound bilateral cooperation.
The office was used to facilitate diplomatic relations between the two Koreas. Weekday inter-Korean phone calls took place twice daily through the office since its establishment in September 2018, until North Korea cut that and all other communications lines with South Korea on June 8.
Two weeks later, North Korea's state-run Korean Central News Agency (KCNA) revealed Pyongyang's plan to release 12 million propaganda leaflets into South Korea, in response to the scattering of anti-North Korea leaflets at the countries' border in early June. Seoul came forward to say that move was conducted by several South Korean nongovernmental organizations, but Pyongyang holds South Korean authorities near the demilitarized zone responsible for the act. Propaganda leaflets are a relic of the Cold War and were common across the North-South border in the early 1950s.
The distribution of propaganda leaflets violates the Panmunjom Declaration, under which both countries pledged to cease "all hostile acts" on the Military Demarcation Line that spans their border.
Kim Jong Un's sister, Kim Yo Jong, said June 4, "I would like to ask the South Korean authorities if they are ready to take care of the consequences of evil conduct." She heads the Central Committee of the Worker's Party of Korea, North Korea's highest political body. "The South Korean authorities will be forced to pay a dear price if they let this situation go on while making sort of excuses," she said.
North Korea pledged on June 17 to ready its military for deployment near the demilitarized zone that divides the two Koreas, as well as to the southwestern maritime front, but later reneged on that threat. A KCNA statement June 24 clarified that North Korea's military leadership "took stock of the prevailing situation and suspended military action plans against the south."
Kim Yong Chol, vice chairman of the Central Committee of the Workers' Party of Korea, remarked June 24 that a détente of inter-Korean relations could only be achieved "by efforts and patience of both sides based on mutual respect and trust." He warned, however, that "nothing will turn out favorable when our suspension becomes reconsideration," adding that South Korea must "realize that self-control is the key to tiding over the crisis."
Although the scattering of leaflets across the border exacerbated tensions, North Korea's heightened hostility toward South Korea appears fueled by Seoul's long-standing efforts to promote U.S.-North Korean dialogue on denuclearization amid souring inter-Korean relations.
Kwon Jong Gun, the, director-general of U.S. affairs in the North Korean Foreign Ministry, noted on June 13 that South Korean authorities had voiced their support for a resumption of U.S.-North Korean talks. "I still remember that exactly one year ago, we advised them to stop fooling around in such a nasty manner," Kwon said, adding that "it is not because there is not a mediator that the [North Korean]-U.S. dialogue has gone away and denuclearization been blown off."
A KCNA commentary on June 19 relayed that North Korea was "fed up with the disgusting acts of the South Korean authorities who accepted the 'South Korea-U.S. working group' even before the ink on the north-south agreement got dry," referring to a body established in the fall of 2018 to strengthen coordination between Seoul and Washington on efforts to achieve North Korean denuclearization. Behind the scenes, the June 19 statement continued, South Korea remains "engrossed in military exercises with the foreign force" and has "connived at the leaflet-scattering by the human scum ten times last year and three times this year, reneging on the promise to halt hostile acts in frontline areas."
South Korea's presidential Blue House stated on June 17 it would "not endure" continued condemnation from Pyongyang and added that repeated criticism of Seoul transmitted through the KCNA was counterproductive to efforts to build trust between the two Koreas.
Seoul's chief nuclear negotiator met with U.S. Deputy Secretary of State Stephen Biegun on June 18 to "assess the current situation on the Korean peninsula and discuss responses."