April 2020
By Julia Masterson
North Korea launched a series of short-range missiles in March, marking its first missile tests in 2020 and signaling Pyongyang's intent to follow through with leader Kim Jong Un's promise to possess a "new strategic weapon" in the near future. Kim announced North Korea would continue to develop "necessary and prerequisite strategic weapons" throughout the year in his speech at a plenary meeting of the 7th Central Committee of the Worker's Party of Korea, held Dec. 28–31.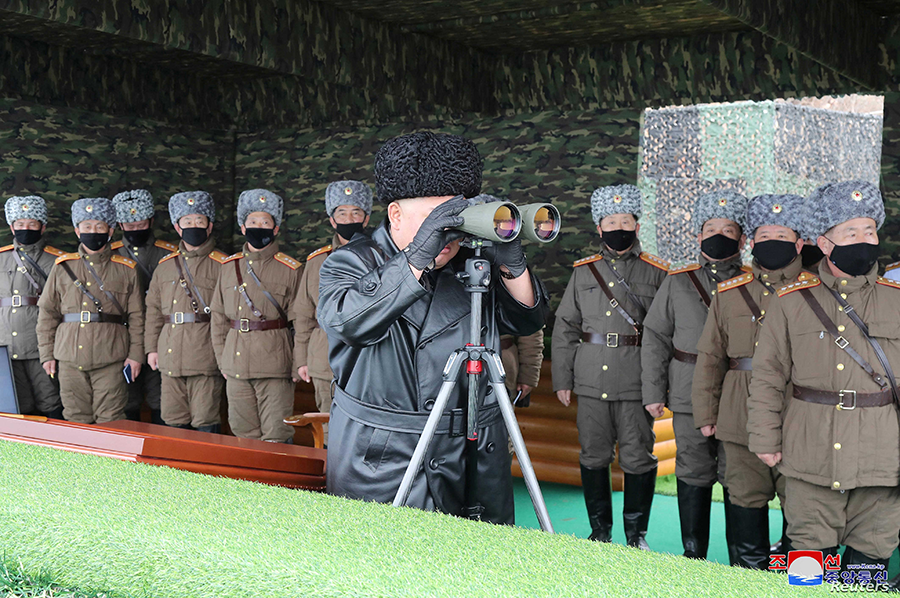 Images released by Pyongyang's Korea Central TV confirm that the two short-range ballistic missiles launched on March 21 had similar features to the KN-24 missile last tested in August 2019. Kim oversaw the recent test, according to a March 22 statement in the state-run Korean Central News Agency (KCNA).
The statement said that the tested missile will "be delivered to [Korean Peoples' Army] units," which analysts have speculated may indicate the missile could soon be operational. In a statement a day earlier, KCNA reported the launches were part of an "artillery fire competition between large combined units of the Korean People's Army."
The launch came after weeks of successive short-range ballistic missile tests by North Korea following a Feb. 29 KCNA announcement that Kim had overseen a military drill intended to "judge the mobility and the fire power strike ability" of North Korea's Korean People's Army's defense units.
All the March tests appear to have been of short-range ballistic missiles, meaning they can fly less than 500 kilometers. Two missiles launched on March 2 bore some similarity to previous flight tests of North Korea's KN-25 short-range ballistic missile, according to Michael Elleman, a missile expert at the International Institute for Strategic Studies (IISS). A statement released on March 2 by South Korea's Joint Chiefs of Staff (JCS) via the Yonhap News Agency further identified "similarities in features between what it fired [March 2] and those launched last year."
North Korea also tested three projectiles on March 9, all of which were KN-25 missiles, according to recently released IISS assessments.
"North Korea is believed to be continuing its joint strike drill," said a senior South Korean JCS officer. Kim oversaw the March 9 launches and expressed "great satisfaction" and "highly appreciated the perfect combat readiness of the long-range artillery sub-units," the KCNA reported the following day.
Those tests came one day after the North Korean Foreign Ministry responded through the KCNA to a joint statement released by five UN Security Council members condemning the March 2 launches. "The reckless behavior of these countries instigated by the U.S. will become the fuse that will trigger yet another momentous reaction," the Foreign Ministry said.
After a March 5 meeting of the Security Council, Belgium, Estonia, France, Germany, and the United Kingdom urged North Korea to "engage in good faith in meaningful negotiations with the United States aimed at denuclearization" and to abandon "all weapons of mass destruction and ballistic missile programs in a complete, verifiable, and irreversible manner."
South Korea's presidential office said on March 9 that "North Korea continuing to stage joint massive artillery drills following those on Feb. 28 and March 2 does not help efforts to bring peace to the Korean peninsula."
Despite allies' mention of meaningful negotiations between the United States and North Korea, discussions on denuclearization and peacebuilding appear to remain stalled. (See ACT, March 2020).