May 2020
By Julia Masterson
Pyongyang is no longer interested in diplomatic dialogue with Washington, according to a March 31 statement published by the state-run Korean Central News Agency (KCNA). "We will go our own way. We want the U.S. not to bother us. If the U.S. bothers us, it will be hurt," the statement asserted.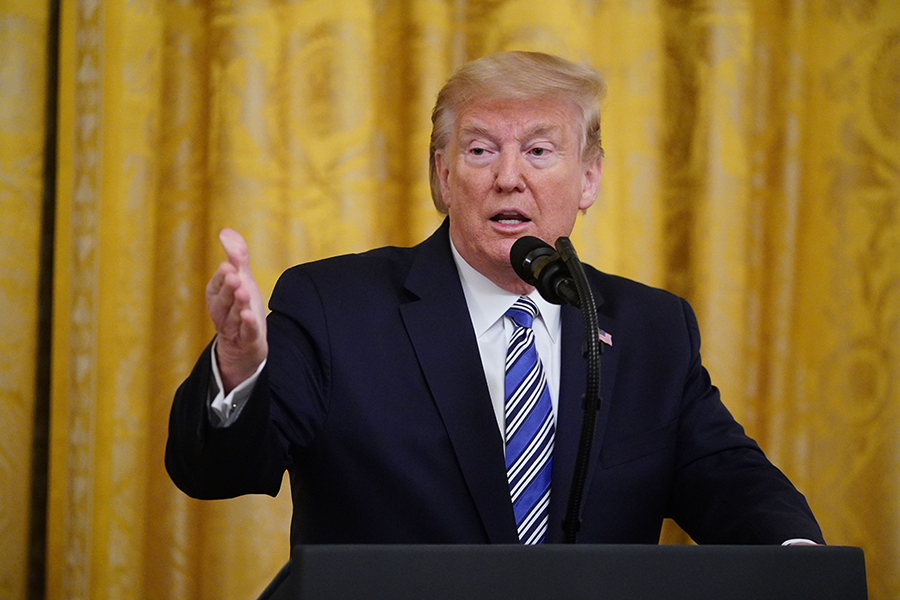 The statement, authored by the unnamed director-general of North Korea's new Foreign Ministry for Negotiations With the United States, was written in response to U.S. Secretary of State Michael Pompeo's plea to world leaders at the Group of Seven summit in March to "stay committed to applying diplomatic and economic pressure over [North Korea's] illegal nuclear and ballistic missile program."
Days before the summit, North Korea announced on March 22 through the KCNA that U.S. President Donald Trump had penned a personal letter to leader Kim Jong Un offering support through the coronavirus pandemic. North Korea has rejected such assistance from the United States, but accepted humanitarian assistance from other states.
Pompeo's remarks on the heels of Trump's offer led Pyongyang to "misjudge who the real chief executive is" in the United States. According to the March 31 statement, "[H]earing Pompeo's reckless remarks, we dropped the interest in dialogue with further conviction, but have become more zealous in our important planned projects aimed to repay the U.S. with actual horror and unrest for the sufferings it has inflicted upon our people."
An April 14 statement published by the KCNA notes that North Korea's recently implemented annual state budget calls for "increasing the capability of national defence, by adjusting and reinforcing the economy as a whole, and concentrating investment in the training of talents and developing science and technology." Changes to the national budget are reflective of North Korea's ideological drive for self-reliance and self-defense.
At a meeting of the 7th Central Worker's Party of Korea in December 2019, Kim said that "the huge and complicated work of developing the ultramodern weapon system possessed only by countries with advanced defence science and technology presupposed [Pyongyang's] own innovative solution in terms of the scientific and technical aspect without anyone's help." Kim announced North Korea's planned possession of a "promising strategic weapon" that would guarantee the country's sovereignty and right to existence.
North Korea's criticism of U.S. calls for maintaining international sanctions and its declaration of intent to improve its military capabilities are likely designed to show the regime's frustration with what it sees as the inflexible position of the United States on denuclearization and peace talks following the unsuccessful Trump-Kim summit in Hanoi.
North Korea also continues to test new missile systems, including on April 14, the eve of the birthday of the North Korea's first leader, Kim Il Sung, and South Korea's general election. According to preliminary assessments by the South Korean Joint Chiefs of Staff, the round of tests on April 14 are believed to have been North Korea's first launch of a cruise missile since June 2017.
A spokesperson for the U.S. State Department told South Korea's Yonhap News Agency on April 15 that Washington "continue[s] to call on North Korea to avoid provocations, abide by obligations under U.N. Security Council Resolutions, and return to sustained and substantive negotiations to do its part to achieve complete denuclearization."
Other U.S. officials, however, have downplayed the significance of the North Korean missile tests. Chairman of the U.S. Joint Chiefs of Staff Gen. Mark Milley noted in an April 14 Pentagon briefing that the missile tests were not "particularly provocative or threatening" to the United States. Rather, he said they may have been "tied to some celebrations that are happening inside North Korea, as opposed to any deliberate provocation" against the United States.
Since announcing it would no longer be bound by its self-imposed moratorium on nuclear and long-range missile testing, North Korea has conducted five rounds of tests of shorter-range missiles in 2020. (See ACT, April 2020.) North Korea has not tested a long-range missile since ending its moratorium, but many independent missile experts assess that Pyongyang's continued testing of its shorter-range systems are an indication that North Korea is also pursuing the further development of longer- and possibly intercontinental-range missiles.