Volume 12, Issue 7, October 7, 2020
Four months remain until the last U.S.-Russian nuclear arms control treaty is slated to expire Feb. 5, 2021, and with it the last remaining verifiable limits on the size of the still enormous U.S. and Russian nuclear arsenals.
Unfortunately, the Trump administration has so far refused Russia's offer to extend the 2010 New Strategic Arms Reduction Treaty (New START) for five years as allowed by the treaty.
Instead, the administration has conditioned consideration of a short-term extension of New START on Russia's acceptance of a one-sided, 11th hour offer that Russia has rejected. In recent days, the two sides have exchanged additional ideas with U.S. officials claiming some measure of "progress."
The stakes could not be higher. The untimely death of New START with nothing to replace it would open the door to a costly and dangerous new quantitative U.S.-Russian nuclear arms race.
Barring an October surprise in which President Trump orders a more reasonable approach than what the administration has currently offered to Russia, the fate of the treaty will likely be decided by the presidential election Nov. 3. Former Vice President Joe Biden has expressed support for an extension of New START without conditions.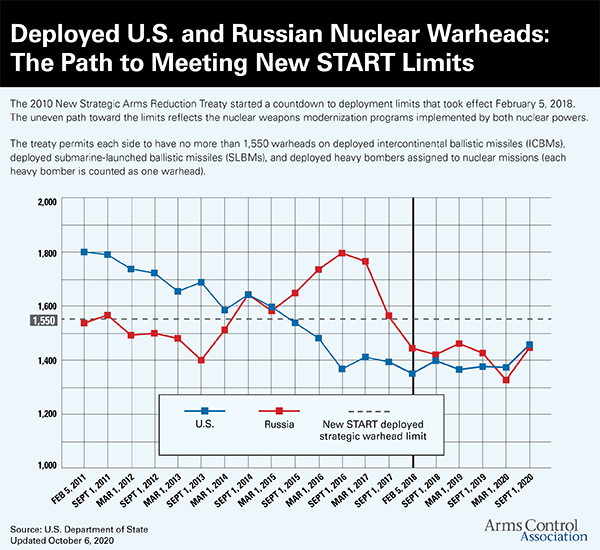 The U.S. August Proposal
Following an August meeting in Vienna with Russian Deputy Foreign Minister Sergey Ryabkov, U.S. Special Presidential Envoy for Arms Control Marshall Billingslea sketched out the U.S. proposal for a politically binding framework deal with Russia. The framework, he said Aug. 18, must cover all nuclear warheads, establish a verification regime suitable to that task, and be "extensible" to China in the future.
In addition, Billingslea characterized New START as "a deeply flawed deal negotiated under the Obama-Biden administration" and alleged the agreement has "significant verification deficiencies." He said President Trump would not agree to extend New START unless these purported deficiencies, including an inadequate number of inspections, are fixed. Billingslea later clarified that even if Russia agrees to the U.S. terms, only a short-term extension, likely no more than a year, is on the table.
"[I]f Russia would like to see that treaty [New START] extended, then it's really on them to come back to us," Billingslea said, citing a mandate from Trump. "The ball is now in Russia's court."
Trump administration officials insist that the conditions represent a reasonable offer. They note that China's immediate participation in trilateral arms control talks is no longer a condition for consideration of an extension of New START (though they continue to insist that the framework agreement must specifically mention China and that the next arms control treaty must include China).
Left unsaid is what the administration is willing to put on the table in return for Russia agreeing to the U.S. demands. The answer appears to be that Russia must agree to the U.S. demands for free.
Meanwhile, the administration should not get credit for being mugged by reality and relaxing its insistence on China's immediate participation in talks. There was never any chance that China would do so, despite Billingslea's ineffective efforts to embarrass China to the table.
Predictably, Russia has repeatedly poured cold water on the administration's proposal, calling it "absolutely unrealistic." Ryabkov reiterated Oct. 1 that the U.S. proposal is "clearly a nonstarter for us."
In addition to making unrealistic demands, the administration has resorted to wild threats and petty insults in an attempt to coerce and embarrass Russia to the table. Billingslea is now publicly saying that if Russia refuses the unrealistic U.S. terms, "we will be extremely happy to continue…without the START restrictions" and threatened that the United States would immediately begin building up its nuclear arsenal the day after New START expires. He has also threatened to slap additional conditions on the U.S. offer if Russia does not accept it by the November election.
Such an approach has zero chance of success and is far more consistent with running out the clock on New START (and trying to pin the blame on Russia and China) rather than a serious effort to make progress on further arms control.
The Latest Exchanges
Billingslea and Ryabkov met again Oct. 5 in Helsinki. A senior Trump administration official told The Wall Street Journal that "substantial progress" was made at the meeting and that Russia brought "concrete proposals" to the table for the first time. The official added that the framework agreement the sides are discussing would include a politically binding commitment to freeze the total number of warheads possessed by each side and entail a short-term extension of New START.
A statement released by the Russian Foreign Ministry after the talks said only that "further prospects on the track of bilateral cooperation on arms control" had been discussed. As Billingslea and Ryabkov were meeting in Helsinki, Russian Foreign Minister Sergey Lavrov expressed his belief that New START "is going to die." He said that "The conditions they [the Trump administration] set are absolutely unilateral and do not take into account either our interests or the experience of many decades, when arms control was enforced to everyone's satisfaction and was welcomed by all countries."
A politically binding warhead freeze could be a useful confidence-building measure as Washington and Moscow engage in what are sure to be complex and lengthy talks on a new nuclear disarmament agreement. However, it remains to be seen what such a freeze would entail, what Russia might seek in return, and whether the Trump administration is open to relaxing its heretofore unacceptable conditions for a deal, especially the demand for changes to the New START verification regime.   
The Case for Extending New START
New START caps the U.S. and Russian strategic nuclear arsenals at 1,550 deployed warheads and 700 deployed missiles and heavy bombers each. It also put into place a verification regime greatly valued by the U.S. military for the insight it affords into the Russian nuclear arsenal.
Article XIV of the treaty allows for an extension "for a period of no more than five years" so long as the U.S. and Russian presidents mutually agree. Members of Congress from both parties and most U.S. allies have expressed support for the treaty's five-year extension.
The pursuit of a new arms control agreement that captures all types of nuclear warheads and additional nuclear-armed states is a laudable goal. But not if that pursuit comes at the expense of or as a condition for extending New START. New START should be extended for the full five years in order to ensure that the verifiable limits put into place by the treaty do not disappear as talks on a new agreement are pursued. New START is too valuable to allow to expire.
If New START lapses with nothing to replace it, there would be no negotiated limits on the U.S. and Russian nuclear arsenals for the first time since 1972. The end of the treaty would further damage relations with our allies, undermine the fraying health of the global nonproliferation regime, exacerbate an already fraught U.S.-Russian bilateral relationship, and provide Washington and Moscow with a greater incentive to make additional costly nuclear force investments.
Below are additional key points about the case for extending New START for five years and the problems with the Trump administration's proposal for a new framework agreement with Russia.
The U.S. military greatly values and relies upon the verification regime established by New START. Billingslea has argued that the New START verification regime "has significant loopholes in the way verification is physically conducted, which the Russians have been exploiting." But the U.S. military has raised no such concerns.
New START's extensive monitoring and verification regime provides essential real-time insights directly into Russian strategic forces and modernization programs. Allowing the treaty to die would deprive us of a vital flow of information about Russia's strategic forces that cannot be obtained via other means.
Vice Adm. David Kriete, deputy commander of U.S. Strategic Command, said in July 2019 that "those verification procedures that the U.S. gets to execute all the time provides great insight into Russia's capabilities, numbers, and all kinds of things associated with their nuclear weapons." If those procedures disappeared, he said, then "we would have to go look for other ways to fill in the gaps."
The treaty's verification regime is more than adequate to monitor Russia's compliance with the treaty. Indeed, a State Department report published in February reiterated that Russia remains in compliance with the treaty and that the treaty limits and the "verification regime established by the treaty both regulate competition and provide key data, information, and insights regarding Russian strategic nuclear forces."

Rose Gottemoeller, the chief U.S. negotiator of New START during the Obama administration, recently wrote that New START's verification setup used what worked in previous treaties and discarded what was no longer necessary and cumbersome and costly to implement. "In the end," she said, "the United States got what it wanted in the New START verification regime: streamlined inspection procedures at a sufficient level of detail to be effectively implemented."
There is no evidence that withholding an extension of New START or dangling a short-term extension of the treaty enhances U.S. leverage to push Russia to agree to U.S. demands for a bilateral framework agreement or a new trilateral arms control treaty. The Trump administration believes that Russia is "desperate" to secure an extension of New START. But Russia has said that it will not agree to an extension "at any cost." Ryabkov said Sept. 21 that the Trump administration needs to give up its preconditions for extension "and then we can start the talks about something, or there's no deal."
The administration's refusal to date to extend the treaty by five years has produced no meaningful leverage. Moreover, assuming Moscow would even agree to multiple short-term extensions totaling less than five years, preparing and posturing for such extensions would distract from the broader talks the administration says it seeks.
A five-year extension would provide the most breathing room to pursue negotiations on a new deal. U.S.-Russian nuclear arms control negotiations have in the past been complex and time-consuming, and the Trump administration is proposing an agreement unprecedented in scope. The Strategic Arms Limitations Talks (SALT), for example, took place from November 1969 to May 1972. New START was notable for the relatively short time it took to negotiate, but it still took the United States and Russia 10 months.
The Trump administration does not have a successful track record trying to force Russia's hand on arms control. For instance, the Trump administration's threats to withdraw from the 1987 Intermediate-Range Nuclear Forces (INF) Treaty did not bring Russia back into compliance, and the United States officially withdrew from the treaty in August 2019. Likewise, the U.S. announcement in May of its intent to withdraw from the 1992 Open Skies Treaty has not pressured Russia to address U.S. concerns about Russia's implementation of the accord. The United States is slated to formally exit the treaty shortly after the election.
The outcome of U.S. efforts to seek new arms control arrangements will succeed or fail based on whether those arrangements comport with the security interests and address the concerns of the parties involved. Neither Russia nor China can be coerced or embarrassed to the negotiating table (and Moscow has said that it will not cave to U.S. pressure to force Beijing to join trilateral arms control talks).
Apart from allowing New START to expire and threatening a nuclear buildup, the Trump administration has refused to detail what the United States is willing to put on the table to incentivize Russia (and China) to agree to the administration's arms control goals. Any agreement as sweeping and unprecedented as the one proposed by Billingslea will, of course, require mutual concessions by both Washington and Moscow. But as it stands, the politically binding framework proposed by Billingslea demands unilateral concessions from Russia.

In addition to China, Russia has long called for France and the United Kingdom to join the next arms control agreement after New START. Moscow also seeks to capture other factors it deems essential to maintaining strategic stability, such as missile defense, ground-based short- and intermediate-range missiles, space weapons, and hypersonic weapons. As the United States wants an agreement that covers Russia's unconstrained stockpile of nonstrategic, or tactical, nuclear weapons, so does Russia want Washington to remove the estimated 150 U.S. tactical nuclear bombs based in five European countries.

But Billingslea has already dismissed the idea of limits on U.S. missile defense as well as the removal of U.S. tactical weapons in Europe.

There is no national security need to increase the size of the U.S. nuclear arsenal above the New START limits, and the Pentagon and National Nuclear Security Administration (NNSA) are unprepared to do so anyway. Following Billingslea's threat that the United States will start increasing the arsenal after New START expires, news reports revealed that the Pentagon has been asked to evaluate how long it would take to execute a buildup. Billingslea does not appear to have consulted the Pentagon before making his threat.
James Anderson, the undersecretary of defense for policy, wrote in July that, "Our intention is to remain within the New Start limits of 700 strategic missiles and bombers and 1,550 deployed strategic warheads." According to a July 30 report by the Government Accountability Office, the Pentagon "is basing its plans on the assumption that New START will be extended, and it currently has no plans to change its force structure."
The United States has not increased the size of the U.S. deployed nuclear arsenal in decades and doing so would be a major departure from longstanding U.S. policy.
Billingslea's call for a nuclear buildup follows his outlandish claim earlier this year that the United States can spend Russia and China "into oblivion" in a new arms race. More U.S. spending on nuclear weapons won't force the current Russian and Chinese leadership to capitulate to maximalist U.S. demands and would be fraught with peril.
The United States is already planning to spend an excessive sum to sustain and upgrade the current arsenal, which is based on the New START limits. As a recent report by the Congressional Budget Office demonstrated, the possibility of unconstrained nuclear competition could create even greater costs that would divert funding from higher priority U.S. national and health security priorities.
Ever-increasing spending on nuclear weapons without an arms control framework that bounds U.S. and Russian nuclear forces is a recipe for a less secure United States. Such an approach also flies in the face of longstanding bipartisan Congressional support for the pursuit of modernization and arms control in tandem.
Extend New START Now
The Trump administration's approach to arms control with Russia has not been a serious starting point for negotiations on extending or replacing New START.
With little more than four months until New START expires, the best course forward is to immediately extend the treaty for a full five years and then pursue follow-on agreements that address legitimate U.S. and Russian concerns about unconstrained nuclear weapons, the nuclear arsenals of other nuclear-armed states, and non-nuclear weapons and policies that could impact strategic stability.
Extending New START would prolong the limits on Russia's deployed strategic forces, continue an otherwise unobtainable flow of information about those forces, and provide the necessary foundation from which to seek more far-reaching arms control goals.
The Trump administration's demand for unilateral concessions from Moscow in exchange for a short-term extension of New START is a recipe for failure and risks setting the United States on the road to an expensive arms race that it can ill afford.—KINGSTON REIF, director for disarmament and threat reduction policy, and SHANNON BUGOS, research assistant