November 2018
By Kingston Reif
President Donald Trump announced in October that he plans to "terminate" the 1987 Intermediate-Range Nuclear Forces (INF) Treaty, raising concerns about the return of Cold War-style tensions over U.S. and Russian deployments of intermediate-range missiles in Europe and elsewhere and the future of the 2010 New Strategic Arms Reduction Treaty (New START).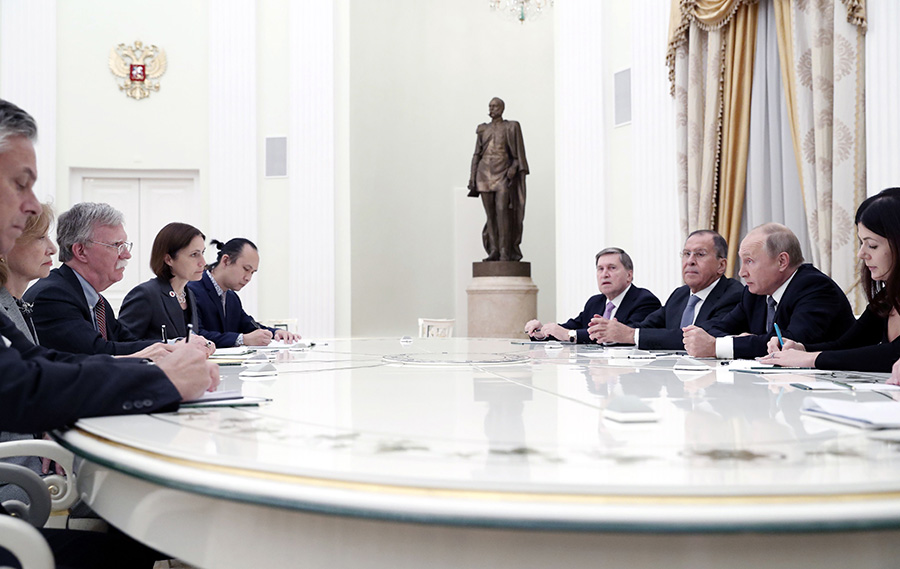 Trump's sudden decision follows a years-long U.S.-Russian dispute about whether Moscow has developed and deployed a prohibited missile, known by its apparent Russian designation 9M729, and comes amid fears expressed by some government officials and defense policy experts that China, which is not a party to the INF Treaty, is gaining a military advantage in East Asia by deploying large numbers of treaty-noncompliant missiles.
Still, critics of Trump's withdrawal plan argue that it recklessly removes all constraints on the deployment of Russia's illegal missiles, lets Russia off the hook for its violation, and goes against the wishes of allies in Europe and elsewhere who want to preserve the treaty. They also claim that the administration has not exhausted all diplomatic, economic, and military options to pressure Russia to return to compliance and that the military can counter China by continuing to field air- and sea-launched cruise missiles that do not violate the accord.
The president's decision to withdraw from the treaty appears to have come together quickly and demonstrates the strong influence of his national security adviser, John Bolton, a forceful, longtime critic of the INF Treaty and New START.
"Russia has violated the agreement; they have been violating it for many years," Trump said after a Oct. 20 campaign rally in Elko, Nevada. "And we're not going to let them violate a nuclear agreement and go out and do weapons and we're not allowed to."
"We'll have to develop those weapons," Trump said, referring to the intermediate-range missiles prohibited by the treaty, "unless Russia comes to us and China comes to us and they all come to us and say, 'Let's really get smart, and let's none of us develop those weapons.'"
"[B]ut if Russia's doing it and if China's doing it and we're adhering to the agreement, that's unacceptable," he added.
The INF Treaty required Russia and the United States to eliminate permanently their nuclear and conventional ground-launched ballistic and cruise missiles with ranges of 500 to 5,500 kilometers.
Since 2014, Washington has accused Moscow of violating its commitment "not to possess, produce, or flight-test" a ground-launched cruise missile (GLCM) having a range prohibited under the INF Treaty. The Trump administration later identified the missile as the 9M729. In 2017, the Pentagon alleged that Russia began fielding the missile.
Moscow has denied both charges and accused the United States of violating the treaty, most notably by deploying missile defense interceptor platforms in eastern Europe that Russia claims could be used for offensive purposes. Diplomatic efforts to resolve the compliance dispute have been limited and unsuccessful.
Russian President Vladimir Putin warned that the U.S. plan to withdraw from the treaty could lead to a new arms race and said that any nation that hosts U.S. intermediate-range missiles will "put their own territory under the threat of a possible counterstrike."
Yet, some Russian officials were less harsh in their criticism. After a meeting Oct. 22 between Bolton and his Russian counterpart, Nikolai Patrushev, the Russian Security Council issued a statement expressing "its readiness for the joint work aimed at eliminating mutual grievances relating to the implementation of this treaty."
Trump's announcement pitted him, once again, against an array of international friends and rivals. The Chinese Foreign Ministry said that Beijing opposes a U.S. withdrawal from the treaty.
U.S. allies in Europe and Asia also criticized the decision. The European Union declared in a statement that the United States should "consider the consequences of its possible withdrawal from the INF [Treaty] on its own security, on the security of its allies and of the whole world."
German Foreign Minister Heiko Maas said that "ending the treaty would have many negative consequences." Likewise, Yoshihide Suga, the Japanese chief cabinet secretary, called a U.S. withdrawal "undesirable."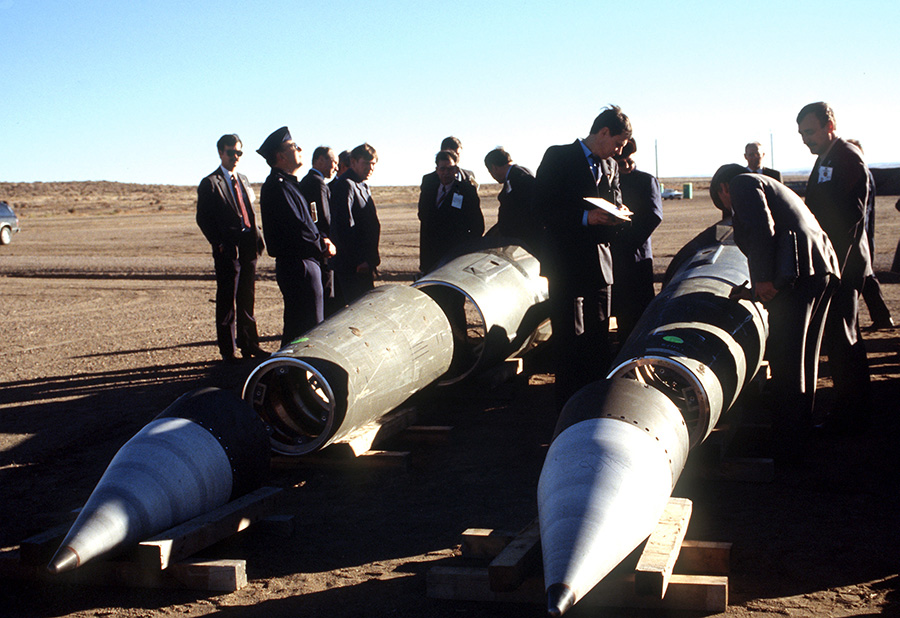 Trump's withdrawal plan is proving controversial in Congress, drawing a glimmer of bipartisan criticism. In an Oct. 24 letter to Defense Secretary Jim Mattis and Secretary of State Mike Pompeo, Reps. Adam Smith (D-Wash.) and Eliot Engel (D-N.Y.), the ranking members on the House armed services and foreign affairs committees, respectively, said a U.S. withdrawal from the treaty "would risk an arms race, would jeopardize the security of our allies in Europe and Asia, and would significantly undermine U.S. leadership on arms control."
Some Republican lawmakers also expressed opposition. "I hope we're not moving down the path to undo much of the nuclear arms control treaties that we have put in place," retiring Senate Foreign Relations Committee Chairman Bob Corker (R-Tenn.) said on Oct. 21. "I think that would be a huge mistake."
Other Republicans backed Trump, including his new close ally Sen. Lindsay Graham (R-S.C.), who said withdrawal is "absolutely the right move" because "the Russians have been cheating."
Lawmakers cannot prevent the president from withdrawing from the agreement, but they could withhold funding to develop new land-based intermediate-range missiles.
The Republican-controlled Congress in September approved the Pentagon's fiscal year 2019 budget request of $48 million for research and development on and concepts and options for conventional ground-launched, intermediate-range missile systems in response to Russia's alleged violation of the treaty.
But the opposition of Democratic lawmakers to withdrawing from the treaty could lead to debate over whether to continue to fund such research if Democrats retake either chamber in the November midterm elections.
Even if the United States were to develop the weapons, they would need to be deployed on the territory of allies neighboring Russia and China. So far, no country has said that it would be willing to host such missiles.
Last December, before Bolton joined the administration, the State Department announced an integrated diplomatic, economic, and military strategy designed to pressure Russia to return to compliance with the INF Treaty. (See ACT, December 2017.) But it is not clear what parts of the strategy have been executed and whether the administration presented Russia with a diplomatic proposal to resolve the compliance stalemate.
When asked at an Oct. 23 press conference in Moscow following meetings with Putin and other top Russian officials whether there were options to preserve the treaty, Bolton said that "the treaty was outmoded, being violated, and being ignored by other countries." He likened the decision to the George W. Bush administration's decision in 2002 to withdraw from the 1972 Anti-Ballistic Missile Treaty.
Bolton said the United States will deliver to Russia "in due course" a formal withdrawal notification. Once that is done, the treaty requires the United States to wait six months before it can actually leave the agreement.
In the likely event that the INF Treaty collapses, the only remaining U.S.-Russian arms control agreement would be New START, which expires in 2021 but can be extended by up to five years through agreement by both parties.
Bolton, while in Moscow, reiterated that the United States does not yet have a position on whether it favors extending the agreement. (See ACT, September 2018.) If New START is allowed to expire without a replacement, there will be no legally binding limits on the world's two largest strategic arsenals for the first time since 1972.