October 2020
By Daryl G. Kimball
For the first three and a half years of President Donald Trump's term in office, he and his team have dithered and delayed on nuclear arms control matters.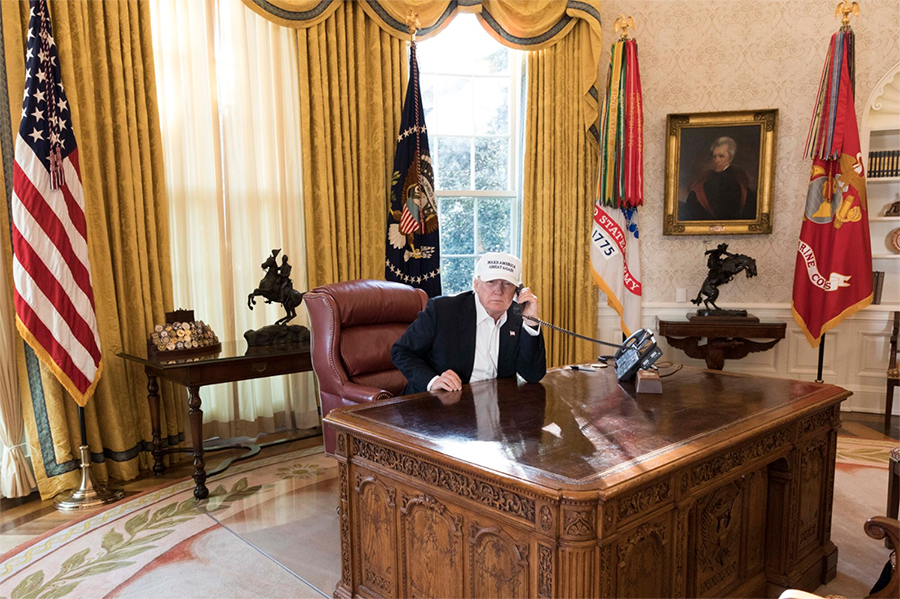 Now, at the 11th hour, they are pursuing an ill-advised strategy that has little chance of success and is probably designed to run out the clock on the last remaining treaty limiting the world's two largest nuclear arsenals: the 2010 New Strategic Arms Reduction Treaty (New START).
Unless Trump somehow overrules his hard-line advisors and adjusts course or Joe Biden wins the presidential election and makes good on his pledge to extend New START, the treaty very likely will disappear. That would open the door to an ever-more dangerous and costly global nuclear arms race.
With the treaty's Feb. 5, 2021, expiration date and the U.S. presidential election fast approaching, the Trump administration continues to reject Russia's proposal of a five-year extension of the treaty.
Instead, Trump's new arms control envoy, Marshall Billingslea, is demanding that Russia agree to changes to New START verification rules and U.S. terms for a future arms control agreement involving all types of warheads and eventually including China. Even if Russia agrees to the U.S. terms, Billingslea and other officials say Trump would only consider a short-term extension.
If Russia refuses, Billingslea said in September, "we will be extremely happy to continue...without the [New] START restrictions." He added that the United States would redeploy weapons that had been removed from deployment in order to meet New START limits once the treaty expires.
Washington and Moscow could quickly "upload" several hundred additional warheads on existing deployed delivery systems to exceed the treaty's 1,550 warhead ceiling.
Billingslea's threat to build up the U.S. deployed arsenal, something the nation has not done in decades, follows his warning in May that if Russia and China do not agree to Trump's terms for a new agreement, "we know how to spend the adversary into oblivion."
In reality, unconstrained nuclear arms racing would be unaffordable and dangerous for both sides. A Congressional Budget Office report published in August estimates the Pentagon could incur costs as high as several hundred billion dollars if Washington tries to build additional delivery systems to increase the arsenal above New START levels.
These costs would be in addition to the $1.5 trillion in minimum planned spending to sustain and upgrade the existing arsenal, which is based on New START limits, over the next several decades.
No one wins an arms race. Each side already deploys far more weapons than it needs to deter nuclear attack.
Billingslea is also demanding unnecessary "fixes" to New START's monitoring and verification system. No such demands were raised by the United States until Billingslea arrived on the scene in May 2020, for good reason.
As Rose Gottemoeller, the lead U.S. New START negotiator, has written, the treaty "contains detailed, streamlined procedures that make inspections reliable in confirming information that the Russians provide to the United States, and, of course, vice versa."
Billingslea also rejects Russia's suggestion that U.S. tactical nuclear weapons and growing strategic missile defense capabilities should be on the negotiating table. In addition, he says Washington rejects Moscow's long-standing insistence that if China joins future arms control talks, France and the United Kingdom should also be involved.
Not surprisingly, Russia is not budging. Foreign Minister Sergei Ryabkov said on Sept. 21, "[T]here are no grounds for making any deal in the format proposed by our Washington colleagues. We believe that the...[U.S.] preconditions for extending the New START...do not include any positive elements."
Russia can and should adjust its long-standing terms for a New START follow-on agreement, but it is naive to think President Vladimir Putin, on the eve of U.S. elections, would agree to unilateral concessions in the hope that Trump might agree to a short-term extension of New START.
In the event of a Biden victory in November, he would have just 16 days after Inauguration Day to reach agreement with Russia on its offer of a clean extension of New START "and use that as a foundation for new arms control agreements." In that case, it is imperative that Washington and Moscow move swiftly to secure a five-year extension.
No matter who occupies the White House, the sensible path forward is a clean extension of New START and pursuit of follow-on discussions and agreements to address unconstrained nuclear warheads, non-nuclear weapons that impact strategic stability, and the inclusion of other nuclear-armed states in the arms control process.
The Trump administration, which to this point has only dismantled nuclear risk reduction agreements, wants you to believe that its 11th-hour arms control offer to Russia is a reasonable policy that Putin could accept "tomorrow." On closer examination, it is a losing strategy for Trump, for the United States, and for the world.