May 2022
By Kelsey Davenport
North and South Korea exchanged threats in early April as Pyongyang continues to take steps to advance its nuclear weapons capabilities.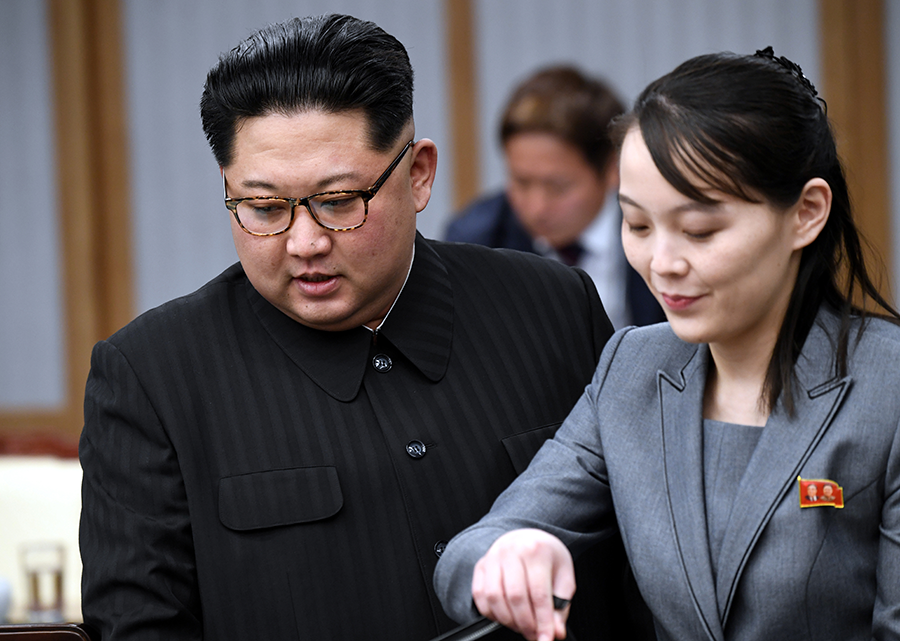 South Korean Defense Minister Suh Wook said on April 1 that Seoul can "accurately and swiftly strike any target" in North Korea. He touted "greatly improved" South Korean missile capabilities and said that the country can conduct precision strikes against the "origin of any attack and its command and support facilities."
South Korea is also working to develop a multilayered missile defense system to ensure that the country can "respond overwhelmingly to the North's shifting missile threats," Suh said.
Suh's comments came a week after North Korea claimed it tested a more powerful intercontinental ballistic missile (ICBM). (See ACT, April 2022.)
Kim Yo Jong, sister of North Korean leader Kim Jong Un and vice department director of the Central Committee of the Workers' Party of Korea, said in an April 4 statement that Suh's threats of a preemptive strike on North Korea were a "very big mistake." If South Korea "opts for military confrontation" with North Korea, "our nuclear combat force will have to inevitabl[y] carry out its duty," she said. Pyongyang's nuclear force is primarily for preventing war, but in the event of conflict, will eliminate the enemy's armed forces, Kim said.
She said South Korea can avoid such a disaster by refraining from "untimely provocation."
In addition to its recent ICBM test, North Korea is continuing to develop its short-range missile capabilities. The South Korean military confirmed that North Korea tested two short-range systems in the city of Hamhung on the eastern coast of the country on April 16. The missiles flew 68 miles, according to South Korea.
North Korea's Korean Central News Agency (KCNA) described the system as "a new-type tactical guided weapon" and noted that Kim Jong Un oversaw the test.
The KCNA statement credited the new system with "drastically improving the firepower of the frontline long-range artillery units and enhancing the efficiency in the operation of tactical nukes," suggesting that the missiles tested are nuclear capable.
The North Korean focus on long- and short-range nuclear-capable ballistic missiles suggests that Kim is seeking the capabilities to deter an attack on North Korea and to repel an invasion, should deterrence fail.
In an April 18 press briefing, U.S. Defense Department press secretary John Kirby called the test a provocation and urged North Korea to refrain from tests. He reiterated that the Biden administration is willing "to sit down in good faith and have a diplomatic discussion about how we denuclearize the Korean peninsula." He said Pyongyang has answered the administration's willingness to negotiate without preconditions, "only with more tests."
Sung Kim, U.S. special envoy for North Korea, reiterated the U.S. willingness to engage in dialogue during an April 18 visit to South Korea, but said that the United States and South Korea also will "maintain the strongest possible joint deterrent capability." He said the UN Security Council needs to send a "clear signal" to North Korea that "we will not accept its escalatory tests as normal."
Linda Thomas-Greenfield, U.S. ambassador to the United Nations, called for action by the Security Council after the ICBM test on March 24. She said the next day that the United States would be introducing such a resolution.
Although the Security Council has yet to act, the United States on April 1 announced new sanctions targeting the North Korean Ministry of Rocket Industry, which is involved with procuring missile components, and several organizations affiliated with the ministry.
North Korea also appears to be taking preparatory steps in case Kim decides to resume nuclear testing. Satellite imagery of the Punggye-ri nuclear test site shows increased activity at the main administrative area of the facility and indicates that North Korea "has continuously advanced work to restore Tunnel 3" at the site, according to an April 14 analysis from the Open Nuclear Network, a Vienna-based think tank.
North Korea last tested a nuclear weapon in 2017. In April 2018, in an effort to demonstrate North Korean willingness to engage in negotiations with the United States, Kim announced nuclear and long-range missile testing moratoriums. As part of that commitment, North Korea moved to render the site inoperable by blowing up its testing tunnels in May 2018.