May 2022
By Shannon Bugos
Following visits by its director-general to Ukrainian nuclear power plants in April and March, the International Atomic Energy Agency (IAEA) is coordinating assistance packages and a series of technical missions on nuclear safety, security, and safeguards issues for the war-torn country.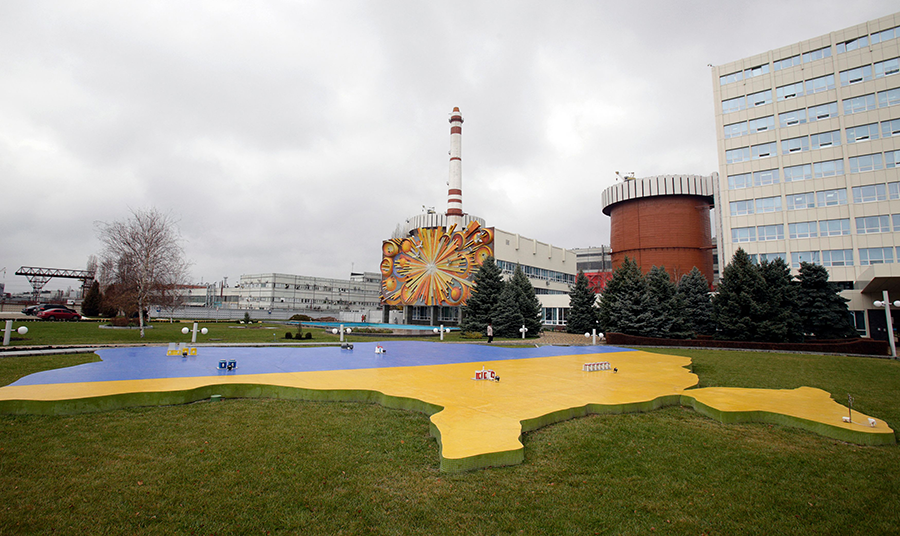 "It is vital to be on the ground in order to provide effective support to Ukraine in these extremely difficult times," IAEA Director-General Rafael Mariano Grossi said during his March 30 trip to the South Ukraine Nuclear Power Plant. "The IAEA's on-site presence, where needed, will help prevent the danger of a nuclear accident that could have severe public health and environmental consequences in Ukraine and beyond."
Grossi in March traveled to Ukraine and Kaliningrad for separate talks with Ukrainian and Russian officials on the IAEA plan to deliver urgent technical assistance to four operational Ukrainian nuclear power plants, plus the inactive Chernobyl nuclear site. This support "will include sending IAEA experts to prioritized facilities and the shipment of vital safety and security supplies including monitoring and emergency equipment," according to a March 29 IAEA statement.
In April, Grossi visited Chernobyl, where the IAEA and Ukraine agreed to set up a working group to "coordinate IAEA assistance and support to staff who are working hard to keep Ukraine's nuclear sites safe and secure," the director-general said. Ukraine on April 23 gave the IAEA a list of equipment needed by different nuclear facilities, including radiation measuring devices, protective material, computer-related assistance, power supply systems and diesel generators.
Grossi also met Ukrainian President Volodymyr Zelenskyy and pledged that, "The IAEA will continue to support Ukraine."
On March 31, Ukraine confirmed that the Russian forces that took control of the Chernobyl nuclear power plant after the invasion on Feb. 24 had officially transferred control of the site back to Ukrainian personnel.
Energoatom, Ukraine's state nuclear company, alleged that the Russian withdrawal from Chernobyl stemmed from numerous Russian soldiers receiving "significant doses" of radiation from digging trenches in the forested exclusion zone encompassing the nuclear site. The IAEA is investigating the claim. Grossi said in April that the Russian takeover of Chernobyl was "very, very dangerous" and that any spikes in the radiation level have now returned to normal.
The process of resuming normal regulatory control at Chernobyl had begun by April 5, and staff rotations are now occurring regularly. After 25 days of nonstop work, more than 200 staff members at the nuclear site were first allowed by Russian forces to change shifts on March 20. (See ACT, April 2022.)
In the second rotation on April 10, staff who live in the nearby city of Slavutych could only reach the Chernobyl nuclear power plant via boats on the Pripyat River.
"While it is very positive that Ukrainian authorities are gradually restoring regulatory control of the Chernobyl site, it is clear that a lot of work remains to return the site to normality," commented Grossi.
Ukraine warned the IAEA on April 9 that the operation of radiation and other sensors have yet to be restored due to the absence of required maintenance and other specialized staff, which may "lead to the failure of other systems and components important to safety."
The agency now serves as the "single point of contact" for any international technical assistance for Ukraine and currently is in discussions with countries offering support. On April 7, the G7 Non-Proliferation Directors Group, comprising Canada, France, Germany, Italy, Japan, the United Kingdom, and the United States, released a statement expressing "its full and continued support" for the IAEA and encouraging "all countries to support the IAEA's assistance efforts and to make available to the IAEA necessary resources and equipment to facilitate technical support to Ukraine and to restore and to sustain safeguards."
Meanwhile, "the morale and the emotional state" of Ukrainian staff remains "very low" at the Zaporizhzhya nuclear power plant, Europe's largest nuclear power plant, which has been under Russian control since early March. This complex houses six of Ukraine's 15 reactors, which are split among four active nuclear plant sites. Together, they supply about half of the country's electricity. Grossi told AP on April 27 that the safety at the plant is a "red light" blinking as his agency seeks access to do repairs.