May 2022
By Gabriela Rosa Hernández
Propelled by the Russian war on Ukraine, Finland and Sweden are in serious discussions about applying for NATO membership and are widely expected to join.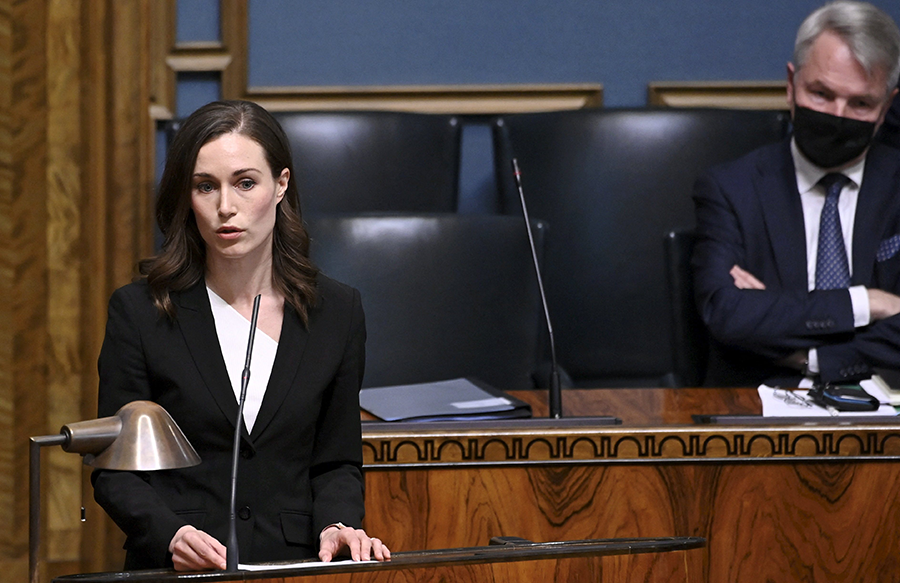 Even before the war, Russian President Vladimir Putin had threatened "retaliation" if the two countries join the Western alliance. But his brutal, unprovoked invasion of Ukraine has escalated the security concerns of neighboring states. Finland and Sweden officially are nonaligned, but have been NATO partners since the mid-1990s.
"Russia's invasion of Ukraine has caused Finland to review our security strategy. I won't offer any kind of timetable as to when we will make our decision, but I think it will happen quite fast. Within weeks, not within months. The security landscape has completely changed," Finnish Prime Minister Sanna Marin said on April 14, according to Defense News.
The Finnish parliament began debating the possibility of NATO membership on April 21 as its major parliamentary groups expressed support for some form of a military alliance in response to the Russian invasion of Ukraine.
Finland is expected to make its decision before NATO'S two-day summit in Madrid beginning on June 29, Defense News reported.
Although Sweden has been more reluctant, momentum is also building there for NATO membership, according to a Financial Times article on April 20. Swedish Foreign Minister Ann Linde said on April 21 that the government wants to speed up consideration of the NATO issue and will now make its security policy analysis public on May 13 instead of May 31, Reuters reported.
In early April, the Finnish government released its own new report on changes in the security environment. It included an assessment of the effects of Finland's possible NATO membership and noted that if Finland were to be part of NATO, that would raise the threshold for the use of military force in the Baltic Sea region. In turn, this would increase regional stability.
The report also noted that Finland would be prepared to support other NATO members in an Article 5 scenario, the bedrock commitment to defend other members if they come under attack. Yet, this does not mean Finland is obliged to accept nuclear weapons, host NATO troops permanently, or accept NATO military bases on its territory, the report noted.
Just two weeks ago, Swedish Prime Minister Magdalena Andersson was more cautious in her approach to the subject than her Finnish counterpart. "What we need to do is to carefully think through what is in the best long-term interests of Sweden, and what we need to do to guarantee our national security, our sovereignty and secure peace in this new heightened tension and situation," Andersson said on April 13. She also said, "We always consider Finnish security together with our own," according to The New York Times.
Prior to the war in Ukraine, NATO Secretary-General Jens Stoltenberg noted that "Sweden is an enhanced opportunity partner. Sweden and Finland are our most…closest partners. The fact that we work together, that we share information, that we exercise together is something which is important, and the importance is demonstrated in this situation we are faced with now."
Stoltenberg also has said that all allies would welcome Finland and Sweden into the alliance. "We know that they can easily join this alliance if they decide to apply," he said, according to ABC News on April 12. He even hinted that NATO members may be prepared to give Sweden and Finland security guarantees during the NATO membership application process.
Finland and Sweden inhabit important geostrategic locations and possess the economic stability to fulfill the NATO commitment that members spend at least 2 percent of their gross domestic product on defense.
Finland and Sweden joined NATO's Partnership for Peace program in 1994. Throughout the years, they have consistently participated in NATO's military exercises, such as the Saber Strike series and the BALTOPS exercises in the Baltic Sea region. Both nations are also part of the enhanced NATO Response Force, a highly competent multinational force made up of land, maritime, air, and special operations components that NATO can deploy quickly when needed, in a supplementary role and subject to national decisions.
In addition, Finland and Sweden have signed a memorandum of understanding on host nation support, which requires them to provide logistical support to NATO forces transiting or located on the territory of Finland or Sweden during an exercise or a crisis. The memorandum is subject to national decision.
The move to seriously consider joining NATO is a strong signal that Finland and Sweden may not be fully reassured by the EU mutual defense clause in the 2007 Lisbon Treaty. According to Defense Post, Andersson told reporters in early March that Finland and Sweden wrote a joint letter to remind the other EU member states how seriously the two states view the defense solidarity clause. The mutual defense clause is similar to NATO's Article 5 and requires "other EU countries to come to the support and aid, with all possible means, of a member state under armed attack," Andersson said.
Dmitry Medvedev, deputy chairman of the Russian Security Council, has warned that Russia would need to take serious measures to guarantee its security if Finland and Sweden became NATO members, RIA Novosti reported on April 14. "If Sweden and Finland join NATO, the length of the alliance's land borders with the Russian Federation will more than double. Naturally, these borders will have to be strengthened, seriously strengthened, the grouping of land forces and air defense, deploy significant naval forces in the waters of the Gulf of Finland," he said.
Medvedev added, "In this case, there will be no talk of any nuclear-free status of the Baltic. The balance must be restored. Until today, Russia has not taken such measures and was not going to. If we are forced, well, 'notice—we didn't offer it,' as the hero of the famous old movie said."
That same day, Kremlin press secretary Dmitry Peskov was asked about Medvedev's remarks and the possibility of stationing nuclear weapons in the Baltic Sea region. "After working out Putin's instructions on strengthening the borders, everything will be discussed at a separate meeting, [after] Defense Minister Sergei Shoigu provides Putin with ideas on strengthening the western borders. It takes time," Peskov said.
Hours later, RIA Novosti quoted Deputy Foreign Minister Alexander Grushko as saying that Russia supported diplomatic contact with Finland and Sweden. On April 20, Maria Zakharova, Russian Foreign Affairs Ministry press secretary, announced that Russia had warned Finland and Sweden about possible consequences if they became NATO members, TASS reported.
Neither Finnish nor Swedish officials have clarified the timeline as to how long it would take for either country to become NATO members. But the first step is for the aspirant to declare its intentions to accede to the Washington Treaty, according to the recent Finnish government report. After that, NATO could invite the applicants to engage in accession negotiations and eventually extend a membership action plan. At the conclusion of these negotiations, the applicants must confirm their willingness and ability to accede to NATO membership. Then, alliance members must sign and ratify the ascension protocol in accordance with their national procedures.
Once this step is completed, the allies submit their instruments of ratification to the United States, the official depositary. Finally, the NATO secretary-general invites the aspirants to join the Washington Treaty, and the invitees must accept the accession agreement in accordance with their national procedures. With the deposit of the final instrument of accession, the invitee becomes a NATO member.