May 2022
By Gabriela Rosa Hernández
The United States and its allies have shifted from providing small arms and defensive equipment to hastily ratcheting up deliveries of heavy weaponry to Ukraine as the brutal Russian war there intensifies.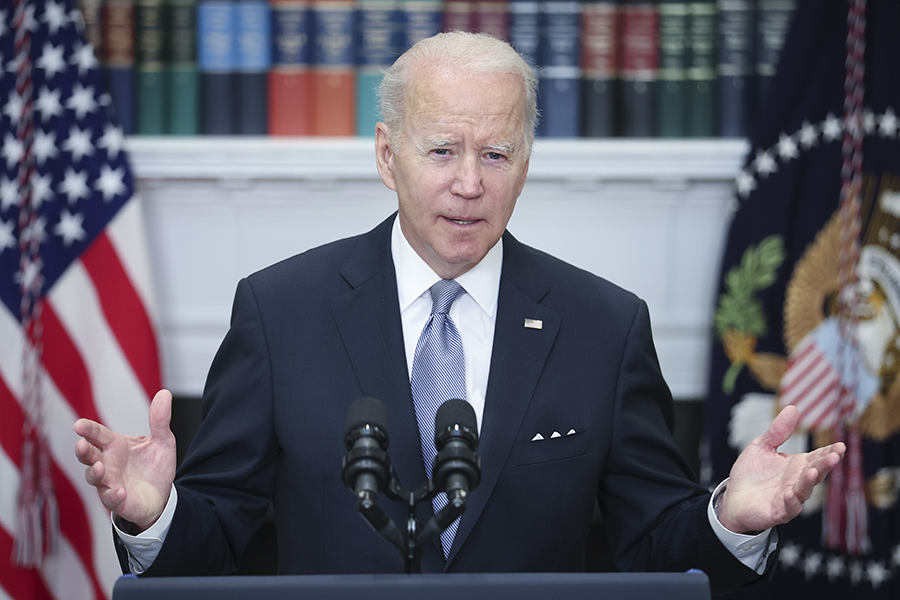 On April 21, U.S. President Joe Biden pledged $800 million in additional weaponry and $500 million in direct economic aid. More than $400 million in additional military aid was announced on April 24 when Secretary of State Antony Blinken and Defense Secretary Lloyd Austin met Ukrainian President Volodymyr Zelenskyy in Kyiv, bringing the total U.S. military assistance since the beginning of the war to $3.7 billion.
Biden significantly upped the ante on April 28 by announcing plans to seek an additional $33 billion from the U.S. Congress for Ukrainian and European security through September.
"Our support for Ukraine going forward will continue…until we see final success," Blinken told a news conference with Austin on the Polish-Ukrainian border after their stealth visit to the Ukrainian capital.
"The bottom line is this: We don't know how the rest of this war will unfold, but we do know that a sovereign, independent Ukraine will be around a lot longer than [Russian President] Vladimir Putin is on the scene."
Austin said, "We want to see Russia weakened to the degree that it can't do the kinds of things that it has done in invading Ukraine." Russia "has already lost a lot of military capability and a lot of its troops, quite frankly, and we want to see them not have the capability to very quickly reproduce that capability," he said.
The influx of weaponry so boosted Ukrainian resolve that Zelenskyy on April 22 expressed increasing confidence that his country would defeat Russian forces. He had told CNN on April 17 that Ukraine would not give up its territory and spent weeks pleading for faster Western arms deliveries and for heavier weapons to stave off a new Russian offensive.
Some Western officials and experts have worried that a surge in new, more lethal military investments could increase the risk of a direct NATO-Russian confrontation in part because they could be viewed as offensive instead of defensive. On April 14, Russia sent a formal diplomatic note to the United States warning that U.S. and NATO military shipments to Ukraine were "adding fuel" to the conflict and could bring "unpredictable consequences," The Washington Post reported. Anatoly Antonov, the Russian ambassador to the United States, reiterated the warning on April 25. "What the Americans are doing is pouring oil on the flames," Antonov said, according to Al Jazeera. "I see only an attempt to raise the stakes, to aggravate the situation, to see more losses."
Russian Foreign Minister Sergey Lavrov escalated the rhetoric on April 26 when he told Russian state TV, "The danger [of nuclear war] is serious, real … NATO, in essence, is engaged in a war with Russia through a proxy and is arming that proxy." But Ukraine and its allies played down the remarks.
Meanwhile, as the Ukrainians pressed the fight against their better-armed foe even as the extent of Russian brutality in Bucha, Mariupol, and elsewhere was laid bare, the United States and its allies increased the size and quality of their weapons deliveries.
"We're in a critical window now of time where…they're going to set the stage for the next phase of this war," Biden said on April 21, referring to the Russian tactical shift to eastern Ukraine. The United States and its allies are "moving as fast as possible" to provide Ukraine with the equipment and weapons it needs, he added.
On April 5, the Czech Republic became the first country to send tanks to Ukraine, including more than a dozen T-72 tanks and armored personnel carriers, according to Reuters. Three days later, the Biden administration expressed gratitude to Slovakia for donating a Russian-made S-300 air defense system to Ukraine and said it would reposition a more modern U.S. Patriot missile system to Slovakia to ensure that the ally was not left undefended.
The Czech Republic announced that Czech defense companies would repair Ukrainian tanks and other military vehicles that have suffered damage during the fighting or needed servicing, Reuters reported on April 19. That same day, Slovakia also offered to repair Ukrainian military equipment, according to Euractiv.
After a heavy lobbying effort by Zelenskyy and members of the U.S. Congress, the Biden administration on April 13 approved a new defense package worth $800 million to help Ukrainian forces match the Russian technological advantage. The package included artillery systems, artillery rounds, additional helicopters, and armored personnel carriers. Washington also promised to enhance intelligence sharing. This comes on top of a $100 million aid package announced by Blinken in early April.
The weapons sent or headed to Ukraine include C-4, howitzers, Javelin anti-tank missiles, Mi-17 helicopters, armored Humvees, M113 personnel carriers, Switchblade drones, and M18A1 Claymore anti-personnel mines configured to be compliant with the Ottawa Convention, meaning they will be set to be "command detonated" (see page 34).
The Pentagon confirmed on April 19 that Ukraine received fighter airplanes and aircraft although officials refused to clarify what kind of aircraft were sent to Ukraine or their origin. The United States helped in transferring spare aircraft parts, according to France24. On April 20, the Ukrainian Air Force claimed it did not receive new aircraft from its partners but did receive enough spare parts and components for the restoration and repair of some of its aircraft. Such aid will allow Ukraine to put more equipment into service.
The April 21 military assistance package by the United States, following an equivalent $800 million package announced a week earlier, included 155 mm howitzers, 144,000 ammunition rounds, 72 tactical vehicles to tow 155 mm howitzers, more than 121 experimental Phoenix Ghost Tactical Unmanned Aerial Systems, plus spare parts and field equipment, according to a Pentagon fact sheet.
The Canadian government has delivered heavy artillery, including M777 howitzers and anti-armor ammunition, to Ukrainian forces, it said on April 21.
French President Emmanuel Macron confirmed on April 22 that France provided MILAN anti-tank guided missile systems and CAESAR artillery howitzers to Ukraine, Ouest-France reported. Macron also noted that the risk of escalation was very high and said that although Europe should help the Ukrainians, it cannot become a co-belligerent in the war.
In late March, the Russian Defense Ministry indicated that the first phase of its military operation in Ukraine had been completed and that it would focus on the liberation of the Donbas after it failed to seize Ukraine's capital, Kyiv.
As a result, Zelenskyy requested that the West and other countries provide his country with more lethal weaponry, including air defense systems, unmanned aviation vehicles, artillery systems, multiple-launch rocket systems, tanks, armored personnel carriers, infantry fighting vehicles, combat aircraft, long-range weapons, and anti-ship missiles.
But there were signs of disagreements about what kind of weaponry the allies should donate. For instance, German Chancellor Olaf Scholz delayed his decision to provide tanks to Kyiv, Politico reported on April 7. On April 11, German Foreign Minister Annalena Baerbock broke with the chancellor and called for heavy weapons deliveries to Ukraine. "What's clear: Ukraine needs more military material, especially heavy weapons. The terrible horror that we see every day in Russia's war against Ukraine made the need for such supplies more than clear," she said.
Meanwhile, the United Kingdom on April 8 approved another security assistance package for Ukraine, totaling more than $130 million and including Starstreak anti-aircraft missiles, 800 anti-tank missiles, and precision munitions. In late April, various media reported that Poland sent T-72 tanks to Ukraine after the UK proposed to compensate Poland with a different kind of tank. Soon after, Germany decided to send Ukraine roughly 50 Gepard air-defense tanks.
Despite these remarks, European countries were under increased pressure to do more. On April 20, Bloomberg reported that Germany would provide artillery and ammunition training to Ukraine. Two days later, Euractive reported that Germany agreed to a swap deal with Slovenia, in which it donated Marder tanks and Fox wheel tanks to Slovenia in return for Slovenia delivering 30 to 40 T-42 tanks to Ukraine. Around the same time, Dutch Prime Minister Mark Rutte announced that the Netherlands will send armored vehicles to Ukraine, while the UK was reported to be sending more vehicles, drones, and anti-tank weapons.
On April 10, Lithuania announced that it would host a mission in Kyiv to train Ukrainian soldiers to use new weaponry sent by the allies. Previously, the United States confirmed that it was training a small number of Ukrainians in the United States to use Switchblade drones.