January/February 2021
By Alexander Bertschi Wrigley and Jeff Abramson
The Trump administration's controversial proposal to sell more than $23 billion of arms and related services to the United Arab Emirates moved ahead after two bipartisan joint resolutions of disapproval fell short of a majority in Senate votes in December. The next step in the process is to negotiate contracts between Washington and Abu Dhabi, a task that will likely conclude with the incoming Biden administration, which has not indicated a stance on the sales.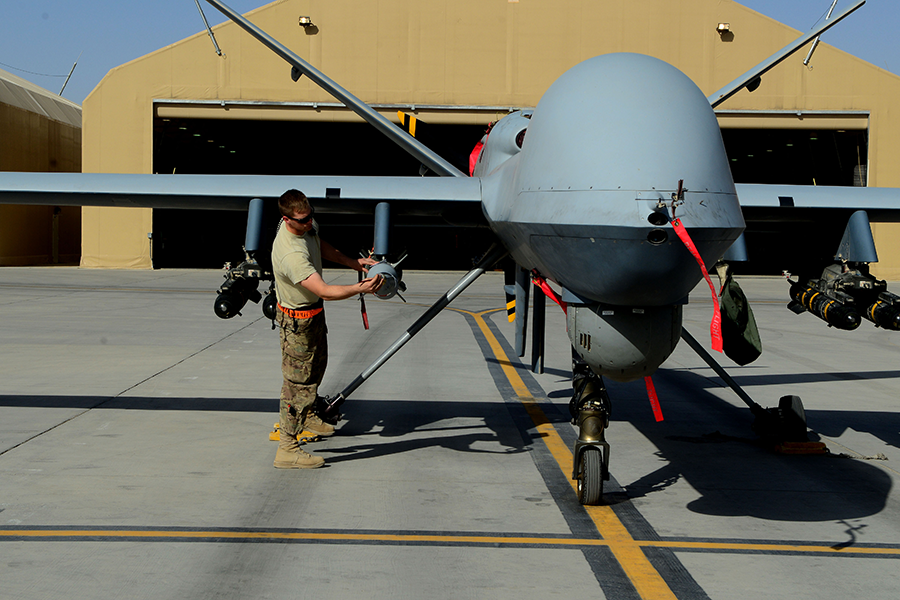 The sale includes up to 50 F-35 aircraft valued at $10.4 billion, up to 18 MQ-9B armed drones valued at $3 billion, and a package of air-to-air and air-to-ground munitions valued at $10 billion, as well as a revision to a 2018 notification for additional Sidewinder air-to-air missiles valued at $490 million. (See ACT, December 2020.) Although resolutions of disapproval were introduced on all these weapons, votes were taken only on blocking the F-35s and armed drones, garnering yes-no votes of 47–49 and 46–50, respectively.
The votes fell largely along party lines. Sen. Kyrsten Sinema (D-Ariz.) joined all but one of the Republican senators in voting against both joint resolutions of disapproval. Newly elected Sen. Mark Kelly (D-Ariz.) also voted against the resolution on the proposed sale of armed drones. All other Democrats present voted in favor of both resolutions. Sen. Rand Paul (R-Ky.) was the only Republican to vote in favor of the resolutions, which he co-sponsored.
The votes came just days before the end of a 30-day window during which Congress could pass joint resolutions to prevent the administration from moving toward formally concluding the sales by negotiating a letter of offer and acceptance. In theory, Congress could still pass such resolutions until the letter is concluded, which often takes months or years to negotiate, but the House did not take up its versions of the resolutions.
As of Jan. 9, the U.S. State Department was continuing to work on the letter, according to R. Clarke Cooper, assistant secretary of state for political-military affairs. With time running out on the Trump administration, however, the future of the arms transfers is uncertain, as there has been no clear indication of how the incoming administration will approach the sale. Vice President-elect Kamala Harris was the only Democratic senator not present for the vote.
In the last weeks of December, the Trump administration also notified Congress of additional major arms sales to Saudi Arabia, which have been highly controversial during his presidential term. (See ACT, September 2019.) The 30-day congressional review period on those potential sales will not end until after President Joe Biden's inauguration in Washington on Jan. 20, leaving it to the incoming administration to decide whether to issue licenses or conclude a letter. The proposed sales include 7,500 precision-guided, air-to-ground munitions valued at up to $478 million, and 3,000 small-diameter bombs for $290 million.
Biden has already noted his desire to rethink the U.S. relationship with Saudi Arabia, stating in October that, "under a Biden-Harris administration, we will reassess our relationship with the kingdom, end U.S. support for Saudi Arabia's war in Yemen, and make sure America does not check its values at the door to sell arms or buy oil."
Although the UAE has not been as visible an actor in Yemen to the U.S. public, Abu Dhabi has deployed ground and air forces to Yemen over the past six years. It has scaled back involvement of its own personnel, but continues to work through proxies in the country.
Concerns regarding the arms sales centered on their potential impact on Israel's qualitative military edge in the region and Iranian behavior, as well as the UAE's role in continuing wars in Yemen and Libya, with many human rights and arms control groups joining in opposing the deal.
Sen. Chris Murphy (D-Conn.), a co-sponsor of the resolutions, raised the concern that the Trump administration was expediting the sales and sidelining Congress on what would be one of the largest arms packages ever sold by the United States, saying shortly after the vote that "rushing through massive sales of Reaper drones and our most advanced fighter jets to the Middle East just makes defense companies richer and international security poorer." He added, "I am eager to work with the incoming administration to take a closer look at each of these sales before any transfers are completed."