January/February 2019
By Kelsey Davenport
The United States and Iran sparred at the UN Security Council last month over Tehran's ballistic missile program and allegations that Iran is violating UN restrictions on missile activities.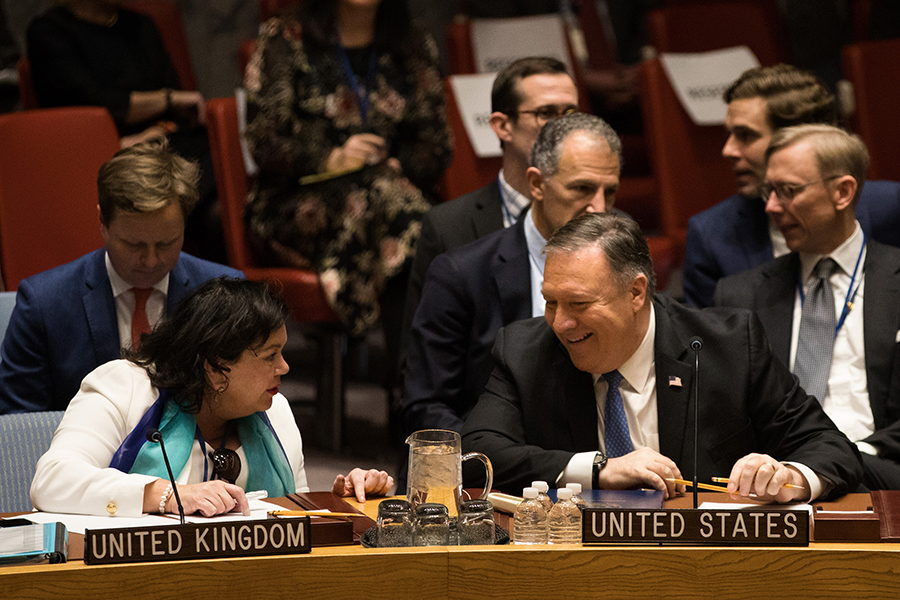 The dispute at the Dec. 12 council meeting came as the United States is ratcheting up its rhetoric on the threat posed by Iran's ballistic missile program and seeking support for more stringent restrictions. U.S. Secretary of State Mike Pompeo said at the council session that the United States will "continue to be relentless in building a coalition of responsible nations who are serious in confronting the Iranian regime's reckless ballistic missile activity."
The meeting focused on a biannual report from UN Secretary-General António Guterres on implementation of Security Council Resolution 2231, which endorsed the multilateral nuclear deal with Iran and put in place restrictions on the country's ballistic missile and conventional arms activities. Ballistic missiles and conventional arms are not covered by the Iran nuclear deal.
"No nation can dispute that Iran is in open defiance" of Resolution 2231, Pompeo said.
The report, released Dec. 8, did not definitively conclude that Tehran violated UN provisions prohibiting the transfer of ballistic missiles, but it included evidence that missiles used by Houthi fighters in Yemen originated in Iran.
Debris from missiles that landed in Saudi Arabia bore features similar to Iranian ballistic missiles, the report said, and noted that the UN Secretariat would continue to try and determine if the systems were transferred before or after the council resolution entered into force in January 2016.
Pompeo said the United States has "hard evidence that Iran is providing missiles, training, and support" for the Houthis and transferring ballistic missiles to Shia militias in Iraq. He called on the Security Council to "establish inspection and interdiction measures" to "thwart Iran's continuing efforts to circumvent" UN restrictions.
Iran, although not a member of the Security Council, was permitted to speak at the meeting. Eshagh Al Habib, Iran's deputy ambassador to the UN, said Iran faces real threats and "will not and cannot compromise on its security and its conventional defensive capability."
He also said the United States is in violation of Resolution 2231 by withdrawing from the nuclear deal and "punishing" states for supporting the resolution.
Resolution 2231 calls on all UN member states to support implementation of the nuclear deal and refrain from actions that undermine it. As a result of U.S. sanctions, foreign entities have pulled out of the Iranian market.
The report did not describe the U.S. reimposition of sanctions as a violation of Resolution 2231, but Guterres said that U.S. actions "do not advance the goals set out" in the resolution and expressed regret over the Trump administration's actions.
The report detailed the dispute over whether Iran's ballistic missile testing and use of ballistic missiles violated Resolution 2231, which also calls on Iran to refrain from developing ballistic missiles designed to be capable of delivering nuclear weapons.
The resolution language on missile development is nonbinding, and there are different interpretations of what "designed to be nuclear capable" means. The Dec. 8 report quoted a letter from Iran arguing that there is no evidence that Iran's ballistic missiles possess the necessary features for delivering nuclear weapons and the resolution does not prohibit Iran from pursing its ballistic missile program.
In a Nov. 20 letter to Guterres, the United Kingdom, France, and Germany described ballistic missiles fired by Iran into Syria in October as "inherently capable of [the] delivery [of] nuclear weapons." The three countries did not describe the action as a violation of Resolution 2231, but said it constituted "an activity related to ballistic missiles designed to be capable of delivering nuclear weapons," saying it was "destabilizing and increased regional tensions."
Iran acknowledged targeting terrorists in Syria that Tehran says were linked to an attack in Iran and argued that it was acting in "legitimate self-defense" recognized by the UN Charter.
Pompeo said the United States would work with other states to bring back more stringent restrictions on Iranian ballistic missiles, similar to those adopted by the Security Council in Resolution 1929 in 2010. That required Iran to halt development of nuclear-capable ballistic missiles, which is commonly understood to include systems capable of delivering a 500 kilogram nuclear warhead a distance greater than 300 kilometers.
The restrictions in Resolution 1929 were superseded by Resolution 2231, but could be snapped back into place if one of the five permanent members of the Security Council (China, France, Russia, the UK, and the United States) overturns Resolution 2231. Pompeo did not indicate that the United States is planning to take that step at this time.
EU Advances Payment Channel for Iran
The European Union is making progress on an alternative payment channel for doing business with Iran, but the so-called special purpose vehicle will likely be limited to humanitarian transactions exempt from U.S. sanctions.
France and Germany reportedly have agreed to host the special purpose vehicle and are aiming to have it set up by early this year.
An alternative payment mechanism is necessary because U.S. sanctions, reimposed after President Donald Trump withdrew from the nuclear deal in May, target Iranian banks and foreign financial institutions that facilitate financial transactions with Iran.
In September, the EU and Iran announced that they would set up the alternative payment mechanism, which is designed to preserve legitimate trade by setting up a barter-like system for entitles importing and exporting goods to Iran. EU foreign policy chief Federica Mogherini initially said the special purpose vehicle would be designed to facilitate legitimate trade with Iran permitted by the 2015 nuclear deal, including payments for oil.
European officials have since indicated that the scope of the mechanism will be reduced to cover humanitarian trade exempt from U.S. sanctions, such as food and medicine. Despite the U.S. sanctions exemptions for humanitarian goods, it is difficult to find financial entities willing to process the transactions.
Bahram Ghasemi, spokesman for the Iranian Foreign Ministry, rejected the idea that the special purpose vehicle will be limited to medicine and food. The mechanism "must cover a range of transactions and economic and industrial cooperation," he said Dec. 17.
U.S. Secretary of State Mike Pompeo told reporters on Dec. 12 that the United States will examine the payment mechanism when it is set up. The United States will not pursue sanctions penalties for activities consistent with humanitarian exemptions, but "to the extent that there are violations of our sanctions, we intend to enforce them with great rigor against any party who is a participant in those violations," he said.
UN Secretary-General António Guterres said in a Dec. 8 report on implementation of Security Council Resolution 2231, which endorsed the nuclear deal and called on all states to support it, that he welcomes "initiatives to protect the freedom" of entities pursing "legitimate business" with Iran.—KELSEY DAVENPORT