January/February 2019
By Jeff Abramson
The U.S. Senate passed resolutions last month sharply critical of ally Saudi Arabia and of the U.S. military role supporting the Saudi war in Yemen, signaling that arms sales to Riyadh will be controversial even as President Donald Trump insisted that they should not be affected by Saudi behavior.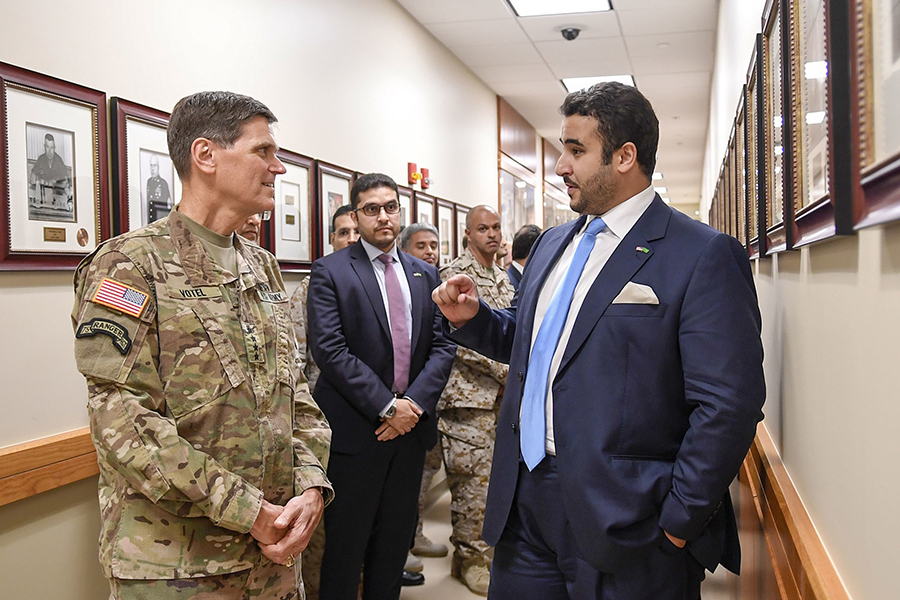 The Senate action on Dec. 13 took the rare path of invoking the 1973 War Powers Act and directed the president to remove U.S. forces not directly engaged in Yemen with al Qaeda and associated groups. The resolution cited aerial refueling, intelligence sharing, and targeting assistance provided to Saudi-led forces.
Actions by coalition partners, particularly Saudi Arabia and the United Arab Emirates, have contributed to civilian deaths and worsened a humanitarian crisis in Yemen, where a fragile, limited ceasefire was negotiated in mid-December.
The resolution is not binding without a concurring House resolution. But co-sponsor Sen. Chris Murphy (D-Conn.) said the vote was significant because it shows that "Congress has woken up
to the reality that the Saudi-led coalition is using U.S. military support to kill thousands of civilians, bomb hospitals, block humanitarian aid, and arm radical militias."
The Senate resolution was originally introduced in February by Sen. Bernie Sanders (I-Vt.) and co-sponsored by Murphy and Sen. Mike Lee (R-Utah). An attempt to force a vote on the resolution failed in March when 44 senators sought to move it out of the Senate Foreign Relations Committee. (See ACT, April 2018.) In November, 63 senators voted to move it to full Senate consideration. Ultimately, 56 voted to approve it, including all 47 Democrats, seven Republicans, and independents Sanders and Angus King (Maine).
The resolution is expected to have enough support to pass in the new Senate even with Republicans picking
up a small number of seats in the November elections.
New House Speaker Nancy Pelosi (D-Calif.) was one of 101 co-sponsors on the version introduced by Rep. Ro Khanna (D-Calif.) in September, but she has not indicated when the House may take up the issue. A provision included in the House version of the farm bill, around the time the Senate was taking up the measure, prevented consideration of it in the last days of the previous Congress.
The controversial killing of dissident journalist and U.S. resident Jamal Khashoggi at the Saudi embassy in Turkey in early October was a spur to congressional action. Shortly after the war powers resolution passed, the Senate approved by voice vote a resolution stating that the Senate "believes Crown Prince Mohammed bin Salman is responsible for the murder," a claim reportedly backed by U.S. intelligence assessments even as Trump said on Nov. 20 that "maybe he did, maybe he didn't."
Trump also argued that U.S. arms sales should not be curtailed, frequently citing the economic importance of the $110 billion in Saudi arms sales he announced in 2017. (See ACT, November 2018; June 2017.) But only about a quarter of those notional agreements have been concluded.
According to news reports, the Saudis signed a letter of offer and acceptance in late November for the largest portion so far, a $15 billion deal for seven Terminal High Altitude Area Defense radar systems and 44 launchers, which is the same number of systems that the United States currently deploys. That potential sale had been notified to Congress in October 2017.
No new arms sales to the country via the government-to-government foreign military sales process have been officially notified to Congress since April. In June, Sen. Bob Menendez (D-N.J.), ranking member of the Senate Foreign Relations Committee, effectively placed a hold on the sale of precision-guided munition kits to Saudi Arabia and the United Arab Emirates before they were publicly notified.
In explaining his December war powers vote, Menendez argued that the Trump administration view of the U.S.-Saudi relationship was "unhinged" in thinking that "selling weapons to the Saudis was more important than America's enduring commitment to human rights, democratic values, and international norms."