October 2017
By Jeff Abramson

Reacting to the ongoing civilian toll from cluster munitions use in Syria and elsewhere, states-parties to the treaty banning cluster munitions at their annual meeting in Geneva renewed their condemnation of "any use" of such indiscriminate weapons.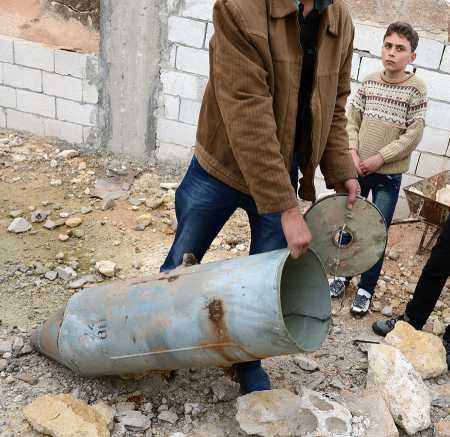 Research published by the Landmine and Cluster Munition Monitor before the annual meeting of states-parties to the Convention on Cluster Munitions (CCM) identified use of cluster munitions by Syrian forces in joint operations with Russia that had resulted in at least 837 casualties during attacks in 2016. Syria is not a signatory to the treaty, which prohibits all use, stockpiling, production, and transfer of such weapons.
"This meeting is taking place against the backdrop of alarming reports of the toll on civilians caused by the use of cluster munitions in current armed conflicts," Izumi Nakamitsu, UN high representative for disarmament affairs, said in prepared remarks, which were presented by a spokesperson, Anja Kaspersen, at the Sept. 4 opening session of the three-day meeting. Although absent from a draft report on the conference, states-parties added language similar to previous meetings that "condemned any use by any actor" in their final report.
Aside from Syria, at least another 20 casualties were recorded in Yemen in 2016 during Saudi-led coalition attacks. All told, the report identified at least 971 cluster munition casualties in 2016, more than double the 417 recorded in 2015. The count includes casualties in a total of 10 countries due to cluster munition remnants that exploded after their initial combat use, in some cases decades later. This continues to occur in Laos, where the United States dropped hundreds of millions of submunitions in the 1960s and 1970s during the Vietnam War. The report identified 51 casualties there in 2016.
Since the 2016 annual meeting, Benin and Madagascar have ratified the treaty, bringing the accord to 102 states-
parties and 17 signatories. On Sept. 5, Jurkuch Barach Jurkuch, head of the South Sudanese delegation, announced that his country had decided to accede to the CCM and the Chemical Weapons Convention, where it would become the 166th state-party.
The United States, which is not party to the cluster munitions convention, did not attend the annual meeting. No cluster munitions appear to be part of any military sales under consideration by the United States, including the notional $110 billion arms deal with Saudi Arabia announced by President Donald Trump in March, and there are no indications of U.S. use of cluster munitions since 2009. In 2016 the last manufacturer of cluster munitions in the United States announced it was ceasing production of the weapons. (See ACT, October 2016.) —JEFF ABRAMSON