July/August 2022
By Kelsey Davenport
North Korea conducted a barrage of missile tests on June 5, prompting the United States and South Korea to respond with a large-scale launch of their own.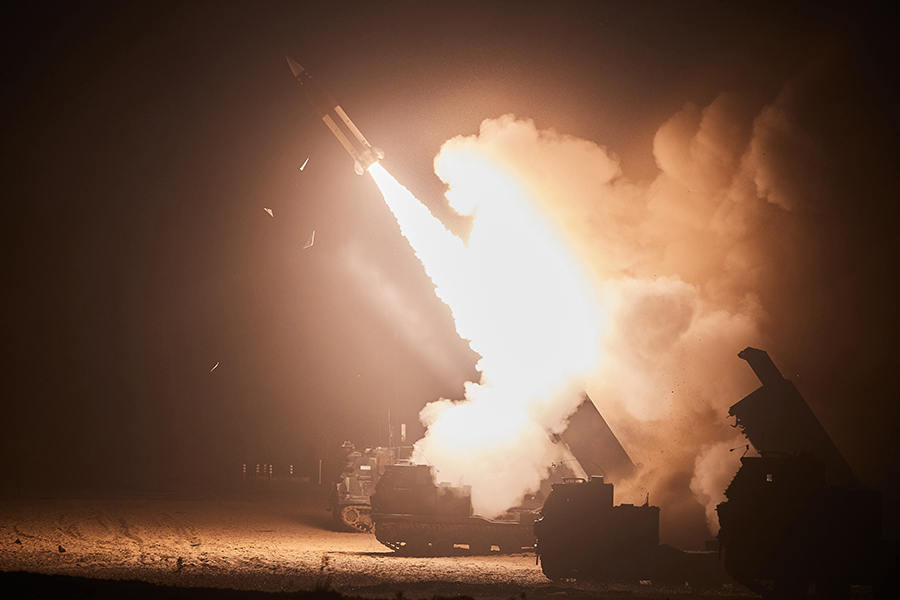 North Korea launched eight missiles from four locations within 37 minutes, according to the South Korean military. The systems tested were short-range missiles, each flying between 110 and 670 kilometers.
U.S. Forces Korea and the South Korean military fired one U.S. missile and seven South Korean missiles the following day. The eight missiles were launched over a 10-minute period from Gangwon province.
A statement from the South Korean Joint Chiefs of Staff on June 6 said that the testing exercise "demonstrated the capability and posture to launch immediate precision strikes on the origins of provocations, even if North Korea launches missiles from various locations."
U.S. Forces Korea offered a similar explanation, saying the test was intended to demonstrate the ability to "respond quickly to crisis events."
The June 5 test was the third that North Korea has conducted since South Korean President Yoon Suk Yeol took office in May. (See ACT, June 2022.) In a June 6 statement, Yoon said North Korean missiles are becoming more sophisticated and threaten "not only peace on the Korean Peninsula but also in Northeast Asia and the world."
Testing eight missiles in succession is the largest North Korean launch since Kim Jong Un took power. Rapidly firing multiple missiles could be intended to test how quickly North Korea can deploy systems from multiple sites and demonstrate Pyongyang's ability to overwhelm regional missile defense systems or target several locations simultaneously.
The United States and Japan also held a joint military drill in response to the tests.
Japanese Defense Minister Nobuo Kishi said on June 5 that one of the North Korean missiles tested had a variable trajectory. This could mean that the missile can be maneuvered to evade missile defenses, a likely goal for North Korea given defense systems in Japan and South Korea. Kishi said North Korea's actions "cannot be tolerated."
Although UN Security Council resolutions prohibit North Korea from conducting ballistic missile tests, it is highly unlikely that the council will take any action to rebuke Pyongyang over the June 5 tests.
On May 26, China and Russia vetoed a U.S.-backed Security Council resolution that would have strengthened sanctions against North Korea in response to its recent long-range missile tests.
If adopted, the resolution would have lowered the caps on the oil and refined petroleum products that North Korea is permitted to import and banned the export of mineral fuels, mineral oil, and mineral waxes, as well as clocks and watches. It also targeted companies engaged in cyberactivities.
In a statement following the vote, U.S. Ambassador Linda Thomas-Greenfield called the vetoes "dangerous" and said that the council's failure to act enables Pyongyang to expand its nuclear and missile programs.
Chinese Ambassador Zhang Jun justified the veto by saying that Beijing opposes actions that "could increase tension and lead to miscalculations." He blamed the "flip-flop of U.S. policies and failure to uphold the results of previous dialogues" for the current security situation on the Korean peninsula and said it is Washington's responsibility to resume talks with the North.
Russian Ambassador Vassily Nebenzia said further sanctions are ineffective and a "dead end." He said the United States has ignored North Korean calls for Washington to end its "hostile policy," which would open up space for dialogue.
The Biden administration said it has made clear to the North Korea regime that it is willing to engage in negotiations without preconditions. But talks appear unlikely at this time because North Korea is focused on expanding its nuclear-capable ballistic missile arsenal and fighting a COVID-19 outbreak.
North Korea may also be looking to refine its nuclear weapons designs through further testing. South Korean Foreign Minister Park Jin said on June 13 that North Korea has completed preparations to conduct a nuclear test and only needs to make the "political decision" to do so. Park urged North Korea to refrain and said a nuclear test would only "strengthen our deterrence and also international sanctions."
During a June 7 trip to Seoul, U.S. Deputy Secretary of State Wendy Sherman said the U.S. response to a test would be "swift and forceful," but did not provide details about what specific steps the United States might be prepared to take.
International Atomic Energy Agency (IAEA) Director-General Rafael Mariano Grossi confirmed that the agency also noted signs of possible nuclear test preparations at North Korea's test site. In a June 6 statement to the IAEA Board of Governors, Grossi said that the agency has "observed indications" that one of the tunnels at the site has been reopened.
North Korea announced a nuclear test moratorium in April 2018 and blew up tunnels used for testing as part of that commitment. (See ACT, May 2018.) Grossi said any test would be "a cause for serious concern" and "contravene UN Security Council resolutions."
He noted that the IAEA has observed indications that North Korea continues to operate its five megawatt-electric (MWe) nuclear reactor, which produces weapons-grade plutonium, and that the external construction of a new building attached to North Korea's centrifuge enrichment facility appears to be completed.
Grossi said North Korea is dismantling parts of its unfinished 50MW reactor. Pyongyang halted construction on that facility in 1994.
A satellite imagery analysis published by 38 North also concluded that North Korea is dismantling the reactor. It said activity at the site "suggests that the main reactor building is being scavenged for materials probably for use in other construction projects."