July/August 2022
By Gabriela Rosa Hernández
NATO leaders have approved a new strategic concept, announced major plans to strengthen the military force posture, and agreed to begin accepting two new members as the alliance continues to push back against an increasingly aggressive Russia and a rising China.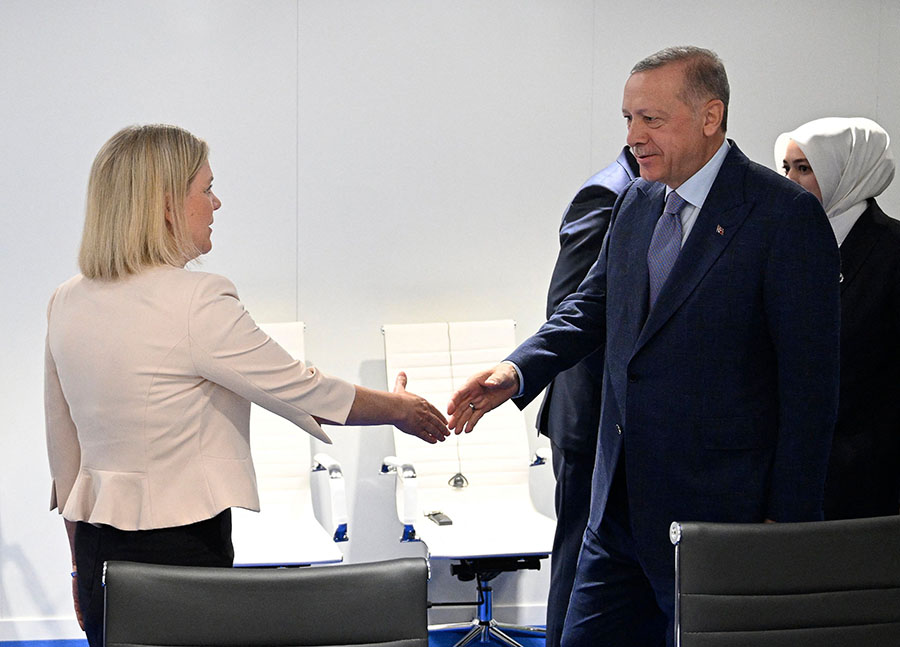 In a world where "pervasive instability, rising strategic competition and advancing authoritarianism challenge the alliance's interests and values…[w]e will significantly strengthen our deterrence and defense posture to deny any potential adversary any possible opportunities for aggression," they declared in the strategic concept, the blueprint of alliance goals and principles.
The NATO summit in Madrid on June 29–30 opened on a strong note after Finland, Sweden, and Turkey signed a trilateral memorandum clearing the way for the Nordic states to join the alliance. Turkey lifted its hold on the membership bids after 11th-hour talks on June 28. As a result, Turkey received assurances that Finland and Sweden would commit to preventing the activities of the separatist Kurdistan Workers' Party, which has killed civilians in Turkey, and other terrorist organizations. Meanwhile, the United States signaled a new willingness to sell upgraded F-16 jet fighters to Turkey.
Guided by the strategic concept, the new force plans include deployment of a brigade-level military presence on NATO's eastern flank and an increase in its high-readiness joint task force from 40,000 troops to 300,000 troops by 2023. The alliance also agreed to prioritize the integration of air and missile defenses in its deterrence and defense posture.
Although NATO members reaffirmed that arms control, disarmament, and meaningful reciprocal dialogue are imperative to Euro-Atlantic security, they also asserted a robust recommitment to NATO's nuclear capabilities in order "to preserve the peace, prevent coercion and deter aggression."
The main difference from the previous strategic concept, released more than a decade ago, appears to be an acknowledgement that NATO is operating in a radically different security environment, with Russia now identified as the most pressing challenge. "The Euro-Atlantic area is not at peace. [Russia] has violated the norms and principles that contributed to a stable and predictable security order," the new strategic concept states.
By contrast, NATO members in the 2010 concept envisioned a true strategic partnership with Russia and viewed the NATO-Russia Council, established more than 20 years ago by the NATO-Russia Founding Act, as a crucial mechanism for dialogue and joint action.
By 2021 the tone was already changing as NATO deemed Russia a threat. "We face multifaceted threats, systemic competition from assertive and authoritarian powers," NATO leaders said in a statement at the time. "Russia's aggressive actions constitute a threat to Euro-Atlantic security."
The allies also first acknowledged that China's growing influence presented a challenge. (See ACT, April 2021.) The new strategic concept takes that further and says China's "malicious hybrid and cyber operations and its confrontational rhetoric and disinformation target allies and harm alliance security."
The new concept highlights numerous issues of strategic importance for the alliance defense and deterrence force posture, including air and missile defense capabilities. In NATO's determination to "defend every inch of allied territory…we will ensure a substantial and persistent presence on land, at sea, and in the air, including through strengthened integrated air and missile defense," the concept says. The move reflects NATO's concerns about Russia's indiscriminate use of missile systems in Ukraine. (See ACT, June 2022.) The concept also emphasizes the importance of new and emerging technologies. To this end, NATO leaders agreed to launch a $1 billion fund for emerging technologies.
Despite the shifts in force posture, NATO leaders reaffirmed the importance of arms control to a credible deterrence posture and reiterated their commitment to the nuclear Nonproliferation Treaty. Nonetheless, the new concept does not provide a strategy for moving forward with nuclear arms control and disarmament and does not differ from NATO's previous policy. The new concept states that the allies "will pursue all elements of strategic risk reduction, including promoting confidence building and predictability through dialogue."
Effectively, the new security environment is accelerating existing NATO policies. When the Soviet Union collapsed, NATO withdrew nearly all forward-based troops from Eastern Europe. After Russia's illegal invasion of Crimea in 2014, the alliance developed an "enhanced forward presence" comprising four rotational multinational battle groups in Estonia, Latvia, Lithuania, and Poland as a trip wire to deter Russia. NATO also increased military exercises in the Black Sea. (See ACT, June 2022.)
After Russia invaded Ukraine, the alliance doubled the number of rotational multinational battlegroups; established four more battlegroups, in Bulgaria, Hungary, Romania, and Slovakia; and placed more than 40,000 troops under direct NATO command. These troops are part of NATO's Response Force, a multinational, multidomain force that can be deployed quickly. NATO also expanded its air police missions and military exercises.
At the summit, the alliance reinforced its military position in other ways. The multinational battlegroups established in 2016 on the alliance's eastern flank will be enhanced up to brigade levels. After 2016, the battlegroups totaled about 3,000 troops. In June 2022, NATO said the approximate troop strength in all battlegroups, including in Hungary, Romania, and Slovakia was 9,641. NATO's high-readiness joint task force, which NATO said had 4,000 troops in 2021 and 40,000 after Russia's invasion, will be increased to 300,000 troops under a new force model.
U.S. President Joe Biden announced that these new deployments would include additional U.S. forces in Europe, including, but not limited to, a permanent headquarters in Poland for the U.S. Army Fifth Corps, enhanced rotational deployments in the Baltics, and an additional brigade in Romania underscoring continued U.S. leadership in supporting European security. "Earlier this year, we surged 20,000 additional U.S. forces to Europe to bolster our alliance in response to Russia's aggressive move, bringing our force total in Europe to 100,000," Biden said.
Russia's reaction was swift, with media quoting President Vladimir Putin as saying, "We have nothing to worry about in terms of Finland and Sweden's membership in NATO. They want to join NATO—please. Only they should clearly imagine that there were no threats to them before, but if military contingents and infrastructure are deployed there, we will have to respond in a mirror manner."
Before the summit, analysts wondered if NATO would ditch its commitments under the 1997 NATO-Russia Founding Act, which stipulated that NATO has no intention, reason, or plan to deploy nuclear weapons, or nuclear storage sites, in the territories of states that joined NATO after the Soviet Union disintegrated.
Although the new strategic concept did not formally abrogate the act, NATO is looking at conventional options to strengthen deterrence beyond the limits implied in the act. The act's "substantial combat forces pledge" states that NATO will not permanently deploy substantial conventional forces, assumed to mean more than one brigade, in new member states. Russia has accused NATO of violating the act with rotational deployments. At the summit, NATO did not announce a permanent force deployment in the Baltic states and likely will argue, in response to Russian accusations, that rotational forces do not violate the act. Possible contributions by Finland and Sweden are not included.
"Russia has walked away from the NATO-Russia Founding Act, and while that is unfortunate, it's done, and we are certainly going to look at conventional deployments that would not be necessarily considered under the NATO-Russia Founding Act. But more importantly, I think we just don't think it applies anymore to the world that we're facing," a high-ranking NATO official told Arms Control Today.
At the summit, the allies agreed on a comprehensive assistance package for Ukraine. "Over the longer term, we will help Ukraine transition from Soviet-era military equipment to modern NATO equipment and further strengthen its defense and security institutions," NATO Secretary-General Jens Stoltenberg said.
The leaders also recommitted themselves to the alliance's long-standing open-door policy and formally invited Finland and Sweden to join. (See ACT, June 2022.) Next, the parliaments of NATO's 30 member states must ratify Finland's and Sweden's accession protocols.