March 2022
By Shannon Bugos
Amid a full-scale military assault on Ukraine, Russian President Vladimir Putin has ordered his country's nuclear forces to move to the heightened alert status of a "special regime of combat duty," further escalating a catastrophic war in Europe and upending international stability and nuclear arms control and disarmament.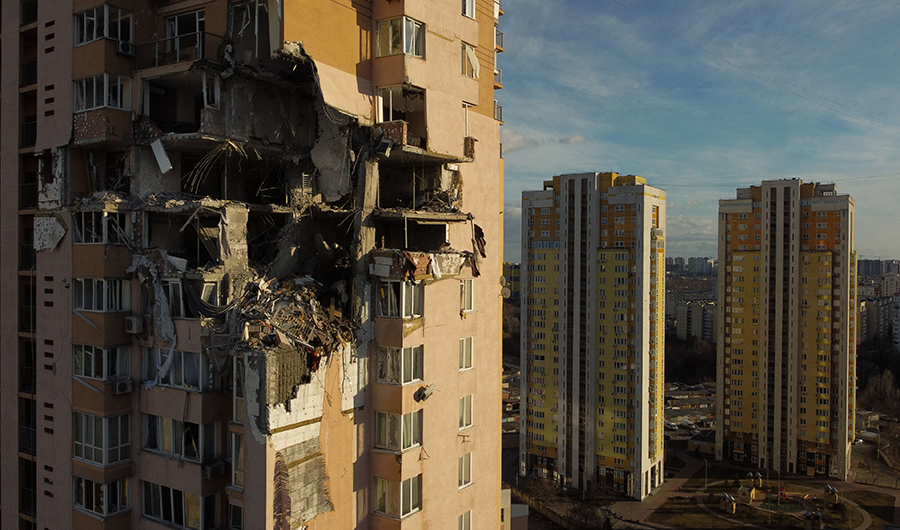 "Western countries aren't only taking unfriendly economic actions against our country, but leaders of major NATO countries are making aggressive statements about our country," Putin said on Feb. 27 during a meeting with defense officials. "So, I order to move Russia's deterrence forces to a special regime of combat duty."
Belarus, Russia's client-state, followed up by agreeing to abandon its status as a non-nuclear weapon country and reaffirming its offer to host Russian tactical nuclear weapons on its territory.
Asked at a press conference at the United Nations on Feb. 28 if there is a scenario under which Russia would use nuclear weapons, Russia's UN ambassador, Vasily Nebenzya, replied, "On the use of nuclear weapons, god forbid it." He said Moscow was exercising "a kind of deterrence."
Although Putin's decision raised the risk of nuclear weapons confrontation, it was not entirely unexpected given that a few days earlier the Russian leader threatened any country that tries to interfere in Ukraine with consequences "such as you have never seen in your entire history."
The United States and NATO immediately criticized Moscow's move, but their response was measured and there was no indication that the status of U.S. and NATO nuclear forces would mirror Russia.
"This is really a pattern that we've seen from President Putin through the course of this conflict, which is manufacturing threats that don't exist in order to justify further aggression," White House Press Secretary Jen Psaki said on Feb. 27. "At no point has Russia been under threat from NATO [or] has Russia been under threat from Ukraine."
"This is dangerous rhetoric," NATO Secretary-General Jens Stoltenberg said of Putin. "This is a behavior which is irresponsible."
It was not immediately evident exactly what changes to Russian nuclear forces and command and control systems Putin had demanded. One senior U.S. defense official cautioned that although there is "no reason to doubt the validity of this order [,]…how it's manifested itself I don't think is completely clear yet."
Putin's move to place Russian nuclear forces on a higher alert occurred in the early days of Moscow's invasion. During an address on Feb. 24, Putin stated that Russia will undertake "a special military operation" in Ukraine. Soon after, Russian military forces launched deadly missile attacks and invaded the country from southern Belarus, western Russia, and Crimea, a part of Ukraine that Putin occupied in 2014. By Feb. 25, they had reached the capital Kyiv.
"President Putin has chosen a premeditated war that will bring a catastrophic loss of life and human suffering," U.S. President Joe Biden said in response.
A senior U.S. defense official said on Feb. 24 that "this is just an initial phase" of the invasion and the Pentagon believes Moscow has "every intention of basically decapitating the [Ukrainian] government and installing their own method of governance."
Putin attempted to justify his military operation by repeating longtime grievances, such as NATO's expansion eastward, and by falsely claiming that Ukraine has plans to build nuclear weapons or obtain them from the United States.
Under the 1994 Budapest Memorandum, Ukraine gave up its nuclear weapons in exchange for security assurances that there would be no threats or use of force against its territory or political independence. Washington has repeatedly rebutted claims that it would base nuclear weapons in Ukraine, which is not a NATO member state.
The attacks began after Putin signed executive orders on Feb. 21 recognizing the two Russian-controlled Donbas regions of Donetsk and Luhansk as independent and ordering forces into the regions to perform "peacekeeping functions."
The invasion was preceded by weeks of feverish diplomacy, including an exchange of security proposals that experts believe eventually could be a basis for negotiation. Russia initiated the exchange on Dec. 15 with proposals related to arms control, risk reduction, and transparency. (See ACT, January/February 2022.) The United States and NATO put forward their respective counterproposals on Jan. 26. Russia responded to the U.S. proposals but has yet to comment on NATO's package.
Among the various competing ideas, those with the most promise related to crafting a new agreement similar to the now-defunct 1987 Intermediate-Range Nuclear Forces (INF) Treaty, negotiating a follow-on to the 2010 New Strategic Arms Reduction Treaty (New START), and establishing risk reduction and transparency measures, such as hotlines.
In a Russian security council meeting with Putin on Feb. 21, Foreign Minister Sergey Lavrov said there were small "openings" for progress on some of the security proposals. But Moscow has insisted its main priority is blocking the further eastward expansion of NATO. The United States and NATO consider prohibiting Ukraine from joining the alliance a nonstarter, even though such membership is unlikely anytime soon.
Responding to the U.S. proposal on Feb. 17, the Kremlin emphasized that "Russia's proposal is a package deal and should be considered in its entirety, not item by item."
In 2014, Putin seized the Crimean Peninsula and deployed forces to eastern Ukraine. By ordering the latest invasion with the goal of toppling the government in Kyiv, Putin likely slashed any near-term prospects for new arms control and disarmament arrangements to follow New START, which expires in 2026.
The massive assault included successfully capturing the Chernobyl nuclear power plant, where a nuclear reactor exploded in 1986, contaminating areas in Belarus, Russia, and Ukraine. "Our defenders are giving their lives so that the tragedy of 1986 will not be repeated," tweeted Ukrainian President Volodymyr Zelenskyy, just hours before Russian forces took the plant.
Cheryl Rofer, a former nuclear scientist at Los Alamos National Laboratory, cautioned that, "for those imagining more lurid scenarios, the dangerous material lies deep under the concreted-in reactor in a solid radioactive mass. [It is] hard to reach, and explosions are not effective in dispersing that kind
of material."
In the lead-up to the assault on Ukraine, Russia held 10 days of military exercises in Belarus, which included sending an estimated 30,000 troops to the country, and followed up by conducting its annual strategic nuclear exercises, dubbed Grom 2022, on Feb. 19, which featured intercontinental ballistic missiles and hypersonic weapons. At the time, U.S. officials estimated that Moscow had deployed approximately 160,000–190,000 troops along the Russian-Ukrainian border.
Biden last spoke with Putin for about an hour on Feb. 12. "The call between the two presidents was professional and substantive," a senior administration official told reporters afterward. But "there was no fundamental change in the dynamic that has been unfolding now for several weeks."
Biden had agreed "in principle" to an in-person meeting with Putin, brokered by France, but it was cancelled because of the invasion. Secretary of State Antony Blinken also cancelled a planned meeting with Lavrov on Feb. 24 in Geneva.
France, Germany, and Ukraine attempted to engage Russia in the so-called Normandy format over a potential revival of the 2015 political deal dubbed Minsk II. The four countries first met Jan. 26 in Paris and then Feb. 10 in Berlin, but to no avail.
Other diplomatic engagements have included a special session of the U.S.-Russian strategic stability dialogue on Jan. 10 in Geneva to discuss Moscow's initial proposals from December. U.S. and Russian officials emphasized that only some of the issues under discussion coincided with the purview of the dialogue, which was previously held in July and September after Biden and Putin revived it in June 2021.
On Feb. 26, U.S. Deputy Secretary of State Wendy Sherman said that Washington will not proceed with the dialogue under the current circumstances.