January/February 2022
By Julia Masterson
Parties to the 2015 Iran nuclear deal seem to be making some progress in their negotiations, reviving hope that they could soon agree on mutual steps to restore the accord, formally known as the Joint Comprehensive Plan of Action (JCPOA).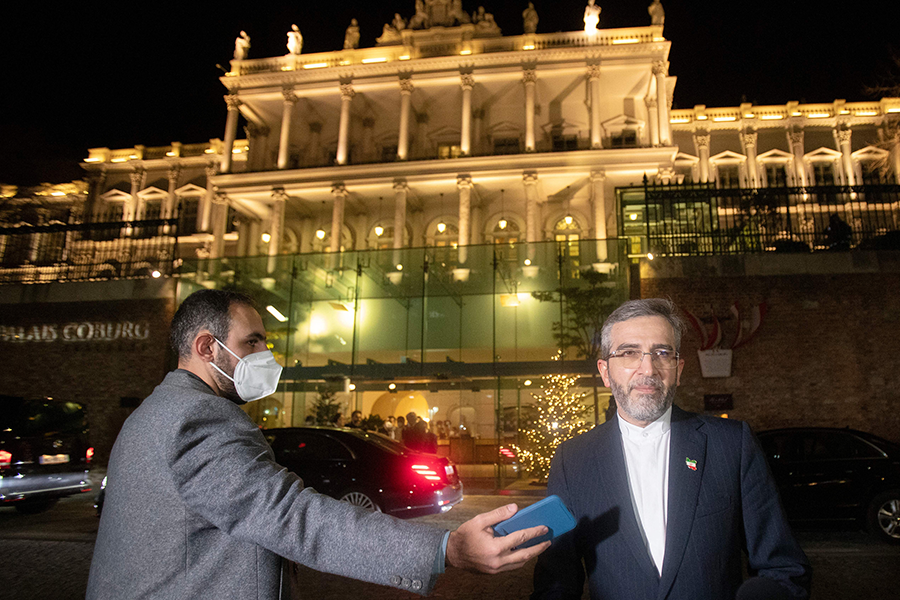 After months of stalemate, recent talks in Vienna suggested a growing convergence among the negotiating states (China, France, Germany, Iran, Russia, the United Kingdom, and the United States) on a baseline for negotiations and the identification of key gaps requiring further discussion, according to participants.
The measured optimism was apparent before the eighth round of negotiations resumed on Jan. 3 after a break for the New Year's holiday. Ali Bagheri Kani, the chief Iranian negotiator, said that when the talks paused on Dec. 30, there had been "relatively satisfactory progress." U.S. State Department spokesman Ned Price, speaking the same day, agreed that "there may have been some modest progress" in the negotiations. Earlier in the week, Price acknowledged progress on "identifying the hard issues left to be negotiated" and stressed the need to "add real urgency" to discussions in Vienna.
U.S. officials have hinted that there must be significant headway by late January or early February for the negotiations to continue. The United States and Iran have yet to meet directly in Vienna. The eighth round of talks began on Dec. 27, less than two weeks after the seventh round concluded on Dec. 17, reinforcing the growing urgency to restore the JCPOA.
For Iran, the ability to restart and maintain its oil exports without international sanctions is a top priority. As a trade-off for sanctions relief, Tehran has indicated its willingness to forgo aspects of the advanced civilian nuclear program it developed since first breaching the JCPOA in 2019.
Bagheri Kani said on Dec. 27 that the United States must lift sanctions and provide guarantees that it will not again withdraw from the JCPOA, as President Donald Trump did in May 2018. Bagheri Kani pledged that when sanctions are lifted, Iran will take steps to revert its nuclear program back to JCPOA levels.
As the eighth round began, Iranian Foreign Minister Hossein Amirabdollahian said on Dec. 28 that if the parties continue to negotiate in good faith, a deal could be reached quickly. Mikhail Ulyanov, Russia's ambassador to international organizations in Vienna, reinforced this view when he tweeted on Dec. 28 that the talks had achieved "indisputable progress," particularly on the nuclear file. Senior European diplomats confirmed to reporters that technical progress had been made.
But the negotiators remain clear eyed about the limited time left to restore the deal, given Iran's nuclear advances. "We are reaching a point where Iran's nuclear escalation will have eliminated the substance of the JCPOA," the European diplomats said, noting that "this means we have some weeks and not months to reach an agreement."
Even as Price acknowledged some "modest progress," he said that "it is too soon to tell if we are making real progress toward an understanding on mutual return to full compliance" with the JCPOA. Price said that "Iran is at best dragging its feet in the talks while racing forward in its nuclear escalation…[and] that won't work."
U.S. officials are concerned that, within the first quarter of 2022, Iran's breakout window, or the time it would take to produce enough fissile material for one nuclear bomb, will "approach the margin of error." That is effectively one week, according to officials quoted anonymously in a Dec. 7 report by journalist Laura Rozen.
Given that the International Atomic Energy Agency (IAEA) conducts in-person inspections in Iran on a weekly basis and that Iran has previously faltered on its commitments to allow continuous agency camera monitoring, a one-week window could be sufficient time for Iran to produce enough highly enriched uranium for one bomb, absent IAEA monitoring.
A senior U.S. official told Rozen that "if we get into the latter part of [the first quarter], close to the margin of error, we will reach a decision point" on whether to continue negotiations to restore the JCPOA. Iran's nuclear program is more advanced than ever and has accelerated during the talks in Vienna, the IAEA says.
Midway through the seventh round of negotiations, which began on Nov. 29, the IAEA confirmed that Iran had begun operating 166 advanced IR-6 centrifuges at its Fordow enrichment facility in flagrant breach of the JCPOA, which dictates that Iran enrich and accumulate uranium using only first-generation IR-1 centrifuges at the Natanz plant.
Iran has not given any indication that it plans to slow nuclear development while the Vienna talks are in progress. Even so, Tehran insists it is not dashing for a bomb. Mohamad Eslami, head of the Atomic Energy Organization of Iran, said on Dec. 25 that Iran will not enrich uranium to a level greater than 60 percent uranium-235 even if talks fail.
But diplomats have begun to reconcile with the reality that a revived JCPOA could be a weakened agreement due to Iran's repeated breaches and to question whether the practical nonproliferation benefits of the accord can be fully restored. At a Dec. 4 briefing, a senior State Department official said the United States "[cannot] accept a situation in which Iran accelerates its nuclear program and slow-walks its nuclear diplomacy."
Negotiations to restore JCPOA compliance resumed in late November after a five-month hiatus. The first six rounds of talks were held in April-June 2021,but talks stalled with the election of Iranian President Ebrahim Raisi, who campaigned on a more rigid approach to negotiations.
When the United States unilaterally withdrew from the accord in May 2018, it reimposed all sanctions on Iran that had been lifted under the JCPOA. One year later, Iran began to violate the deal's nuclear limits. That decision has since shrunk Iran's nuclear breakout window from more than one year, when the deal was fully implemented, to about three weeks as of mid-December.
When talks resumed in November, it was unclear if the Raisi administration would adopt its predecessor's position toward them or begin anew by forswearing the progress of the first six rounds. After new Iranian proposals were tabled, senior European diplomats judged that "Iran is breaking with almost all of the difficult compromises reached in months of tough negotiations."
But ahead of the eighth round, negotiators were able to achieve progress on clarifying an agenda for talks on the nuclear file, incorporating Iran's drafts and the texts previously agreed on in June.
Meanwhile, Iran on Dec. 30 launched a rocket carrying three devices some 470 kilometers into space, according to Ahmad Hosseini, an Iranian Defense Ministry spokesman. It is not clear whether any of the objects carried by the Simorgh satellite launch vehicle entered orbit.
Similar Iranian launches have escalated tensions with the United States. Iran's evolving space program provides a credible, nonmilitary reason to test a satellite launch vehicle, but the technology closely resembles that used to build long-range ballistic missiles.