January/February 2022
By Daryl G. Kimball and Shannon Bugos
Senior U.S. and Russian officials have agreed to meet in Geneva on Jan. 10 to discuss a long list of security issues, including a wide-ranging set of Russian proposals that Moscow says are designed to provide "security guarantees." In recent weeks, tensions have flared as Russian President Vladimir Putin stepped up Russian military activity near Ukraine, which Russia invaded in 2014, and complained about NATO military support for Ukraine and Georgia.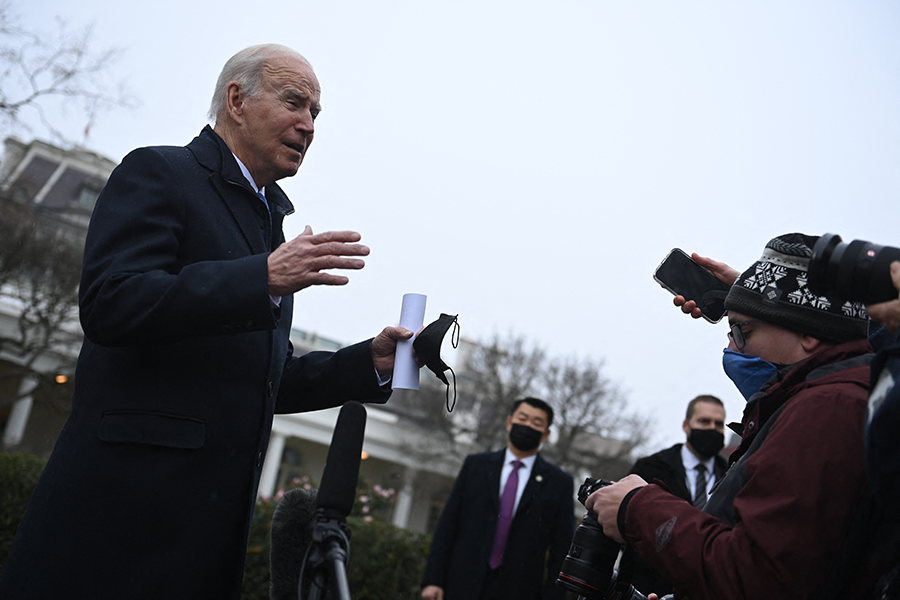 On Dec. 15, Karen Donfried, the U.S. assistant secretary of state for European and Eurasian affairs, met Russian Deputy Foreign Minister Sergei Ryabkov, who transmitted two draft agreements outlining political and military security guarantees Moscow wants from the United States and NATO. They include demands that NATO renounce any expansion eastward into states of the former Soviet bloc, including Ukraine, and limit troop and weapons deployments and military drills on NATO's eastern flank.
Two days later, Russia published its proposals, one between Russia and the United States and another between Russia and NATO. "We hope that the United States will enter into serious talks with Russia in the near future regarding this matter, which has critical importance for maintaining peace and stability, using the Russian draft treaty and agreement as a starting point," the Russian Foreign Ministry said in a statement.
The White House quickly announced it would engage on the proposals, but insisted its European partners would also be involved. The Russian-U.S. strategic stability dialogue in Geneva is expected to be followed on Jan. 12 by talks in Brussels within the NATO-Russia Council, which has not met in more than two years.
"We'll listen to Russia explain its proposals and the underlying concerns motivating them. We'll respond and share our own concerns, and we do have many," State Department spokesperson Ned Price said on Jan. 4 of the Geneva meeting.
He stressed that the talks are narrowly focused on strategic stability matters and described the U.S. goal as being able to "identify a few issues where there might be enough common ground to continue discussions and ultimately address together."
Price also emphasized that the talks would deal strictly with bilateral matters and "we're not going to talk above the heads of our European allies and partners."
On Dec. 30, President Joe Biden spoke with Putin on security matters, the second such conversation that month. According to a statement released by the White House, Biden "… urged Russia to deescalate tensions with Ukraine. He made clear that the United States and its allies and partners will respond decisively if Russia further invades Ukraine. President Biden also expressed support for diplomacy, starting early next year [and] reiterated that substantive progress in these dialogues can occur only in an environment of deescalation rather than escalation."
The January meetings were scheduled as fighting between Ukrainian forces and Russian-backed separatists in eastern Ukraine continues and as concerns linger about Russia's military activities along its common border with Ukraine. Last month, U.S. officials said Russia has amassed around 100,000 troops near the Ukrainian border that could be used against Ukraine. On Dec. 25, Reuters reported that more than 10,000 Russian troops were leaving regions near Ukraine, including Crimea, Rostov, and Kuban, and returning to permanent bases in Russia.
The Russian-U.S. talks will occur in the context of the strategic stability dialogue launched after the June summit between Biden and Putin to discuss nuclear weapons-related issues. The previous two rounds, in July and September, were led by Ryabkov and U.S. Deputy Secretary of State Wendy Sherman.
The dialogue was originally designed to explore future arms control options. After the September dialogue, Moscow and Washington agreed to establish two working groups, one on "principles and objectives for future arms control" and the other on "capabilities and actions with strategic effects."
How the broadened dialogue will affect progress toward negotiations on new nuclear arms control arrangements is not yet clear. Both sides have indicated interest in a new agreement or agreements to supersede the New Strategic Arms Reduction Treaty (New START), which expires in February 2026. The treaty caps Russian and U.S. strategic nuclear arsenals at 1,550 deployed warheads and 700 deployed delivery vehicles and heavy bombers each. The Bilateral Consultative Commission, the treaty's implementing body, last met Oct. 5–14 in Geneva.
One Russian security proposal calls for the United States not to deploy outside its borders any missiles formerly banned under the 1987 Intermediate-Range Nuclear Forces (INF) Treaty. Under that treaty, the United States and the Soviet Union banned all nuclear and conventional ground-launched ballistic and cruise missiles with ranges between 500 and 5,500 kilometers, leading to the elimination of a total of 2,692 missiles.
After Washington withdrew from the accord in 2019, Putin proposed that the two countries impose a moratorium on the deployment of INF Treaty-range missiles and later added mutual verification measures to the proposal. Russia also indicated that its 9M729 cruise missile, which the United States alleged was a violation of the INF Treaty, would be covered by its proposal.
At the time, the Trump administration and NATO dismissed the Russian proposal. The Biden administration has not clarified whether it would consider the Russian concept or offer a counterproposal.
The draft Russian-U.S. agreement proposes that the two countries "shall undertake not to deploy ground-launched intermediate-range and shorter-range missiles outside their national territories, as well as in the areas of their national territories, from which such weapons can attack targets in the national territory of the other party."
The draft Russian-NATO agreement also includes a moratorium, proposing that "the parties shall not deploy land-based intermediate- and short-range missiles in areas allowing them to reach the territory of the other parties."
Additionally, Moscow proposed that Russia and the United States "refrain from deploying nuclear weapons outside their national territories" and "not train military and civilian personnel from non-nuclear countries to use nuclear weapons."
This refers to the U.S.-NATO nuclear sharing agreement, under which Washington is estimated to deploy more than 100 B61 gravity bombs across Belgium, Germany, Italy, the Netherlands, and Turkey, with all but the Turkish air force assigned and trained to carry out nuclear strike missions with the U.S. weapons.
Bonnie Jenkins, undersecretary of state for arms control and international security, outlined the key concepts for U.S. arms control efforts in a Sept. 6 speech. "First, we will look to capture new kinds of intercontinental-range nuclear delivery systems. Second, we will seek to address all nuclear warheads, including those which have not been limited previously, like so-called non-strategic nuclear weapons. Third, we will seek to retain limits on Russian intercontinental-range ballistic missiles, submarine-launched ballistic missiles, and heavy bombers equipped for nuclear armaments after New START expires in 2026," she said.
It remains unclear how the two sides could bridge their nuclear differences and when they might transition from the dialogue to more formal negotiations on a successor to New START. Biden said in June that "we'll find out within the next six months to a year whether or not we actually have a strategic dialogue that matters."