September 2021
By Julia Masterson and Leanne Quinn
Two chlorine cylinders relevant to an investigation by the Organisation for the Prohibition of Chemical Weapons (OPCW) into Syria's chemical weapons activities were destroyed June 8 in an alleged missile strike. In a July 9 letter to the OPCW, the Syrian government informed the chemical weapons watchdog of the incident and blamed Israel for the attack.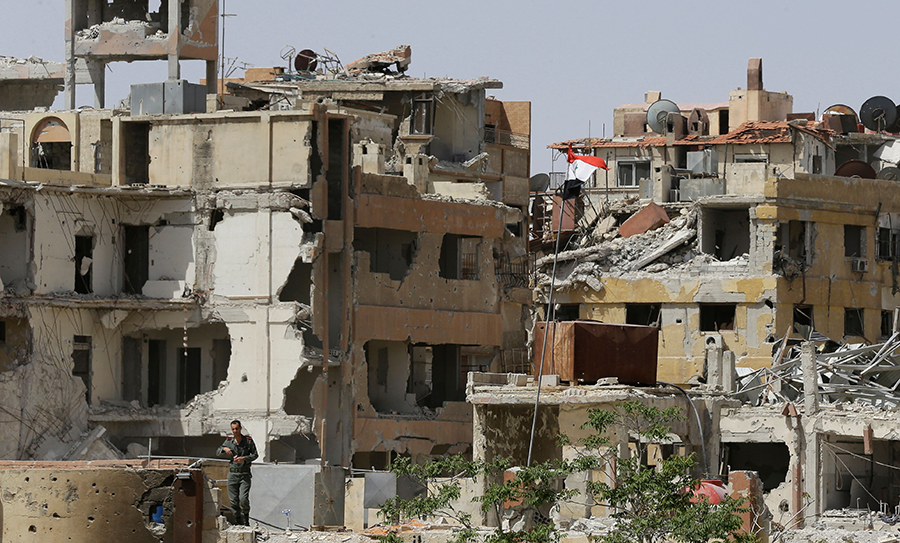 Israel denied involvement in the strike that damaged Syria's Al-Nasiriyah site, which had been sealed under the watch of the OPCW Technical Secretariat. Two chlorine cylinders related to an April 2018 chemical weapons attack in the city of Douma were destroyed. The OPCW's Investigation and Identification Team, which is charged with investigating and attributing responsibility for chemical weapons attacks in Syria, is currently leading a mission to determine who was behind that attack, which killed more than 40 people.
In his July 23 progress report on the elimination of Syria's chemical weapons program, OPCW Director-General Fernando Arias said he responded to Syria's letter about the attack with a request for more information and documentation. The Technical Secretariat last inspected the two chlorine cylinders in November 2020, and according to Arias, "the inspection team was mandated to transport the cylinders to OPCW headquarters," located in The Hague. During this deployment, Syria "notified the inspection team that the cylinders could not be shipped outside its territory," Arias reported.
Notably, he highlighted that OPCW records suggest the cylinders were stored and inspected at another declared site, located approximately 37 miles from Al-Nasiriyah. Damascus had been instructed by the OPCW to not open, move, or otherwise alter the cylinders without authorization, but Syria did not notify the Technical Secretariat that the cylinders had been moved to a new location until Syria "reported their destruction," he said.
The Syrian government countered that it had fulfilled its obligations to the Technical Secretariat because the November 2020 OPCW inspection of the cylinders included the collection of data on the contents, dimensions, metal density, radioactivity, and other aspects of the cylinders.
The Al-Nasiriyah site is a former chemical weapons production facility that Syria declared to the OPCW but claimed had never been used. Damascus was required to declare the entirety of its chemical weapons stockpile, including production facilities, when it acceded to the Chemical Weapons Convention in 2013.
Although the majority of Syria's chemical weapons stockpile was destroyed during an international initiative in 2013–2014, the OPCW Declaration Assessment Team (DAT) has found that 19 issues related to Syria's chemical weapons declaration are still unresolved. The Technical Secretariat is keen to understand the extent of the damage to the site, given that Al-Nasiriyah is "related to one outstanding issue recently opened by the DAT," according to a statement by Thomas Makram, the deputy UN high representative for disarmament affairs.
Makram presented Arias's report to an Aug. 4 meeting of the UN Security Council, where the news was met by vehement calls from the international community for more information and documentation on the incident. Barbara Woodward, the United Kingdom's ambassador to the United Nations, said that "this incident represents not only the highly concerning failure by Syria to comply with the important OPCW requests, but also unauthorized interference with evidence central to an ongoing high-profile investigation."
Bassam Sabbagh, Syria's ambassador to the UN, condemned the July 23 progress report for focusing "only on the technical aspects" of the incident rather than the implications of an air strike on sovereign territory. Sabbagh, along with the Russian ambassador, accused the OPCW of "politicization," but reaffirmed the willingness of Syrian Foreign Minister Faisal Mekdad to meet with Arias and "agree on a way forward."