July/August 2021
By Julia Masterson
Iran's failure to cooperate with an International Atomic Energy Agency (IAEA) investigation into its past nuclear activities "seriously affects" the agency's ability to verify the peaceful nature of its nuclear program, IAEA Director-General Rafael Grossi said in his introductory statement to the agency's Board of Governors, which met June 7–10 in Vienna.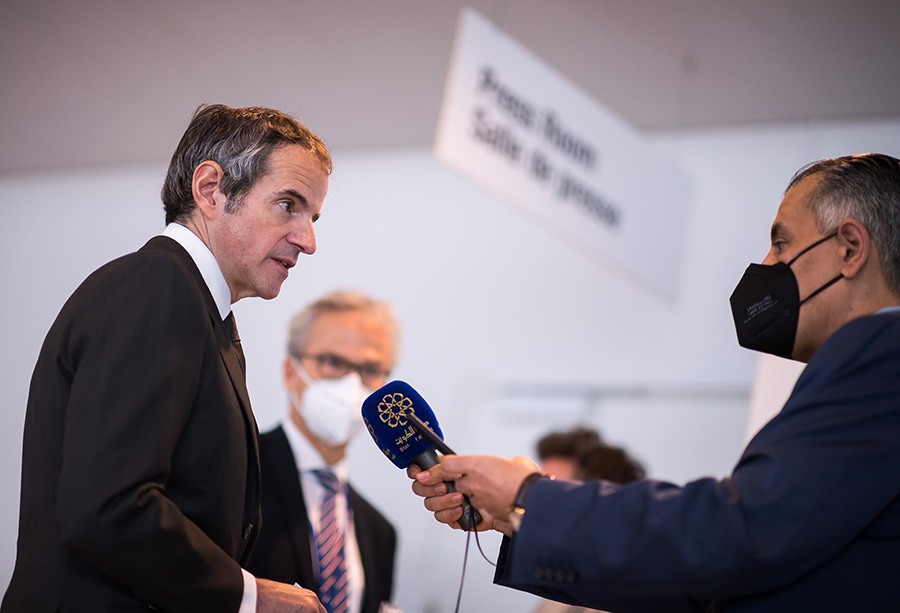 Despite repeated efforts by the IAEA to engage in technical discussions with Iran, Iranian officials have failed to provide a satisfactory explanation for the presence of nuclear particles at three undeclared locations. "In the absence of such an explanation from Iran, I am deeply concerned that nuclear material has been present at the three undeclared locations in Iran and that the current locations of this nuclear material are not known by the agency," Grossi said.
Ahead of the meeting, Grossi circulated a May 31 report detailing the status of Iran's comprehensive nuclear safeguards agreement, which it is required to implement as a state-party to the nuclear Nonproliferation Treaty (NPT). The IAEA investigation into Iran's past nuclear activities has raised concerns about the accuracy and completeness of Iran's declarations pursuant to that agreement. In his statement, Grossi reiterated that Iran should clarify and resolve all outstanding inconsistencies without further delay.
Grossi has adopted a tougher stance toward Iran than his predecessor, Yukiya Amano. Grossi appears committed to resolving all issues related to Iran's safeguards agreement during his IAEA tenure.
The issues pertain to pre-2003 nuclear activities, when Tehran had a nuclear weapons program. The IAEA concluded its investigation into these activities in 2015, but is obligated to follow up on evidence that points to undeclared nuclear materials and activities that Iran should have disclosed under its safeguards agreement.
According to the report, the investigation has centered on four locations in Iran, denoted as Locations 1 to 4.
Information made available to the IAEA in September 2018 suggests that Location 1 could have been involved in the storage of nuclear materials and equipment, information that Iran is required to disclose per its safeguards agreement. (See ACT, November 2018.)
Environmental sampling conducted by the agency in February 2019 yielded evidence of "natural uranium particles of anthropogenic origin [human made], the composition of which indicated that they may have been produced through uranium conversion activities." The agency shared this finding with Iran, but it assessed Iran's explanation of these undeclared materials and activities to be "not technically credible."
At Location 2, the IAEA found indications of the possible presence between 2002 and 2003 of natural uranium, in the form of a metal disc that underwent drilling and processing. When the agency requested clarification on the origin of the disc in 2019, Iran declined to respond. Subsequent IAEA efforts to locate the disc and verify its existence have been inconclusive.
The IAEA found evidence of possible uranium-conversion activities in 2003 at Location 3 and, at Location 4, it found the possible use and storage of nuclear material "where outdoor, conventional explosive testing may have taken place," also in 2003.
Iran denied initial agency requests for access to those locations in 2019, but it later granted permission in August 2020 under an Iranian-IAEA agreement. (See ACT, September 2020.) Subsequent inspections revealed the presence of "anthropogenic uranium particles that required explanation by Iran" at both locations, but Iran has failed to satisfactorily address any IAEA inquiries related to the two sites.
Grossi and Iranian officials held a series of talks aimed at addressing questions associated with the four locations beginning in April 2021. To date, Iran has not cooperated sufficiently.
Another round of bilateral technical meetings is scheduled to begin the week of June 21, several days after Iran's June 18 presidential election. It remains to be seen whether Ebrahim Raisi, newly elected president, will engage with the IAEA to resolve the disputed issues.
Iran-IAEA Agreement in Question
The head of the International Atomic Energy Agency (IAEA) expressed frustration over Iran's failure to respond to agency inquiries about the status of a special arrangement for monitoring Iran's nuclear program.
IAEA Director-General Rafael Grossi told the agency's Board of Governors on June 25 that the special monitoring arrangement had expired the previous day and that it was "essential for the agency to understand Iran's position" regarding the data being collected under the arrangement. He stressed the "vital importance" of an "immediate response from Iran."
Iran and the IAEA reached an agreement in February for Tehran to collect and store certain information after Iran informed the agency that it was suspending certain monitoring and verification mechanisms required by the 2015 nuclear deal. (See ACT, March 2021.) Iran will transfer the collected data to the IAEA if U.S. compliance with the nuclear deal is restored. The arrangement expired in May, but was extended through June 24.
Saeed Khatibzadeh, spokesman for the Iranian Foreign Ministry, said in a June 28 press conference that "no decision has been made yet, either negative or positive, about extending the monitoring deal." He also said that there has been no decision about deleting the collected data and video footage.
A senior U.S. State Department official said in a June 24 press call that the United States is concerned about the status of the agreement. "If the IAEA is blind for a certain amount of time," it will make it "much more difficult" restore compliance with the 2015 nuclear deal, he said.
The IAEA has access to certain nuclear sites under Iran's safeguards agreement, which Tehran continues to implement.—KELSEY DAVENPORT