May 2021
By Julia Masterson
World powers were back in Vienna the week of April 27, trying to accelerate their efforts to bring the United States and Iran into compliance with the 2015 nuclear accord, formally known as the Joint Comprehensive Plan of Action (JCPOA).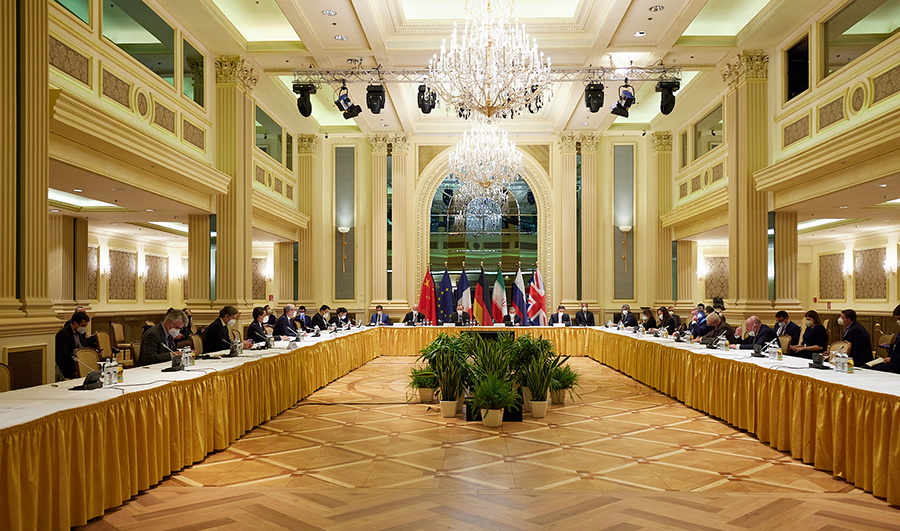 Iran, the five other members of the deal, and the United States have spent most of April in the Austrian capital discussing ways to restore the accord. An Iranian Foreign Ministry spokesman confirmed on April 20 that work is underway on a document outlining steps that Iran and the United States must take to return to compliance. Negotiators aim to have a concrete proposal by mid-May, Reuters reported.
U.S. and Iranian delegates did not meet face to face, but substantial progress was made through indirect negotiations mediated by the other members of the agreement—China, France, Germany, Russia, and the United Kingdom.
Delegations from the intermediary countries first gathered with Iran on April 2 to discuss restoring the deal, with Enrique Mora, European external action deputy secretary-general, chairing those discussions. The participating states established formal working groups to address the two primary issues impeding restoration of the accord: the sanctions against Iran that the United States must lift to reenter the deal and the nuclear limits to which Iran must revert in order to meet its own obligations under the agreement.
States met for plenary sessions to deliberate the two working groups' findings on April 9, April 15, April 17, April 20, and April 27.
After their April 20 session, Mora released a statement remarking that "participants took stock of progress made in the ongoing discussions in Vienna regarding specific measures needed in terms of sanctions lifting and nuclear implementation." He said that given the progress made, participants would establish a third working group to consider how the United States and Iran could sequence mutual steps toward compliance with the agreement. The negotiating parties agreed to resume discussions in Vienna the week of April 27.
Overall, the participating states appear optimistic, despite the complicated nature of indirect negotiations between Iran and the United States. According to U.S. State Department spokesman Ned Price, the talks have remained "positive" and "businesslike." He said the discussions "have not been without difficulty, in part because these talks are indirect," but that still "there has been some progress."
U.S. President Joe Biden campaigned on a promise to reenter the deal after President Donald Trump unilaterally abrogated the accord in May 2018 and reimposed stringent sanctions that had been lifted under the agreement.
Price announced on April 7 that the Biden administration is "prepared to take the steps necessary to return to compliance with the JCPOA, including by lifting sanctions that are inconsistent with the JCPOA." But he added, "I am not in a position here to give you chapter and verse on what those might be."
An impasse exists, given that Washington and Tehran appear to have different interpretations of what specific sanctions the United States must lift to return to the deal. The United States appears hesitant to sweep away all sanctions reimposed since 2018, which Iran has demanded as a condition for face-to-face discussions.
Iranian Deputy Foreign Minister Abbas Araghchi, who is also Iran's chief nuclear negotiator, told The Wall Street Journal on April 15, "Our position is quite clear…. As far as we are concerned every sanction imposed or reimposed or relabeled by the Trump administration are JCPOA-related and should be lifted." But he hinted during the interview that Tehran may be open to compromise, saying, "Of course, there are different ways to see that, and that's why we negotiate."
Araghchi outlined one potential path forward on April 16, when he noted in a separate interview that the United States could explicitly name the sanctions it could lift and, in return, Iran could list the nuclear steps it would take to return to compliance with the deal. In his view, this approach could achieve an "agreement on this that can be implemented quicker." It is not clear whether negotiators adopted this approach in Vienna or what the details are of the drafting process already underway.
Expressing support for the compliance-for-compliance approach to restoring the deal, U.S. National Security Advisor Jake Sullivan said on April 18 that "the United States is not going to lift sanctions unless we have clarity and confidence that Iran will fully return to compliance with its obligations under the deal." He described the indirect talks in Vienna as "constructive."
Apart from sanctions, irreversible advances in Iran's nuclear program further complicate restoring the JCPOA. That is because although Iran could return to the enrichment-level and stockpile limits required by the deal, critical knowledge gained by advancing enrichment and operating sophisticated centrifuges in violation of the accord cannot be unlearned.
After the United States abrogated the agreement, Iran in May 2019 began gradually violating its commitments. In November of that year, Iran announced that it would no longer be bound by the agreement's restrictions on the research and development of advanced centrifuges. Since then, Iran has introduced new centrifuges not covered by the nuclear deal and is operating advanced machines in violation of the accord's limits.
Also, the Iranian Parliament passed a law in December 2020 calling on the Atomic Energy Organization of Iran to take a series of escalatory steps in violation of the accord, some of which may result in irreversible knowledge gain, including the production of uranium metal, which Iran is prohibited from producing for 15 years under the JCPOA. Iran began producing uranium metal in February. (See ACT, March 2021.)
The situation was made more complicated by an April 11 sabotage attack against Iran's Natanz nuclear site widely believed to be Israeli in origin. In response, Iran announced it would further boost its enrichment levels of uranium-235 to 60 percent purity, which is closer to bomb-grade quality. Araghchi broadcast the move in Vienna and said that, in addition to replacing the centrifuges damaged in the sabotage attack, Iran would install 1,000 additional machines at Natanz that would be used to produce higher-enriched uranium.
Iran confirmed it began enriching to 60 percent U-235 purity on April 16 under International Atomic Energy Agency monitoring.
Although the attack on Natanz and Iran's retaliatory measures did not derail productive dialogue, France, Germany, and the UK issued a statement on April 14 condemning Iran and noting that "this is a serious development since the production of highly enriched uranium constitutes an important step in the production of a nuclear weapon." They added, "Iran has no credible civilian need for enrichment at this level."
A European official told Reuters on April 16 that Iran's decision to boost its enrichment "is not making the negotiation easier" but that informal talks between the JCPOA participants and the United States would continue in Vienna as planned.
For now, all states participating directly or indirectly in the negotiations in Vienna appear committed to moving forward. Iranian President Hassan Rouhani reinforced this view April 21 when he said the United States is "seemingly serious at this stage" and that, for Iran, it would take only a short time to verify sanctions removal and revert back to compliance.