May 2020
By Kingston Reif and Shannon Bugos
President Donald Trump has officially appointed a special envoy to negotiate an unprecedented trilateral arms control deal with Russia and China as the fate of the 2010 New Strategic Arms Reduction Treaty (New START), the last remaining U.S.-Russian arms control agreement, hangs in the balance.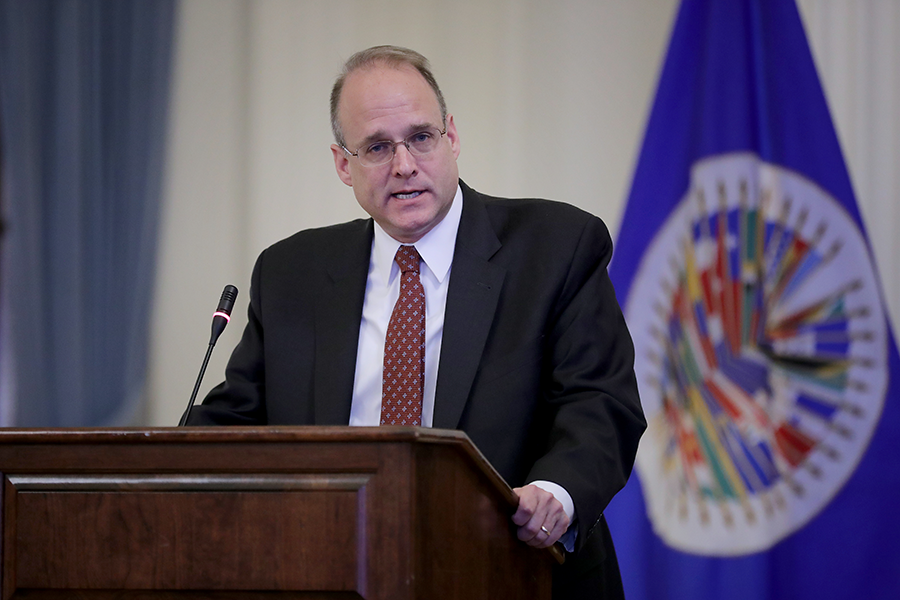 Marshall Billingslea, previously assistant secretary for terrorist financing at the Treasury Department, will lead arms control negotiations on behalf of the United States as special presidential envoy for arms control, according to an April 10 statement by the State Department.
"President Trump has charged this Administration with beginning a new chapter by seeking a new era of arms control that moves beyond the bilateral treaties of the past," the department said. "The appointment of Marshall Billingslea reaffirms the commitment to that mission."
On May 1, Trump also announced his intent to nominate Billingslea to fill the vacant post of under secretary of state for arms control and international security. Billingslea was an advisor to Sen. Jesse Helms (R-N.C.), an ardent opponent of arms control who opposed U.S. ratification of the 1993 Chemical Weapons Convention and the 1996 Comprehensive Test Ban Treaty and supported U.S. withdrawal in 2002 from the 1972 Anti-Ballistic Missile Treaty.
Sen. Bob Menendez (D-N.J.), ranking member on the Senate Foreign Relations Committee, strongly denounced Billingslea's appointment, stating, "This is not who should be put in charge of our nuclear diplomacy."
Trump first proposed a trilateral approach to arms control more than a year ago, but the administration has yet to unveil a specific proposal and provided no timeline for when it might do so. (See ACT, May 2019.)
Christopher Ford, assistant secretary of state for international security and nonproliferation, outlined the Trump administration's priorities for "next-generation arms control" with Russia and China in an April 6 paper.
Ford, who is currently serving the functions of undersecretary of state for arms control and international security, said that the next stage of arms control must continue to control Russia's deployed strategic weapons currently limited by New START and address new Russian strategic delivery systems and Russia's large and growing arsenal of nonstrategic weapons. Ford also said that a future agreement must "rein in" China's "destabilizing nuclear buildup."
Ford did not explain how the administration plans to convince Russia to limit additional types of nuclear weapons, convince China to participate in arms control for the first time, or describe what the United States would be prepared to include in a new agreement.
China is strongly opposed to multilateral arms control talks and has yet to respond to a December 2019 U.S. offer for a bilateral dialogue on strategic security.
Ford also did not address the future of New START, which will expire in February 2021 unless Trump and Russian President Vladimir Putin agree to extend it by up to five years.
New START limits U.S. and Russian deployed strategic nuclear arsenals to 1,550 warheads on 700 missiles and heavy bombers. Under the treaty, the United States and Russia exchange data every six months on the exact number of limited warheads and delivery systems.
The latest data exchange, current as of March 1 and publicly released April 1, demonstrates that the treaty is working, as Moscow and Washington fall at or under the imposed limits. As of March 1, the United States deployed 1,372 warheads on 655 missiles and heavy bombers. Russia deployed 1,326 warheads on 485 delivery systems.
The treaty also allows the United States and Russia to conduct on-site inspections. Due to the coronavirus pandemic, both countries agreed in late March to suspend inspections until May 1. The suspension has been extended until June 1, a congressional source told Arms Control Today. The next meeting of the Bilateral Consultative Commission, the implementing body of the treaty, has been postponed until this fall. (See ACT, April 2020.)
April marked 10 years since the signing of New START by U.S. President Barack Obama and Russian President Dmitry Medvedev in Prague. The Russian Foreign Ministry released a statement on April 8 on the anniversary, urging the United States to issue "a speedy response in the affirmative" to Moscow's offer to unconditionally extend the treaty.
"We are convinced that this would meet the interests of both Russia and the United States, as well as those of the entire international community, guarantee predictability in the nuclear weapons sphere, and help maintain strategic stability," the ministry wrote.
But U.S. Secretary of State Mike Pompeo reiterated in an April 17 call with Russian Foreign Minister Sergey Lavrov "that any future arms control talks must be based on President Trump's vision for a trilateral arms control agreement that includes both Russia and China."
U.S. Ambassador to Russia John Sullivan commented on April 22 that the administration was still reviewing a possible extension of New START. "There will be movement and discussion soon that will illuminate this issue more for all of us," he added.
Citing the Trump administration's continued indecision on the future of the treaty, Russian Deputy Foreign Minister Sergey Rybakov said on April 16 that "all the signs" indicate the United States "is on the threshold of making a decision not to extend this document."
Trump and Putin held a call on April 12, during which they discussed "current issues of ensuring strategic security," according to a statement from the Kremlin. Kremlin spokesman Dmitry Peskov later clarified that New START was a point of discussion.
Although the United States and Russia remain at odds over the future of New START, the countries could soon resume their dialogue on strategic security, with a specific focus on space security. The last round of the U.S.-Russian strategic security dialogue took place Jan. 16 in Vienna. (See ACT, March 2020.)
Ryabkov said on April 11 that the two sides had agreed to establish a working group to discuss space issues. Additional details, such as a time and date for the discussion, have not been publicly shared.
"The Russian side has handed in its proposals on the essence of this work to the U.S. side and now expects the response," he said.