May 2020
By Kelsey Davenport
Iran's nuclear agency announced that it has developed a new type of centrifuge and described an ambitious plan for expanding its uranium-enrichment program, but it is unclear if or when Tehran's leaders will take steps to scale up the country's enrichment capacity.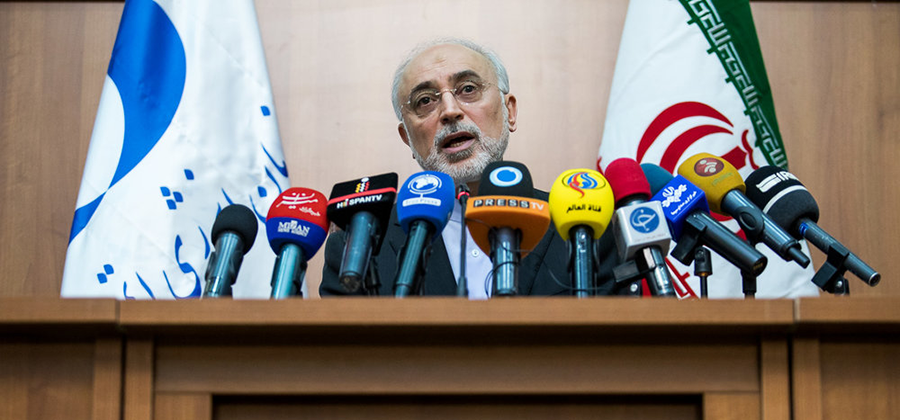 In a March 27 announcement, the Atomic Energy Organization of Iran (AEOI) said that a new generation of centrifuge machines will be unveiled at the Natanz enrichment facility "in the near future."
Under the terms of the 2015 multilateral nuclear deal, known as the Joint Comprehensive Plan of Action (JCPOA), Iran is permitted to design new centrifuges, but must seek approval before building prototypes and testing new models.
It does not appear that Tehran sought or received authorization to build the new centrifuges from the Joint Commission, the body set up by the JCPOA to oversee implementation of the deal. Iran announced in September that it would no longer be bound by the JCPOA's restrictions on centrifuge research and development and has taken steps since then to breach the accords' limits on installing and operating advanced machines. (See ACT, October 2019.)
Breaching the research and development limitations on centrifuges was the third step Iran took to reduce compliance with the JCPOA in response to the U.S. decision to violate the nuclear deal by reimposing sanctions and withdrawing from the accord in May 2018. (See ACT, June 2018.)
Iran may have intended to display the new centrifuge during an April 8 ceremony marking the country's National Nuclear Technology Day, an annual event during which officials recap accomplishments over the past year and set priorities for the nuclear program. But Behrouz Kamalvandi, spokesman for the AEOI, announced that Iranian President Hassan Rouhani decided to delay the April 8 ceremony due to the coronavirus pandemic.
AEOI head Ali Akbar Salehi delivered a speech on April 8 marking National Nuclear Technology Day and outlining the priorities for the country's nuclear program in the coming year. Salehi said that Iran would accelerate R&D projects and continue enrichment activities over the next year. He did not provide any details, but Kamalvandi claimed on April 8 that Iran can produce up to 60 advanced centrifuges each day.
Kamalvandi also said that achieving an enrichment capacity of 250,000 separative work units (SWUs) is attainable but that Iran's goal is one million SWUs.
An SWU is the measure of work required to enrich uranium. Under the JCPOA, Iran is limited to enriching uranium with 5,060 IR-1 centrifuges, which equates to less than 5,000 SWUs, for 10 years.
It is unclear why Iran would set such a high goal for its enrichment program or what the time frame is for achieving one million SWUs. Iranian officials consistently state that Tehran is willing to return to compliance with the JCPOA if its sanctions relief demands are met.
The terms of the JCPOA limit Iran's uranium enrichment through 2031, and even after that, it is not clear that Tehran will need to produce one million SWUs to meet its need for enriched uranium fuel.
Iran's current nuclear power reactor is fueled by Russia, and the JCPOA requires the parties to the deal to ensure Iran can access fuel for the Tehran Research Reactor. Future nuclear reactors under construction at Bushehr have lifetime fueling contracts with Russia.
Additional priorities that Salehi spelled out in his April 8 address include the continued construction of the two new reactor units at Bushehr and modification of the Arak reactor as required by the 2015 nuclear deal. Modifying the Arak reactor to a design that produces significantly less plutonium is required by the JCPOA.
The U.S. State Department announced on March 30 that it was renewing sanctions waivers allowing certain nuclear cooperation projects outlined in the nuclear deal to continue for another 60 days. The announcement did not specify the projects, but it is likely that the Arak reactor modification project is covered by the waivers, and it noted that the United States "can adjust these restrictions at any time."
Construction of the two new units at Bushehr, however, is not covered by U.S. sanctions waivers. In May 2019, the State Department announced that activities to expand the Bushehr site "will be exposed to sanctions." It does not appear that the U.S. announcement has stopped Russian state-owned nuclear energy company Rosatom from continuing to work on the new units at Bushehr.
In November 2019, Salehi and Alexander Lokshin, deputy head of Rosatom, participated in a ceremony when concrete was poured for the base of the second reactor unit.
Inspections Continue in Iran Despite Virus
International inspectors will continue to have access to Iran's nuclear facilities during the coronavirus pandemic, Tehran confirmed in March.
As of mid-April, Iran had confirmed more than 75,000 cases of COVID-19, according to the Johns Hopkins Coronavirus Resource Center. Despite limitations on travel, Kazem Gharibabadi, Iran's ambassador to the International Atomic Energy Agency (IAEA), said on March 20 that "there are no limitations" for inspectors traveling to Iran and throughout the country monitoring the nuclear program.
The IAEA said in an April 7 press release that "safeguards inspections worldwide are continuing but with some travel disruption." The release did not specifically mention Iran.
In addition to on-site inspections, the IAEA uses remote monitoring technologies, such as cameras and online enrichment monitors, to track Iran's nuclear activities.
In a March 23 video, the IAEA noted that it continues to use satellite imagery to implement safeguards and it can continue to monitor stockpiles of nuclear material remotely.
In the video, IAEA Director-General Rafael Mariano Grossi said that "safeguarding nuclear materials all over the world will not stop for a single minute."
The IAEA is providing more than 40 countries with kits and resources to test for the coronavirus. Gharibabadi said on April 3 that the IAEA was sending equipment to Iran that will be useful in containing the country's outbreak.—KELSEY DAVENPORT