April 2020
By Jeff Abramson
Although the pace of increase has slowed, the global trend for major conventional weapons trade remains upward, according to a March study released by the Stockholm International Peace Research Institute (SIPRI). In that trade, the United States continues to account for the largest and growing share, with more than half of its weapons delivered to the conflict-torn Middle East.
The SIPRI report, released March 9, measures the volume of trade with a trend indicator value, a metric based on actual deliveries of military equipment rather than just financial value, and compares five-year periods as a way to measure change. It found that the volume of international trade had increased 5.5 percent during 2015–2019 compared to five years earlier, and 20 percent compared to 2005–2009.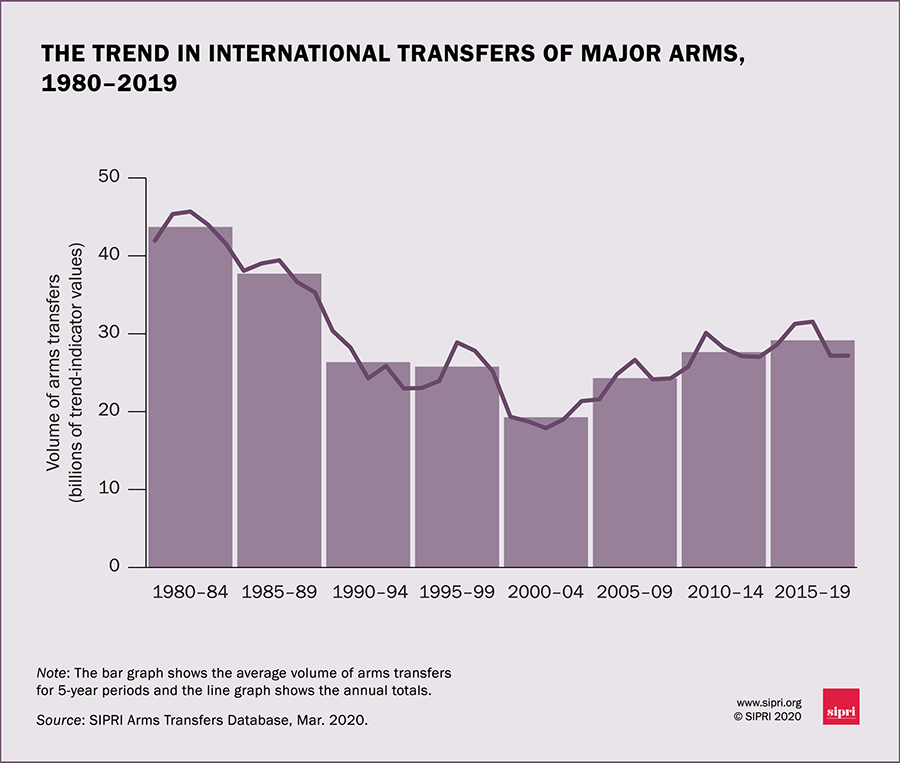 The United States accounted for 36 percent of exports, up from 31 percent during 2010–2014, with identified exports of major arms to 96 states.
Russia, the only other country accounting for more than 10 percent of global exports, had 47 client states and provided 21 percent of global arms, down from 27 percent in the previous period. China, at fifth largest, was responsible for 5.5 percent of exports in each period, with Pakistan accounting for more than a third of the volume of its exports among 51 clients in the past five years.
Saudi Arabia and the Middle East
In justifying arms and other trade with Saudi Arabia, U.S. President Donald Trump pointed to Russia and China as countries likely to replace the United States should it discontinue trade with the Middle Eastern kingdom. More broadly, his administration has elevated economic considerations and argued for greater governmental involvement and faster approval of arms sales as critical to U.S. competition in the arms trade. The SIPRI findings suggest that rather than the United States losing its place, it is expanding its share of global arms trade.
The arms trade, especially to the Middle East, continues to be controversial domestically and internationally. Countries in that region imported 61 percent more arms during 2015–2019 compared to five years earlier, with Saudi Arabia now both the region's and the world's top arms importer.
Washington supplied nearly three-quarters of weapons exports to Riyadh in that period, including combat aircraft and large numbers of missiles and guided bombs. It is unclear how much of the nearly $8 billion in arms for Saudi Arabia and the United Arab Emirates have been delivered since Trump used emergency provisions in the Arms Export Control Act to waive congressional notification requirements last May, then used vetoes to override three congressional resolutions of disapproval in July. (See ACT, September 2019.) His administration has yet to notify Congress of any new sales via the foreign military sales program to either country since then.
A number of European countries have stopped arms deals with Saudi Arabia out of concern over the nation's use of weapons in Yemen, where five years of war have exacerbated a humanitarian crisis. In March, Belgium took new steps to suspend export licenses, and Germany renewed preexisting holds.
In the United Kingdom, an appeals court ruled in May that the country had not properly accounted for possible harm in making arms trade decisions. In December, a group of civil society organizations presented a dossier to the International Criminal Court in an effort to convince that body to investigate European arms suppliers.
India Arms Trade Changes
Cross-border attacks in early 2019 involving India and Pakistan using weapons provided by an array of countries, including the United States, drew international attention to the arms trade involving the long-time rivals. Generally, however, trade with India has not raised the same concerns as that with Middle Eastern states.
India, which until two years ago had been listed as the world's largest arms importer, now is second largest, accounting for 9.2 percent of global arms imports, according to SIPRI. Russia remains the country's top supplier, providing 56 percent of arms deliveries, down from 72 percent during the earlier five-year period. The United States, which was India's second-largest arms supplier in 2010–2014, delivered half as many weapons to New Delhi in 2015–2019 as Israel and France provided the second- and third-most weapons to the country, with a combined 26 percent.
That position may change. On Feb. 25 during a visit with Indian Prime Minister Narendra Modi in New Delhi, Trump announced $3 billion in arms agreements, saying they "will enhance our joint defense capabilities as our militaries continue to train and operate side by side." In total during 2019-2020, the Trump administration has notified Congress of more than $6.3 billion in potential foreign military sales to New Delhi.
Some members of Congress have raised alarm about India's actions in Kashmir and its treatment of Muslims, drawing the defense trade into the debate. Rep. Alexandria Ocasio-Cortez (D-N.Y.) tweeted on March 2, "President Trump is engaging in arms deals with Modi while his administration is ethnically cleansing the country's religious minorities. We must not enable this rise in sectarian violence."