March 2020
By Julia Masterson
Negotiations between the United States and North Korea are unlikely to resume in 2020 absent a shift in the U.S. approach, according to multiple Pyongyang officials. "If the U.S. persists such hostile policy toward the DPRK…there will never be a denuclearization of the Korean peninsula," said North Korean diplomat Ju Yong Chol at the Conference on Disarmament in Geneva on Jan. 21.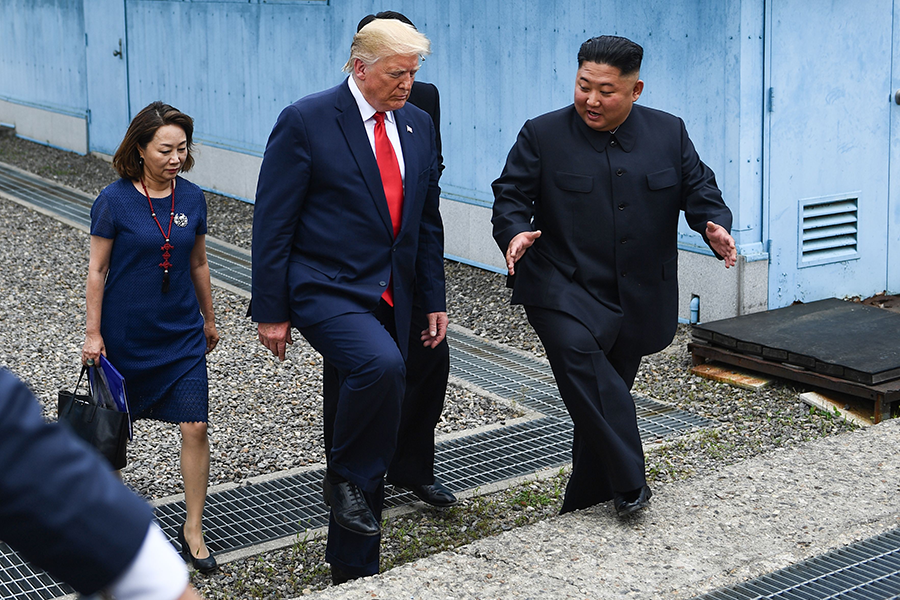 Although he did not define "hostile policy" at the meeting, North Korean condemnation of U.S.-imposed stringent economic sanctions and the conduct of joint U.S.-South Korean military exercises have headlined many North Korean statements.
Ju also said that Pyongyang may no longer observe its self-imposed moratorium on nuclear and long-range missile testing put in place in April 2018 to "build confidence with the United States." He said Pyongyang has "no reason to be unilaterally bound" by its commitment, given that Washington "remains unchanged in its ambition to block the development" of North Korea. His remarks closely echoed those of North Korean leader Kim Jong Un at the December 2019 plenary meeting of the 7th Central Committee of the Worker's Party of Korea, where Kim first announced Pyongyang's shifted attitude toward talks with Washington. (See ACT, January/February 2020.)
Despite the North Korean rhetoric, the United States remains "cautiously optimistic" about North Korea's bargaining position, U.S. National Security Advisor Robert O'Brien told Axios on Jan. 12. Washington has "reached out to the North Koreans and let them know that we would like to continue the negotiations," he added.
South Korea also supported renewing talks. "Momentum for North Korea-U.S. dialogue should continue," said South Korean President Moon Jae-in in a Jan. 7 statement. "A show of force and threats are not helpful to anyone."
Despite efforts by Washington and Seoul to revive dialogue, recent changes to Pyongyang's defense and diplomatic leadership appear to reinforce North Korea's new position. "It is the unwavering will of [North Korea] to further increase the strength of justice for defending its sovereignty and security and safeguarding the global peace and stability," Ri Son Gwon said in his new role as foreign minister on Jan. 23. Ri is reportedly revered for his hard-line stance. North Korea also has a new defense minister, Army Gen. Kim Jong Gwan, who assumed his post on Jan. 22.
North Korean plans to follow through on its warning to resume nuclear and long-range missile testing remain unclear. North Korea is "trying to build a long-range ballistic missile with the ability to carry a nuclear warhead," said U.S. Defense Secretary Mark Esper on Jan. 24.
Recently captured satellite imagery also shows activity at North Korea's Sanumdong missile research center, CNN reported on Jan. 26. The imagery depicts activity consistent with actions observed before previous North Korean missile tests, but experts appear divided on the meaning of the intelligence.