November 2019
By Shannon Bugos and Kingston Reif
The Trump administration continues to say it would like a new arms control agreement with Russia and China while remaining silent on the possibility of extending the 2010 New Strategic Arms Reduction Treaty (New START) with Moscow, according to U.S. and Russian officials.
During a session of the UN General Assembly First Committee on Oct. 10, Thomas DiNanno, acting U.S. assistant secretary of state for arms control, verification, and compliance, stated that the administration is seeking "a new era of arms control, one in which Russia and China are at the negotiating table and willing to reduce nuclear risks rather than heighten them."
"Today, the Cold War approach, with its bilateral treaties that covered limited types of nuclear weapons or only certain ranges of adversary missiles, is no longer sufficient," he added. DiNanno did not mention New START except to say that some of the new long-range nuclear delivery systems under development by Russia would not be subject to the agreement.
In an Oct. 20 interview with The Washington Times, he referenced New START specifically, saying that "technology has rapidly changed" and pointing out "not what New START does, but what it doesn't do in the 2020 deteriorating security environment."
DiNanno did not explain how the United States plans to achieve a broader agreement with Russia and China.
Details on such an agreement also were not forthcoming from the White House. In an Oct. 21 interview with Fox News, President Donald Trump said, "I believe that we're going to get together with Russia and with China, and we're going to work out our nuclear pact so that we don't all continue with this craziness." China has repeatedly stated that it is not interested in joining multilateral talks with the United States and Russia on arms control at this time.
In the aftermath of the end of the 1987 Intermediate-Range Nuclear Forces Treaty in August, New START is the only remaining arms control agreement limiting the U.S. and Russian nuclear arsenals. The Trump administration is expected to make a decision on whether to extend the treaty next year. New START allows for an extension of up to five years, until 2026, if the presidents of the United States and Russia agree to do so.
In an Oct. 11 interview, Russian Deputy Foreign Minister Sergey Ryabkov called on the United States "to stop wasting time" regarding an extension of New START. "There is almost no time left" before the treaty expires, he said. "At least, it is important to understand what they plan to do with the treaty."
Ryabkov added that "the extension period is subject to discussion. We are poised to exercise flexibility in this respect."
Although Russia emphasizes the importance of extending New START, Moscow argues that any future nuclear arms reduction agreement should be multilateral and address a broad array of factors that impact strategic stability.
In a statement to the First Committee on Oct. 11, Vladimir Yermakov, director of the Department for Nonproliferation and Arms Control in the Russian Foreign Ministry, said these factors include "unrestricted deployment of the U.S. global missile defense, development of high-precision strategic offensive non-nuclear weapons, prospects for deployment of strike weapons in outer space, destruction of the international system of arms control treaties and agreements, [and] attempts to weaken defense potential of other countries by using illegitimate methods of unilateral pressure, bypassing the UN Security Council."
Meanwhile, Fu Cong, director-general of the Department of Arms Control of the Chinese Foreign Ministry, reiterated Beijing's position that it does not plan to participate in talks on arms control with the United States and Russia. Instead, he urged the United States to respond to the Russian call to extend New START, "while substantially reducing its gigantic nuclear arsenal and creating favorable conditions for other nuclear-weapon states to join in multilateral nuclear disarmament negotiations."
U.S. allies in Europe continue to express their support for prolonging New START.
In October, Finnish President Sauli Niinisto became the first head of state to publicly call for an extension of New START in a public appearance with Trump.
During a joint press conference on Oct. 2, Niinisto said, "Some of us remember the worst years of cold war in [the] 1960s. There was no agreement at all, just Cold War. We can't let the situation return [to having] no agreement at all about arms control, and that is why it is important to try to negotiate new agreements and to continue…New START."
Trump did not respond to Niinisto's comments on the treaty.
New START, set to expire in February 2021 unless extended, caps deployed U.S. and Russian strategic nuclear arsenals at 1,550 warheads and 700 missiles and heavy bombers each.
The U.S. State Department in October released updated information on the current status of U.S. and Russian nuclear forces limited by the treaty. As of Sept. 1, the data show the United States deploys 1,378 warheads on 668 missiles and heavy bombers. Russia deploys 1,426 warheads on 513 missiles and heavy bombers.
In addition, the State Department reported that as of Oct. 17, the United States has conducted 14 inspections in Russia this year, and Moscow has conducted 14 inspections in the United States. A total of 18,889 notifications have also been exchanged according to New START requirements.
NATO Rejects Russian Missile Proposal
NATO rejected an offer from Russian President Vladimir Putin in September to impose a moratorium on deploying ground-launched intermediate-range missiles previously banned under the Intermediate-Range Nuclear Forces (INF) Treaty.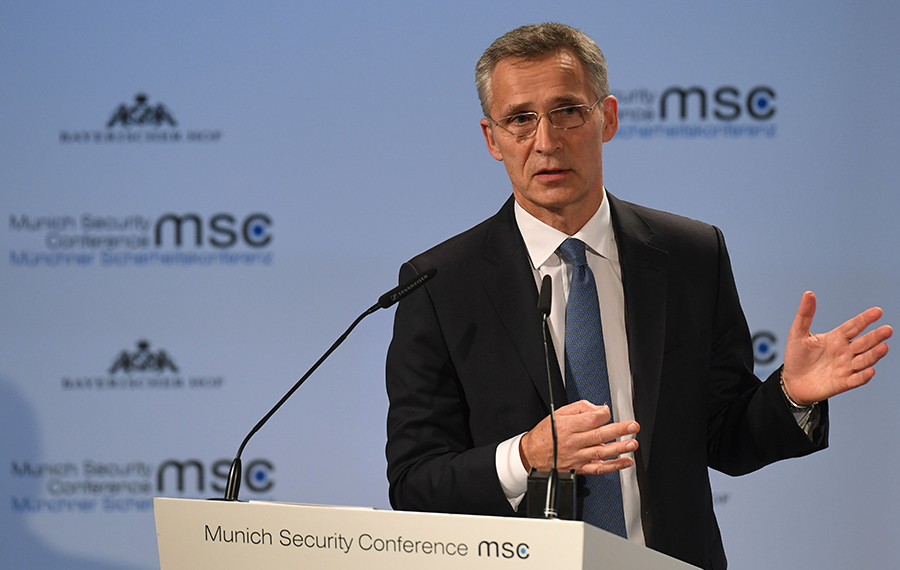 The proposal, according to NATO spokesperson Oana Lungescu in a Sept. 26 statement, was not "a credible offer" and "ignored the reality on the ground." Lungescu specifically pointed to Russia's deployment of the formerly illegal ground-launched cruise missile known as the 9M729 as a reason why Putin's offer was not legitimate.
On Oct. 23, NATO Secretary-General Jens Stoltenberg reiterated that the proposal was not "credible," but also stated that, "at the same time, we aspire for a constructive relationship with Russia."
Russia has repeatedly floated the moratorium proposal in the wake of the Trump administration's decision to withdraw from the INF Treaty. The 1987 pact led to the elimination of 2,692 U.S. and Soviet conventional and nuclear-armed, ground-launched ballistic and cruise missiles with ranges between 500 and 5,500 kilometers.
At the beginning of October, Russian Ambassador to the United States Anatoly Antonov called for the two countries to "come to grips" on the issue of deploying ground-launched intermediate-range missiles. He also echoed comments made by Putin after the U.S. test on Aug. 18 of a ground-launched variant of the Tomahawk sea-launched cruise missile that would have been prohibited by the INF Treaty. "We will produce such [ground-launched intermediate-range] missiles," Putin said, "but we will not deploy them in the regions where no ground-based missile systems of this class manufactured by the U.S. have emerged."
John Rood, U.S. undersecretary of defense for policy, said on Sept. 30 that although the Defense Department has "started development programs on intermediate-range missiles," the department does not "have any specific plans at this time for deployments anywhere."—KINGSTON REIF and SHANNON BUGOS