By Kelsey Davenport
September 2017
Nearly three years after India signed a controversial civil nuclear cooperation deal with Australia, New Delhi received its first shipment of uranium.
Australian Foreign Minister Julie Bishop said in a July 15 statement that a small sample of uranium was shipped to India for testing as part of "ongoing commercial negotiations" to export uranium to India for civil nuclear power generation.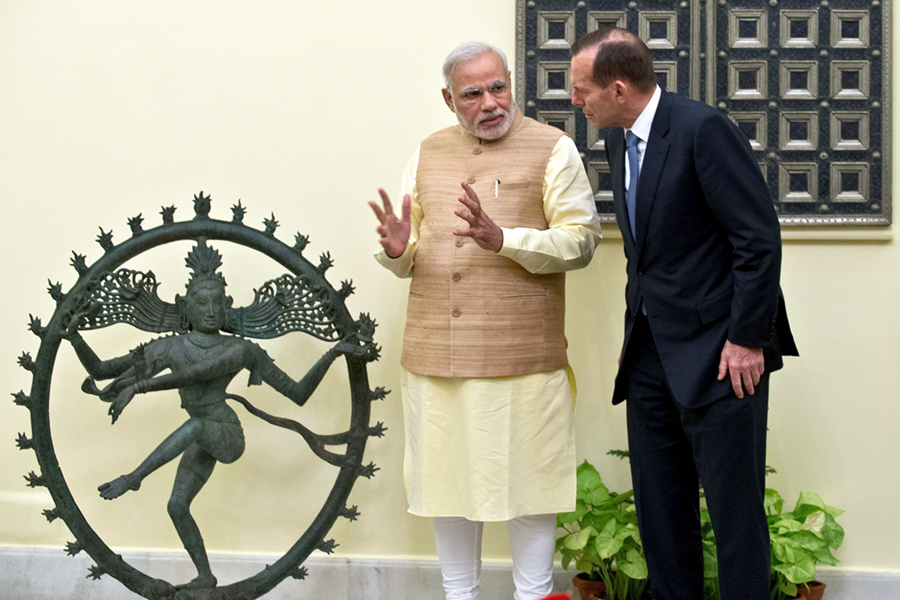 Australia and India finalized their nuclear cooperation agreement in September 2014, after India ratified its additional protocol. The Australian parliament passed the final legislation required to allow the export in December 2016. (See ACT, October 2014.) Prior to commencing negotiations with India, the then-Australian Prime Minister Julia Gillard spearheaded an effort in 2011 to lift Australia's ban on uranium sales to India. (See ACT, January/February 2012.)
Australia is one of the world's largest exporters of uranium ore, but exports to India were banned because the country is not party to the nuclear Nonproliferation Treaty (NPT) and developed nuclear weapons. As a party to the 1986 Treaty of Rarotonga, which established a nuclear-weapon-free zone in the South Pacific, Australia is obligated to ensure that nuclear technology and materials are exported only to countries subject to safeguards required by the NPT.
The Nuclear Suppliers Group (NSG), of which Australia is a member, also generally prohibits nuclear exports to countries outside of the NPT. The NSG is a voluntary group of 48 states that agreed to a set of guidelines for nuclear-related exports to help control proliferation. Despite not being a part of the NPT, India received an exemption from the NSG in 2008, which allows member states to export nuclear materials and technologies to India.
India did negotiate a limited safeguards agreement with the International Atomic Energy Agency (IAEA) in 2008 and ratified an additional protocol to enhance its safeguards agreement in 2014. These steps, which India agreed to take to enhance its bid for an NSG exemption, mean that the IAEA has access to some but not all of India's nuclear facilities. 
Despite India's safeguards and the Australian parliament's approval of the civil nuclear pact in 2014, the decision to sell uranium to India remains controversial. Concerns remain that the uranium exported to India could be used for its nuclear weapons program.
Aiden Warren, senior lecturer in international relations at RMIT University in Melbourne, said in an Aug. 15 email to Arms Control Today that the uranium-supply deal with India, which is Australia's first with a state that is not an NPT member, "poses some very distinct ramifications in undermining Australia's very own NPT obligations" and has the potential to "broadly weaken nonproliferation norms."
When the Australian-Indian nuclear cooperation agreement was finalized, the Australian government said that the conditions for sale were consistent with Australia's international obligations and standards for safeguarding and accounting for transferred nuclear materials.
Bishop has argued that India has "adhered to its non-proliferation assurances" and then-Australian Prime Minister Tony Abbott made a similar point in 2014 when the agreement with India was finalized. Abbott said that India has an "impeccable" nonproliferation record and was committed to use Australian uranium only for civilian purposes.
Warren said that conservative Australian governments have attempted to "placate concerns by reassuring the international domestic community that the deal is 'safe' and a reliable long-term opportunity" for contributing to India's expanding energy needs. He noted that, during the 2014 parliamentary hearings over ratification of the deal with India, the IAEA expressed trepidation about India's safeguards.
When India finalized its additional protocol, the document was broadly criticized as weak and setting a bad precedent. It omits many of the key provisions found in the IAEA Model Additional Protocol. It also does not include complementary access provisions for IAEA inspectors, which allow visits to undeclared sites under certain conditions. (See ACT, April 2009.)
Warren said it is imperative that Australia "reassesses the ramifications of exporting uranium to India." Given Australia's long history in "meeting and adhering to its non-proliferation obligations," the agreement with India is a "watershed for the Australian state and clearly undermines non-proliferation norms—if not logistically, then definitely in spirit," he said.
He also raised concerns that the uranium sales to India could increase tensions and destabilize the region, given regional animosity between India and Pakistan. —KELSEY DAVENPORT