Volume 10, Issue 6, June 7, 2018
The Trump administration is pushing to make sweeping changes in U.S. conventional arms export policies in order to sell more weapons, more quickly, and typically with less transparency and oversight. One reason given for these changes—advancing economic security—is simply faulty.
Worse still, the policies are dangerous, creating new risks that these weapons end up in the hands of terrorists and international criminals and further undermining the promotion of human rights norms that should be central to U.S. actions.
In mid-April, the president issued a new conventional arms transfer policy, giving the State Department 60 days to submit an implementation plan. In May, the administration also started a 45-day public comment period on regulatory changes that would transfer the control of assault rifles and other weapons of choice in armed violence to the Commerce Department.
If the administration is serious about claims that these changes make for responsible policy, it should add much greater transparency into the arms transfer and monitoring process. Congress, if it does not act to stop these new approaches, should make sure, at a minimum, that it maintains meaningful oversight to prevent abuses that undermine longstanding U.S. foreign policy objectives designed to avoid fueling conflicts around the world and propping up regimes that do not respect the basic human rights of their people.
Background
On April 19, Donald Trump issued a national security presidential memorandum replacing a January 2014 presidential policy directive that, like the 1995 iteration from the Clinton administration, included an unweighted list of criteria to guide decisions on U.S. conventional arms transfers.
Common to these policies are goals to improve the security of the United States and its allies, prevent proliferation, and support relevant multilateral agreements. With the backing of major arms producers, the Trump approach explicitly adds "economic security" as a factor in considering whether to approve arms exports. It promises that "the executive branch will advocate strongly" on behalf of U.S. companies and "maximize the ability" of U.S. industry "to grow and support allies and partners."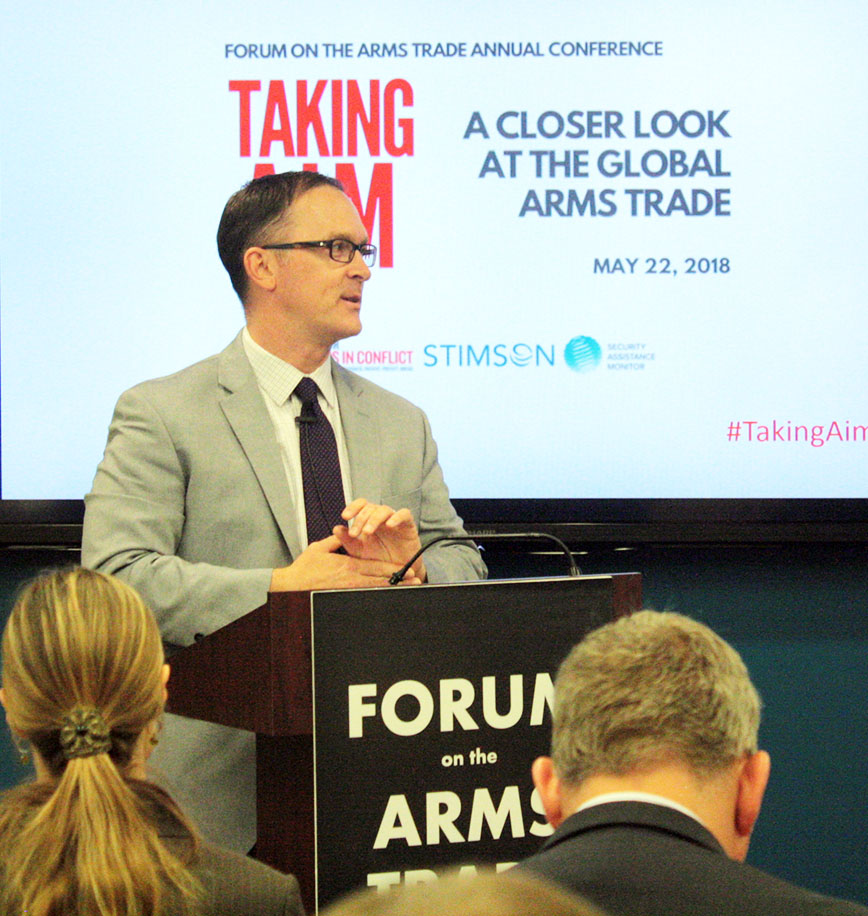 The memorandum retains many of the same provisions regarding human rights as the Obama-era conventional arms transfer policy, although consolidating their reference to a single section rather than reiterating them throughout. The new policy, however, does not explicitly say that past records on human rights will be a factor in decisions. It does contain a new commitment to "facilitate" ally and partner efforts "to reduce the risk of national or coalition operations causing civilian harm."
Whether the implementation plan due soon from the Secretary of State explains how this will be done remains to be seen, but it is expected that training of forces will be touted as a critical component. Such training was written into arms sales last year to Saudi Arabia and Nigeria.
Proposed changes to the regulation of exports were announced May 14 and published in the Federal Register May 24, beginning a public comment period that ends in July.
Specifically, the rules relate to the first three categories of the United States Munitions List (USML) maintained under the International Traffic in Arms Regulations (ITAR), whose lead administrator is the Department of State. Under the proposal, many items would move from the USML to the Commerce Control List (CCL) to become part of the Export Administration Regulations (EAR), whose lead administrator is the Commerce Department. Most notably, non-automatic and semi-automatic firearms and their ammunition currently controlled under USML category I would move to new EAR 500-series classifications in the CCL.
The primary rationale given for the change is that these weapons no longer merit tight control. According to the State Department: 
The Department of State is engaged in an effort to revise the U.S. Munitions List so that its scope is limited to those defense articles that provide the United States with a critical military or intelligence advantage or, in the case of weapons, are inherently for military end use. The articles now controlled by USML Categories I, II, and III that would be removed from the USML under this proposed rule do not meet this standard, including many items which are widely available in retail outlets in the United States and abroad.
The revisions were drafted during the previous administration's export reform control initiative, which sought to build higher fences on fewer items. During Obama's presidency, action was taken on 18 of the USML's 21 categories, but frequent mass shootings and an administration more supportive of gun control efforts contributed to the firearms categories going unpublished.
Critics of President Trump, such as Senator Ben Cardin (D-Md.), have pointed to the domestic U.S. gun lobby as the real driver behind these changes and called the decision to move forward "politically tone deaf as our nation reckons with a gun violence epidemic."
Adding in Transparency and Enabling Assessment
As the Trump administration works to implement these changes, it should build in transparency and process changes that make it possible to assess whether U.S. arms exports are meeting the stated goals of the new policies.
This would not only be good public policy, but such an approach has the potential to address rising congressional and international distress about an administration that has shown less restraint, including by moving ahead with arms sales to Bahrain, Nigeria, and Saudi Arabia that the previous administration had held back on due to serious human rights concerns.
As a start, a public accounting and evaluation of training that might go along with arms sales is desperately needed, especially if it will be a cornerstone of an effort to protect civilians. With another round of controversial precision-guided munition sales expected soon to Saudi Arabia (as well as the UAE), it is imperative that much more is shared about how training is done, who receives it, and whether it works.
As the Saudi-led coalition continues to hit civilian areas and an invasion of the port of Hodeida looms that threatens to further exacerbate the humanitarian crisis in Yemen, it is not enough to simply say training is important. It must make a difference.
Similarly, much greater transparency into the arms sales process at a public level is critical. Under current procedure Congress is notified of potential major arms sales whether through the foreign military sales (FMS) process or via direct commercial sales (DCS), starting a review period by which it could block agreement to the sale.
Unlike FMS notifications, DCS notifications are not posted on a publicly accessible website, giving the American people less time to inform their representatives of any concerns. If the administration wants to make it easier for companies to negotiate their arms sales, it should also improve transparency into them.
While Congress can block or amend an arms sale up until a weapon is delivered, those deliveries often occur years after notification. There is typically much less public attention on arms sales during this period. If the administration wants to speed the time between agreement and delivery, it should agree to also make clear when a delivery is imminent, so as to create predictable moments for oversight. In 2014, Congress created a mechanism for receiving notification at least 30 days before delivery when requested on select sales, but has only used the authority once. The administration should instead make this standard on all sales and make it public.
Public reporting afterward, via the State Department's so-called 655 report, also now has less detail than in the past. These reports, as well as others on end-use monitoring, should provide information on the number of specific weapons involved and other data, rather than broad categorical details. Importantly, reports from the Commerce Department should also improve in detail, especially if the changes on firearm exports are put into place that transfer oversight away from the State Department.
Without these specifics, it becomes more difficult not only to assess these policy changes, but to further goals such as combating illicit trafficking and weapons flows to terrorists and other unintended users.
A recent report from the Center for Civilians in Conflict and Stimson Center offers an array of good suggestions that run the life of a weapon—from pre-transfer to end-use monitoring—with "trigger" mechanisms along the way that allow for reassessment as situations change. Those recommendations, primarily focused on protecting civilians but also relevant to promoting human rights and international law, deserve strong consideration.
The Value of Congressional Oversight
In 2002 Congress amended its notification threshold so that it would be informed of potential commercial sales of firearms under USML category I when they were valued at just $1 million, as opposed to $14 million for other major weapons sales.
During a Sept. 26 Senate Foreign Relations Committee hearing, then-ranking member Benjamin Cardin (D-Md.) pointed to forestalling small arms sales to Turkey and the Philippines as recent examples of Congress' needed role. In 2017, the administration notified Congress of more than $660 million of proposed firearms sales regulated under the USML, according to the Security Assistance Monitor.
No similar statutory requirement of congressional notification exists for most arms sales under the CCL, meaning Congress would lose its oversight role on these weapons. It could take steps to require that notification continues. In response to the new measures, Cardin said May 15
For years, I advised both the Obama and Trump Administrations against this type of transfer. Weakened Congressional oversight of international small arms and munitions sales is extremely hazardous to global security.  Small arms and light weapons are among the most lethal weapons that we and other countries export because these are the weapons that are most likely to be used to commit atrocities and suppress human rights, either by individuals, non-state groups, or governmental security and para-military forces.
While Congress does not have control over the president's conventional arms transfer policy, it can mandate the types of transparency recommended above, including an expansion on pre-delivery notifications. It could also pass legislation that retains the classification of firearms as military weapons and placement on the USML.
The Administration's Faulty "Economic Security" Excuse
According to the latest report from the Stockholm International Peace Research Institute (SIPRI), the United States remains the leading and expanding provider of major conventional weapons into a growing international arms market. Russia, long the number two arms exporter, is in decline as Washington accounts for more than one-third of all major weapons deliveries.
It begs credulity to argue that the United States needs a special push in order to compete in the international arms market. Linkages of U.S. jobs to international arms sales are also overblown as arms deals frequently come with co-production agreements or other incentives that support jobs abroad rather than at home.
At a more fundamental level, U.S. arms are not like any other commodity and should not be treated as such. These are first and foremost killing machines. The over-emphasis on economic security threatens to jeopardize higher priorities, including peace and security concerns. If more weapons flow to countries with poor human rights records, norms around responsible weapons use and transfer will be harder to build and uphold.
Regarding firearms, these weapons are controlled because a significant amount of violence that occurs, including against U.S. military and law enforcement personnel, is inflicted by small arms. Research indicates that the types of weapons being transferred to Commerce control—AR-15s and AK-47 style assault rifles and their ammunition—are "weapons of choice" of drug trafficking organizations in Mexico and other Latin American countries. Many can also be easily converted to fully automatic weapons, which will remain under USML control. U.S. military members often operate their fully-automatic-capable weapons in a semi-automatic or less-than-automatic mode.
The transfer of firearms export control to the Department of Commerce will also likely remove a number of brokering registration requirements, may open up license exemptions that facilitate weapons ending up in the wrong hands, and limit legal or investigative actions to stop such results.
Claiming that these weapons do not have military utility because they may be commercially available, are somehow less dangerous,or do not merit stronger international control, is wrong.
In the end, these policies continue the wrong-minded approach of the Trump administration to treat weapons as any other trade commodity, threatening to undermine long-term global security and true U.S. national security interests.—JEFF ABRAMSON, nonresident senior fellow