May 2018
By Jeff Abramson
The Trump administration has revised policies guiding conventional arm transfers and drone exports, controversially placing greater emphasis on U.S. economic interests. A plan for implementing the policies is due in two months.
The April 19 national security presidential memorandum replaces a January 2014 presidential policy directive that, like the 1995 iteration from the Clinton administration, included an unweighted list of criteria to guide decisions on U.S. conventional arms transfers. Common to these policies are goals to improve the security of the United States and its allies, prevent proliferation, and support relevant multilateral agreements. New to the Trump approach is an explicit inclusion of "economic security" as a factor in considering whether to approve arms exports.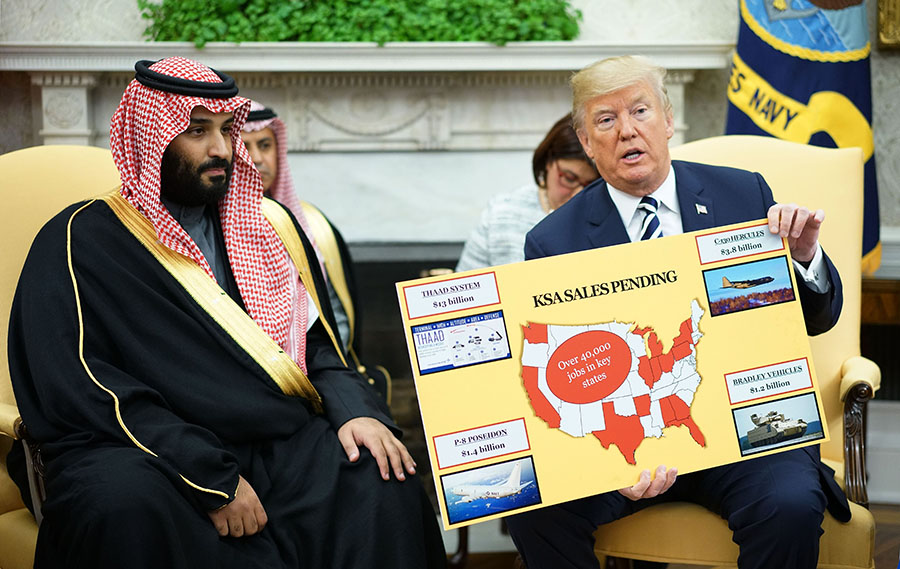 The new policy on conventional arms transfers begins with an assertion that the defense industrial base employs more than 1.7 million people and that "the executive branch will advocate strongly" on behalf of U.S. companies and "maximize the ability" of U.S. industry "to grow and support allies and partners."
The new policy on the export of unmanned aerial systems, full details of which remain classified, lists increasing trade opportunities for U.S. companies as one of five primary objectives. It replaces an "overly restrictive policy established in 2015 that hindered American companies," according to a short White House statement. That statement places the new policies within the president's "commitment to peace through strength" in part by "expanding opportunities for American industry [and] creating American jobs."
The added focus on jobs and the economy was expected from the president, who has touted arms sales and called for speeding the process for arms deliveries. Exactly how that will be done remains to be determined. The policy says that the secretary of state is to deliver a proposed action plan within 60 days, a process that is expected to include consultation with industry and civil society groups.
In a news conference shortly before the new policies were released, Tina S. Kaidanow, principal deputy assistant secretary of state in the Bureau of Political-Military Affairs, provided insights into how the policy changes for unmanned aerial systems, commonly referred to as drones, may speed delivery of certain items by allowing their sale to be directly negotiated by companies.
Under the new policy, so-called strike enabling technology, such as laser target designators that are not themselves armed, will no longer be required to go through the government-to-government process for negotiating foreign military sales, she said. Instead, the new policy allows companies to negotiate directly with foreign government buyers through the direct commercial sales process. Such an approach involves "fewer barriers and less confusion," which can "potentially allow for faster procurement," she said. The policy also allows for armed unmanned aerial systems to be transferred via either procurement process.
Citing increased competition from China, Peter Navarro, assistant to the president for trade and manufacturing policy, said the administration's policy
on unmanned aerial systems "will level the playing field by enabling firms to increase their direct sales to authorized allies and partners."
The policy also calls for the United States to seek changes to the Missile Technology Control Regime (MTCR) as it applies to unmanned aerial systems, most likely to ease some presumptive restrictions given that drones fly more slowly than missiles. The MTCR, which has 35 member-states, works to restrict exports of missiles and related technologies capable of carrying a 500-kilogram payload at least 300 kilometers, which applies to some
drone systems.
Both foreign military and direct commercial sales require that Congress be notified of certain potential arms sales. Congress can block the conclusion of an arms agreement within 30 days or act anytime until delivery. Kaidanow said that nothing in the new presidential memorandum "changes either the existing legal or regulatory requirements, and we are very respectful of Congress' role in all of this."
Although many worried that the new policies would jettison any mention of human rights, they do retain many of the same provisions as the Obama-era conventional arms transfer policy, although consolidating their reference to a single section rather than reiterating them throughout. The new policy also contains a commitment to "facilitate" ally and partner efforts "to reduce the risk of national or coalition operations causing civilian harm."
Nonetheless, the administration's approach did draw criticism. The policies "present a clear political objective by the Trump administration—to demonstrate its 'America First' approach and promote U.S. industry," said Rachel Stohl, deputy director of the Stimson Center in Washington and a board member of the Arms Control Association. "The policies focus on the benefits, rather than the risks, of arms exports and take a short-term view without fully incorporating potential long-term consequences," she added.