January/February 2023
By Shannon Bugos and Michael Klare
China's nuclear arsenal likely exceeds 400 operational nuclear warheads, a level that the Pentagon estimated two years ago might not be reached until the end of the decade.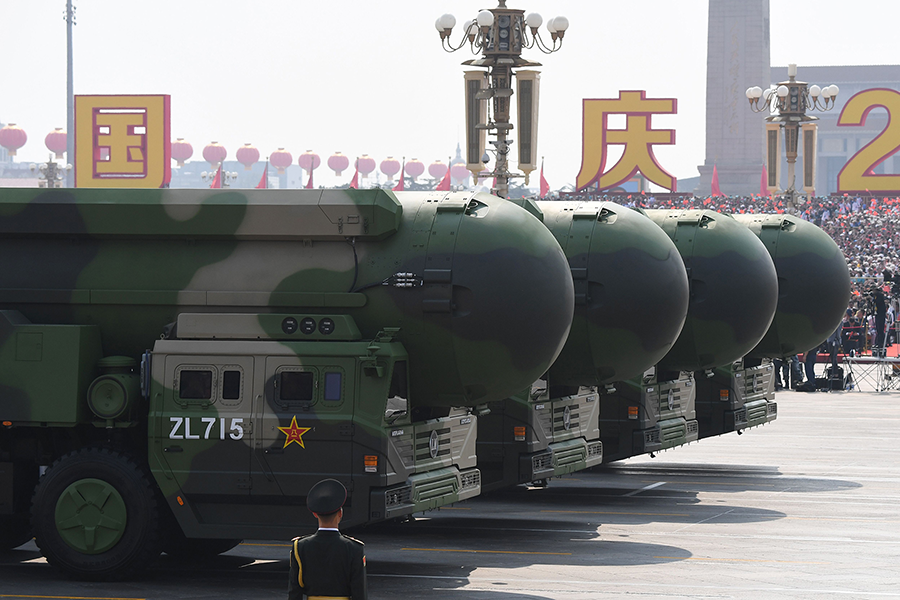 A senior U.S. defense official described China's effort to modernize, expand, and diversify its nuclear arsenal as "a rapid buildup that is kind of too substantial to keep under wraps." Beijing has undertaken plans "that exceed really their previous attempts, both in terms of the scale, the numbers, and also the complexity and technological sophistication of the capabilities," the official said at a press briefing.
Chinese Foreign Ministry spokesperson Zhao Lijian criticized the Pentagon's report on Nov. 30. "We have exercised utmost restraint in developing nuclear capabilities," he said. "We have kept those capabilities at the minimum level required by national security."
The nuclear warhead estimate comes from the Pentagon's annual report on China's military power, which was published Nov. 29 and covers developments through 2021. In its National Defense Strategy released this year, the Biden administration named China as "the most comprehensive and serious challenge" for the United States. (See ACT, December 2022.)
The report projects that China aims to complete its nuclear modernization plans by 2035.
"If China continues the pace of its nuclear expansion, it will likely field a stockpile of about 1,500 warheads by its 2035 timeline," the report states. This statement extrapolates the Pentagon's estimate from the previous year, which said that Beijing may be able to amass 700 warheads by 2027 and 1,000 by 2030. (See ACT, December 2021.)
China is continuing to build three silo fields for intercontinental ballistic missiles (ICBMs), which will feature at least 300 new silos in total for two Dongfeng (DF) missile variants. Open-source intelligence analysts discovered these fields in 2021. (See ACT, September 2021.)
"At least some of the new silos might be operational," according to Hans Kristensen of the Federation of American Scientists on Nov. 29. He made the assessment based on the Pentagon's estimate that China has tripled its number of ICBMs to 300 silo-based or road-mobile missiles from a previous estimate of 100.
Although the report finds that China's nuclear arsenal continues to closely align with the concept of a limited deterrent, senior U.S. defense officials have suggested that Beijing may be shifting away from that posture.
The Defense Department disclosed in the report that the DF-41, a fixed or mobile ICBM with a multiple independently targetable reentry vehicle (MIRV) capability, likely will carry no more than three warheads per missile.
Beijing also continues growing its inventory of about 200 DF-26 ground-launched, intermediate-range ballistic missiles capable of carrying nuclear or conventional warheads to the western Pacific, the Indian Ocean, and the South China Sea. The report says China is probably seeking a low-yield nuclear weapon and, if so, is likely using the DF-26 for that purpose.
In 2021, China launched approximately 135 ballistic missiles for testing and training, more than the rest of the world combined outside of conflict zones, according to the report.
The Pentagon confirmed China's test in July 2021 of a hypersonic glide vehicle paired with an ICBM in a demonstration of a fractional orbital system. (See ACT, November 2021.) The vehicle flew around the world in low-orbit space for a total of 40,000 kilometers in roughly 100-plus minutes and very nearly struck its target inside China.
The development of such a system, the report acknowledges, is probably "due to long-term concerns" about U.S. missile defense capabilities and to a drive "to attain qualitative parity with future worldwide missile capabilities."
As for sea-based nuclear forces, the Pentagon revealed for the first time that China "likely began near-continuous at-sea deterrence patrols" with its six operational Jin-class nuclear-powered submarines, each of which can carry up to 12 submarine-launched ballistic missiles.
Beijing operationally fielded the H-6N nuclear-capable bomber in 2020 as part of its "nascent" nuclear triad, according to the report. The Chinese military likely is developing tactics and procedures for the bomber to support its nuclear mission, the report states.
To support its nuclear force expansion, China continues to pursue the construction of fast breeder reactors and reprocessing facilities, the Pentagon said, reaffirming a previous assessment.
"Despite China's public support for a fissile material cutoff treaty," the report says, "we judge that Beijing intends to use this infrastructure to produce nuclear warhead materials for its military in the near term."
The report reiterates previous assessments that China, which keeps a majority of its launchers and missiles separated from nuclear warheads, may ramp up this peacetime status by moving toward a launch-on-warning posture. At this stage, this posture largely has been associated with military exercises.
China also maintains its declaratory no-first-use nuclear policy, but the Pentagon believes it may consider using nuclear weapons if a conventional attack imperils the country's existence.
In parallel with China's efforts to enhance its strategic nuclear capabilities, the Pentagon sees a concerted Chinese drive to advance its emerging and disruptive technologies, such as artificial intelligence (AI), autonomous weapons systems, and cyberweapons. The report indicates that Chinese leaders are convinced that mastery of these technologies will be essential to success in future wars with a "strong power" such as the United States.
"The PLA [People's Liberation Army] is pursuing next-generation combat capabilities based on its vision of future conflict, which it calls 'intelligentized warfare,' defined by the expanded use of AI and other advanced technologies at every level of warfare," the report states.
According to the Pentagon, China is exploring using AI in target detection and identification systems, missile guidance, computer-assisted decision-making, and autonomous weapons platforms of various sorts, including unmanned air, sea, and ground vehicles.
China also is reported to have developed a significant capacity for offensive cyberoperations and intends to employ these capabilities at the onset of battle to disable an adversary's command, control, and communications systems, a scenario with significant implications for strategic stability.
The report includes a special section on Chinese views of strategic stability, which are described as increasingly revolving around the concept of "ensuring mutual vulnerability" with its nuclear-armed adversaries. "Beijing views significant risks to strategic stability from potential U.S. technological breakthroughs or new commitments to produce and deploy cutting-edge weapons systems at greater scale or near China's periphery," the report says.
China's main strategic stability concerns include rapid, credible advances in U.S. missile defenses, U.S. and allied hypersonic weapons capable of threatening China's land-based arsenal, space surveillance assets, conventional prompt-strike weapons, and cyberoperations capable of undermining nuclear command and control, the report adds.