January/February 2023
By Kelsey Davenport
After an unprecedented year of missile launches, North Korean leader Kim Jong Un announced plans to increase exponentially the country's nuclear arsenal, which is estimated to have 40–50 nuclear warheads.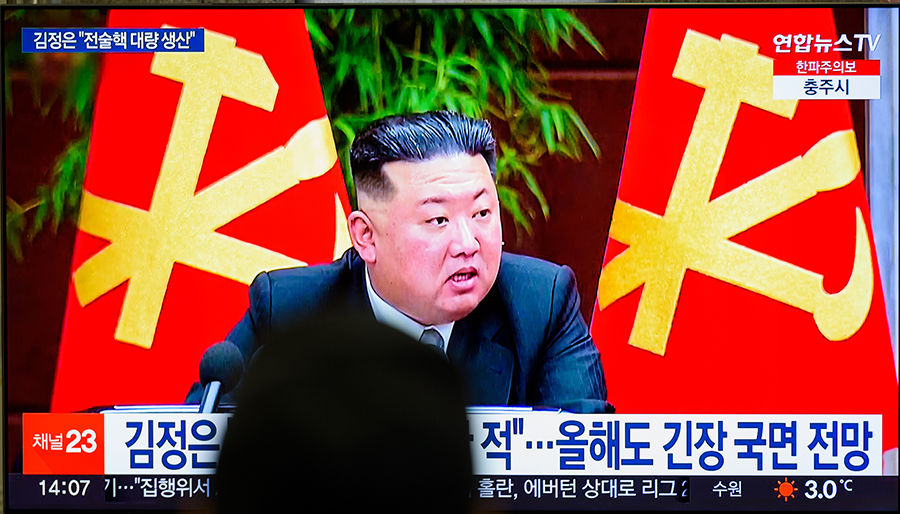 In a Jan. 1 speech during the Workers' Party plenary meeting, Kim said North Korea will mass-produce tactical nuclear warheads for targeting South Korea and develop a new intercontinental ballistic missile (ICBM) that will give his country a "quick nuclear counterstrike" capability. The expansion is necessary to counter South Korea's "preparations for war" and "worrying military moves" by the United States and other hostile forces targeting North Korea, Kim said.
North Korea's missile activities in 2022 suggest that work is already underway to meet the objectives Kim outlined in his speech.
In December, North Korea tested a solid-fueled rocket motor powerful enough for the first stage of an ICBM capable of targeting the United States. The North Korean Academy of Defense Science described the test as "successful" in a Dec. 16 statement and said it was the "first of its kind" for North Korea. The statement said the rocket will contribute to the development of "another new-type of strategic weapon system," suggesting that it will be used for a nuclear-capable missile.
North Korea has developed and tested ICBMs powerful enough to target the United States, but those systems are liquid fueled. Solid-fueled ICBMs can be fired more quickly than a liquid-fueled system, reducing the likelihood of the United States or South Korea detecting launch preparations and preemptively striking the missiles.
Kim's speech came several days after South Korea announced plans to expand its military capabilities and increase defense spending. Seoul updated a five-year defense plan that includes projects specifically designed to counter the threat posed by Pyongyang's nuclear weapons, including capabilities to preemptively strike North Korea, and to expand intelligence gathering.
South Korean President Yoon Suk Yeol also announced the creation of a new drone unit after North Korean unmanned aerial vehicles (UAVs) flew into South Korean airspace on Dec. 26.
The South Korean military struggled to intercept and shoot down the drones, leading Yoon to criticize Defense Minister Lee Jong-sup for failing to train and prepare for such incursions. South Korea sent its own UAVs over the border in response, and Yoon said South Korea will "punish and retaliate in the event of any North Korean provocations."
The new drone unit will focus on developing capabilities to disrupt UAVs, such as laser and electromagnetic weapons.
Yoon also expressed interest in increasing South Korea's involvement in exercises that include U.S. nuclear weapons. In a Jan. 3 interview with Chosun Ilbo, Yoon said that Seoul and Washington are discussing concepts for joint planning and exercises, but U.S. President Joe Biden told reporters that same day that there are no plans or discussions regarding joint nuclear exercises with South Korea.
Yoon's office responded to Biden's comment by saying that "joint nuclear exercises" only take place between nuclear powers and that Yoon was referring to information sharing and planning "regarding the nuclear forces the U.S. possesses in order to respond to North Korean nuclear weapons."