January/February 2023
By Gabriela Rosa Hernández
Russia and its war on Ukraine are disrupting the work of the Organization for Security and Co-operation in Europe (OSCE), the leading forum for addressing security and stability concerns in that region.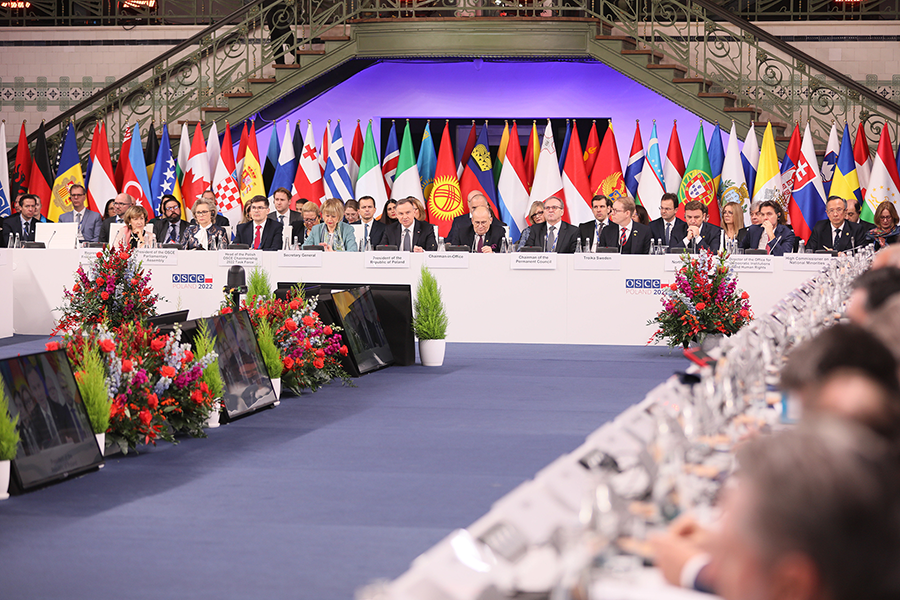 For the first time, the annual OSCE Ministerial Council meeting, which took place Dec. 1–2 in Lodz, Poland, failed to adopt any decisions. This includes the failure to approve an OSCE budget proposal of $143 million that Russia, along with Armenia and Azerbaijan, blocked, according to Stephanie Liechtenstein in the Security and Human Rights Monitor newsletter.
Without a budget, the OSCE can operate only in a limited manner. Instead of undertaking new projects, including conflict prevention missions, it can implement only those already established in last year's budget. "What else will be blocked by Russia?" Polish Foreign Minister Zbigniew Rau, the OSCE chair, said in his opening statement at the meeting.
Rau listed other OSCE activities that have been stymied by Moscow, including the election of the 2024 OSCE chair and a mandate for a special monitoring mission to Ukraine.
This year also marked the first time that a chair banned a foreign minister, Sergey Lavrov of Russia, from attending the ministerial council meeting, the Security and Human Rights Monitor reported. Poland refused to issue a visa for Lavrov to enter the country, but the Russian ambassador to the OSCE, Alexander Lukashevich, was present.
Russia condemned Poland's decision, and Lavrov told a press conference Dec. 1 that "[i]t is important to say that Poland's 'anti-chairmanship' will one day be seen as the unsightliness period in the OSCE history. No one has ever done so much damage to the OSCE while being at the helm."
Russia has long complained about the OSCE, which takes a comprehensive approach to regional conflicts, arguing that it should discuss hard security issues rather than human rights and fair elections. "Moscow is not yet considering withdrawing from the OSCE, or suspending membership, but [its] patience is not unlimited," Russian Foreign Ministry spokesperson Maria Zakharova said March 3.
Liechtenstein wrote in Foreign Policy that Russia is using the budget as a "political tool to erode the activities of vital OSCE institutions."
Russia's war against Ukraine has created serious new tensions, with many OSCE participating states unified in providing military and humanitarian aid to Ukraine. Another irritant is the illegal detainment of three OSCE mission members by Russian-backed separatists in eastern Ukraine.
Every year, foreign ministers from 57 OSCE participating states, including from Central Asia and the Caucasus, meet to make key decisions about the organization's future agenda. The ministerial council is its central governing body, and decisions are made by consensus.
At the meeting, most states condemned Russia's illegal invasion of Ukraine and described it as a violation of the Helsinki Final Act, the OSCE founding document.
Ukrainian Foreign Minister Dmytro Kuleba reiterated his call for Russia's suspension from the OSCE. "You all have seen the horrors of this war, and the question now is what makes possible the presence of the Russian nameplate at the table," Kuleba said Dec. 1.
But other participating states were cool to terminating or suspending Russian participation, and some states, such as Austria, Hungary, and Kazakhstan, criticized Poland's decision to exclude Lavrov from the meeting. There is no clear mechanism for banning a participating state from the OSCE.
Austrian Foreign Minister Alexander Schallenberg said on Dec. 1 that he regretted Lavrov's absence. "Representatives of all states should be granted access to high-level meetings like the one today. Let us not destroy this unique platform that used to be our collective answer to the tensions of the Cold War and the deep divisions between East and West," he said.
Many states still regard the organization as a useful platform for dialogue even when consensus is lacking. For instance, despite tensions with Russia, military information exchanges at the OSCE have continued at a high rate in 2022.
An OSCE official, speaking on condition of anonymity, told Arms Control Today that although many participating states empathize with Ukraine, all need to understand that Ukraine is not the only conflict in the OSCE region that needs to be addressed.
At the meeting, Victoria Nuland, U.S. undersecretary of state for political affairs, stressed the OSCE's value. "[I]t's important not just for Europe, it's important for the world because this organization has set the gold standard for tools that we are now exporting to other continents to help solve conflicts, defend democracy, defend a free press, defend security, and ensure military transparency," she said.
North Macedonia will take over the OSCE chairmanship for 2023.
The OSCE evolved during the Cold War from a desire to help prevent interethnic conflict in Eurasia through monitoring missions and promoting human rights, free media, and fair elections. It contributes to arms control through the Vienna Document, which allows participating states to observe and notify each other about their military exercises and other relevant activities.