January/February 2023
By Jeff Abramson
Member states of the Mine Ban Treaty, marking the convention's 25th anniversary, renewed their condemnation of the weapons, which are still being deployed by some countries despite the prohibition and the great harm inflicted on civilians.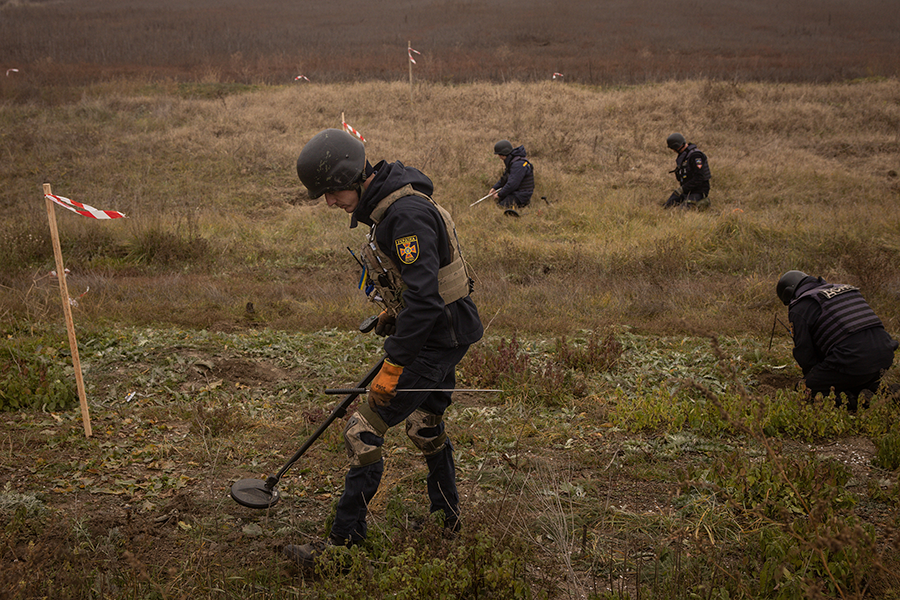 According to the Landmine Monitor, Russia has used at least seven types of anti-personnel mines since it invaded Ukraine in February, leading to at least 277 civilian casualties in the first nine months of the year, a nearly fourfold increase in Ukraine over 2021.
The Monitor, in a report Nov. 17, also identified an escalation in landmine use by Myanmar, especially around infrastructure such as energy pipelines and mobile phone towers. The report has listed Myanmar, a nonstate-party to the treaty, as using landmines every year since it first began publishing in 1999.
It also identified new use of landmines by nonstate armed actors in at least five countries, including the Central African Republic, Colombia, the Democratic Republic of the Congo, India, and Myanmar.
During the treaty's annual meeting of states-parties Nov. 21–25 in Geneva, delegates adopted language similar to past years that "condemned the use of anti-personnel mines anywhere, at any time, and by any actor, including by armed non-State actors."
In an opening statement, Izumi Nakamitsu, the UN undersecretary-general and high representative for disarmament affairs, said that "[t]he use of anti-personnel mines is unacceptable and violates key principles of international humanitarian law."
At the meeting led by Alvaro Ayala, Colombia's permanent representative to the United Nations in Geneva, landmine clearance extensions were granted to Afghanistan, Argentina, Ecuador, Guinea-Bissau, Serbia, Sudan, Thailand, and Yemen. Under the treaty, countries have 10 years to clear areas contaminated by landmines, but may seek extensions that set new deadlines.
Eritrea again failed to request an extension to its deadline, which had passed on Dec. 31, 2020. Delegates instructed the new president of the treaty, Thomas Göbel, Germany's ambassador to the Conference on Disarmament, to engage with Eritrea to resolve the issue by March 31 or refer it to the UN secretary-general. If that occurs, it would be the first time Article 8.2 of the treaty was exercised, bringing in the secretary-general to resolve compliance concerns.
In its statement to the meeting, Ukraine said Russia had used the mines as "a weapon of terror," initially to hold captured territories and later "throughout the arable lands, in the houses, gardens etc." prior to withdrawing from them. It also said Russia had in August "openly blackmailed the whole world, declaring that they laid mines at the Zaporizhzhia Nuclear Power Plants and are ready to blow it up and turn into a scorched desert." (See ACT, September 2022.)
More than 30 treaty members still have contaminated areas to clear, with many now having deadlines later than 2025. For those still with deadlines in 2025 or sooner, the Monitor assessed that only two were on track to do so. At the treaty's 2019 review conference, members set the global goal of completing landmine clearance by 2025.
Despite the challenges of new use by a small number of nonstate actors and contamination remaining in more than 50 countries globally, the treaty is still widely considered a success, with 164 countries, including every NATO member except for the United States, as states-parties. Those parties collectively have destroyed more than 55 million stockpiled landmines.
The treaty was adopted on Sept. 18, 1997, and opened for signature that Dec. 3. Events to celebrate these anniversaries took place in many countries. In a Dec. 2 statement commemorating the treaty, U.S. National Security Council spokesperson Adrienne Watson drew special attention to retiring Sen. Patrick Leahy (D-Vt.), a long-time treaty champion, saying that "he has helped us all envision a world free from the scourge of these weapons. The Biden-Harris administration is committed to continuing work toward this future."
In June, the Biden administration reversed a Trump-era policy that permitted potential use of anti-personnel landmines globally, instead limiting them to the Korean peninsula, and indicated it would like to eventually join the treaty. (See ACT, July/August 2022.)