November 2022
By Heather Foye
North Korea continued to ramp up its missile testing in October partially in response to recent military exercises involving South Korea, Japan, and the United States.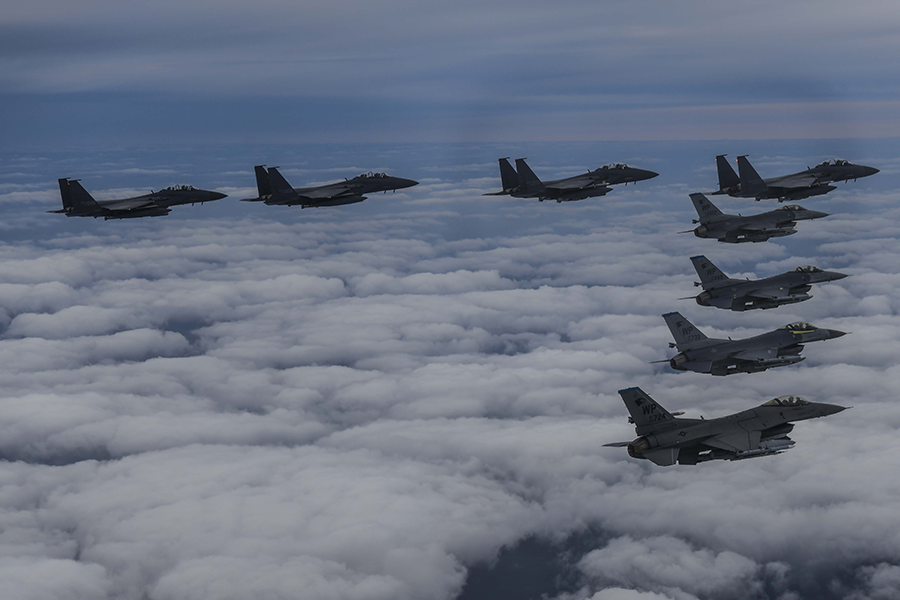 North Korea has launched more than 40 ballistic and cruise missiles in more than 20 different testing events this year, a greater number than in any previous year since leader Kim Jong Un assumed power in 2011, according to the James Martin Center for Nonproliferation Studies and the Associated Press. (See ACT, July/August 2022.) By mid-October, there had been six tests in that month alone.
Of particular concern was the Oct. 4 test of an intermediate-range ballistic missile that, Japan officials said, flew approximately 2,800 miles over Japan for 22 minutes. This was the first North Korean missile to fly over Japan since 2017 and was the longest-known North Korean missile flight yet. Pyongyang has other missiles that can travel further but have not been tested at full range.
In a statement, the Japanese government condemned the Oct. 4 launch as a "grave and imminent threat to Japan's national security…[which] threatens the peace and security of the region and the international community." It chided Pyongyang for failing to give prior notice, which endangered citizens in the area and threatened "the safety of aircraft and vessels."
In response, South Korea and the United States held a round of military drills, which included launching short-range missiles. One of the South Korean Hyunmoo-2 missiles tested Oct. 5 malfunctioned and crashed near the city of Gangneung, South Korea, causing a fire to erupt, although no injuries were reported. Seoul is expanding its ballistic missile capabilities as a response to Pyongyang's advancing nuclear weapons and missile programs.
Initial media reports suggested that the Oct. 4 launch involved a Hwasong-12 intermediate-range ballistic missile capable of reaching Guam, but some experts now think the weapon may have been a newly designed missile that had not been previously tested by Pyongyang. On Oct. 10, North Korean state media described the new missile as a "new-type ground-to-ground" missile, which was deployed "to send more powerful and clear warning to the enemies."
Experts say the North Korean tests likely responded to trilateral anti-submarine drills by the United States, South Korea, and Japan in late September, the first joint military exercises in five years. More than 20 naval ships were involved in the exercises off the east coast of the Korean peninsula, including the USS Ronald Reagan nuclear-powered aircraft carrier.
North Korea also fired hundreds of artillery shells in October in response to South Korea's annual Hoguk military drills conducted from Oct. 17–28. U.S. troops participated in parts of those exercises.
Kim, working to meet new objectives for the North Korean nuclear program, last month announced a new law that updated the country's nuclear doctrine and declared its irreversible status as a nuclear-weapon state. (See ACT, October 2022.)
The uptick in Pyongyang's missile testing came days after U.S. Vice President Kamala Harris made a four-day trip to the region. After visiting the Demilitarized Zone, Harris said on Sept. 29 that the North's ballistic missile program was "destabilizing the peace and security" of the region. She reaffirmed the shared U.S.-South Korean goal of "complete denuclearization" of the Korean peninsula.
After the Oct. 4 test, U.S., Japanese, and South Korean leaders reiterated their commitment to trilateral cooperation. U.S. President Joe Biden and Japanese Prime Minister Fumio Kishida spoke by phone on Oct. 4, condemning the North Korean test as an "outrageous act" and calling for nuclear disarmament by North Korea. During an Oct. 6 phone call, South Korean President Yoon Suk-yeol and Kishida asserted the need for "strong solidarity with the international community, including the UN Security Council."
Since 2006, North Korea has been prohibited from conducting ballistic missile and nuclear weapons tests under Security Council resolutions that it regularly violates. UN Secretary-General António Guterres called Pyongyang's Oct. 4 test "reckless" and urged dialogue.
During an emergency Security Council session on Oct. 5, U.S. Ambassador to the UN Linda Thomas-Greenfield criticized the council's inability to hold North Korea accountable. Apparently referring to China and Russia, she said that North Korea "has enjoyed blanket protection from two members of this council [who]…justify [the North's] repeated provocations and block every attempt to update the sanctions regime."
China and Russia have rationalized North Korea's missile launches as a response to U.S.-South Korean military exercises. The council meeting ended without consensus or new sanctions against North Korea.
Repair work at the Punggye-ri nuclear test site suggests Pyongyang soon may conduct its seventh nuclear test, presenting "a whole new level of threat," according to a high-ranking South Korean official quoted by The Chosun Ilbo. Seoul recently asked Washington to share U.S. tactical nuclear weapons, a request Washington has rejected.
North Korea conducted six nuclear weapons tests between 2006 and 2017.