November 2022
By Shannon Bugos
NATO kicked off its annual nuclear exercise, dubbed Steadfast Noon, in mid-October, and Russia launched its scheduled Grom strategic nuclear exercises about a week later. The exercises heightened tensions more than usual this year, as they took place after Russia intensified its brutal assault on Ukraine and once again wielded threats of using nuclear weapons.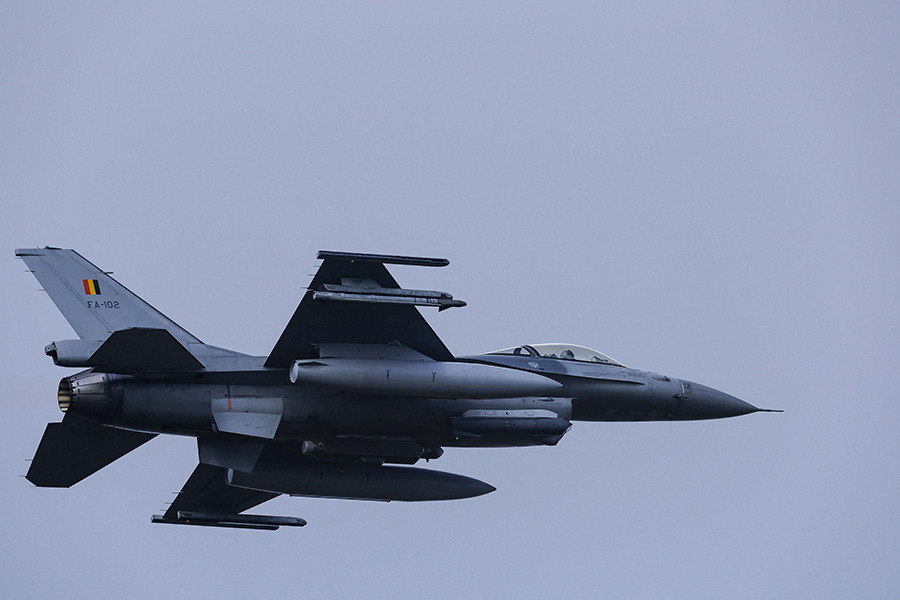 NATO Secretary-General Jens Stoltenberg on Oct. 11 rejected the prospect of canceling the "routine training" of Steadfast Noon, saying doing so would send "a very wrong signal."
"If we now created the grounds for any misunderstanding, miscalculation in Moscow about our willingness to protect and defend all allies, we would increase the risk of escalation," Stoltenberg said.
The Steadfast Noon exercise involved 14 of NATO's 30 members and up to 60 tactical nuclear fighter jets and surveillance aircraft in Europe, with Belgium's Kleine Brogel Air Base serving as home base. U.S. officials noted in a very rare disclosure that some B-52H strategic bombers from U.S. Minot Air Force Base in North Dakota also participated.
The flights are intended to practice delivering U.S. B61 nuclear gravity bombs, although the aircraft will fly unarmed. The exercise will include flights over Belgium, the United Kingdom, and the North Sea. In advance of the exercise, Western officials emphasized that Steadfast Noon would not feature a scenario related to Ukraine and would take place more than 600 miles from Russia. The NATO exercise lasted two weeks, starting Oct. 17.
The Grom, or Thunder, exercise began Oct. 26. The last Russian exercise was in February, less than a week before Russia invaded Ukraine, under Russian President Vladimir Putin's close supervision. (See ACT, March 2022.) The Russian exercises usually feature the deployment of strategic nuclear systems; launches of intercontinental ballistic missiles, as well as systems such as new hypersonic weapons; and large-scale military troop maneuvers.
A Western official told Reuters on Oct. 13 that, with Grom occurring alongside the war in Ukraine, "we do have an additional challenge to really be sure that the actions that we see, the things that are occurring, are actually an exercise and not something else."
But U.S. National Security Council spokesperson John Kirby said on Oct. 13 that the United States is aware that "Russian nuclear units train extensively at this time of year," even though Russia "probably believes this exercise will help it project power."
Over the course of the war, Putin has issued multiple threats to use nuclear weapons against any country seen as interfering in Ukraine and, more recently, to protect "the territorial integrity of our motherland…by all the systems available to us." (See ACT, October 2022.)
After Russia's claimed annexation of four Ukrainian regions in September, which was roundly condemned worldwide as illegal, the Kremlin stressed its view that an attack in those regions equals an attack on Russia. That assertion gives rise to the possibility that Russia may contemplate using nuclear weapons against Ukraine if the Ukrainian military carries out an attack in those regions.
"All these territories are inalienable parts of the Russian Federation," Kremlin spokesperson Dmitri Peskov said on Oct. 18. "Their security is provided for at the same level as [it is for] the rest of Russia's territory."
Russian Deputy Foreign Minister Sergei Ryabkov attempted to downplay Putin's threats on Sept. 23, claiming that Moscow is "not threatening anyone with nuclear weapons."
Yet, a week later, Putin issued another nuclear threat. He argued that the United States set a precedent for nuclear use with the 1945 bombings of Hiroshima and Nagasaki, stating "we will defend our land with all the forces and resources we have, and we will do everything we can to ensure the safety of our people."
CNN reported on Sept. 28 that U.S. officials have said that the threat of Putin ordering the use of nuclear weapons is more "elevated" now than at any time since the war began.
Nevertheless, U.S. and allied intelligence agencies that closely monitor Russian nuclear forces continue to assess that there are no indications of potential imminent Russian nuclear weapons use. The Pentagon has said repeatedly that it sees no need to adjust the U.S. strategic nuclear force posture.
Analysts have suggested that Russia may consider using nuclear weapons in a strike at a Ukrainian military facility or in a "display," such as the detonation of a nuclear weapon over the Black Sea or Arctic Ocean.
U.S. President Joe Biden emphasized the seriousness with which the United States and its allies treat Putin's numerous nuclear threats in Oct. 6 remarks. "We have not faced the prospect of Armageddon since [U.S. President John F.] Kennedy and the Cuban missile crisis" in October 1962, Biden said. "We're trying to figure out, What is Putin's off-ramp?"
Biden later commented that he does not think that ultimately Putin will call for the use of Russia's nuclear arsenal.
The United States and NATO have declined to detail potential responses, whether diplomatic, military, economic, or a combination, to Russian nuclear use.
"We have communicated directly, privately, at very high levels to the Kremlin that any use of nuclear weapons will be met with catastrophic consequences for Russia [and] that the United States [and] our allies will respond decisively," U.S. National Security Advisor Jake Sullivan said on Sept. 25. "We have been clear and specific about what that will entail."
Sullivan later stressed that the Biden administration maintains its goal "to avoid a direct conflict between nuclear superpowers."
French President Emmanuel Macron dismissed on Oct. 13 the possibility that Paris would order the use of its nuclear weapons in response to a Russian nuclear strike. France's vital national security interests, on which its nuclear doctrine rests, "would not be at stake if there was a nuclear ballistic attack in Ukraine or in the region," Macron said in an interview with TV channel France 2.
Despite the war and the rhetoric, the United States and Russia continue to exchange data on their respective nuclear arsenals, as required by the 2010 New Strategic Arms Reduction Treaty (New START). The most recent exchange took place on Sept. 1, with the information released to the public a month later.
According to the exchange, the United States has 1,420 strategic nuclear warheads deployed on 659 delivery vehicles, and Russia has 1,549 strategic nuclear warheads deployed on 540 delivery vehicles.
The treaty limits are 1,550 for the warheads and 700 for the delivery vehicles.
On-site inspections conducted under New START remain paused since Russia prohibited inspections of its nuclear weapons-related facilities in August. (See ACT, September 2022.)
Washington stated in September that the resumption of on-site inspections is a prerequisite for the two countries to negotiate a new arms control arrangement to replace New START, which expires in February 2026. (See ACT, October 2022.)
A U.S. State Department spokesperson told Arms Control Today on Oct. 18 that "the United States is working with Russia to schedule a session of New START's Bilateral Consultative Commission for the purpose of resuming inspections." The commission is the implementation body of the treaty, intended to serve as a forum in which to discuss any concerns and issues that may arise as the countries carry out treaty activities and procedures.