November 2022
By Kelsey Davenport
Iran announced steps to further expand its nuclear program as talks with the United States to restore the 2015 nuclear deal remain at an impasse that is likely to persist given the protests in Iran.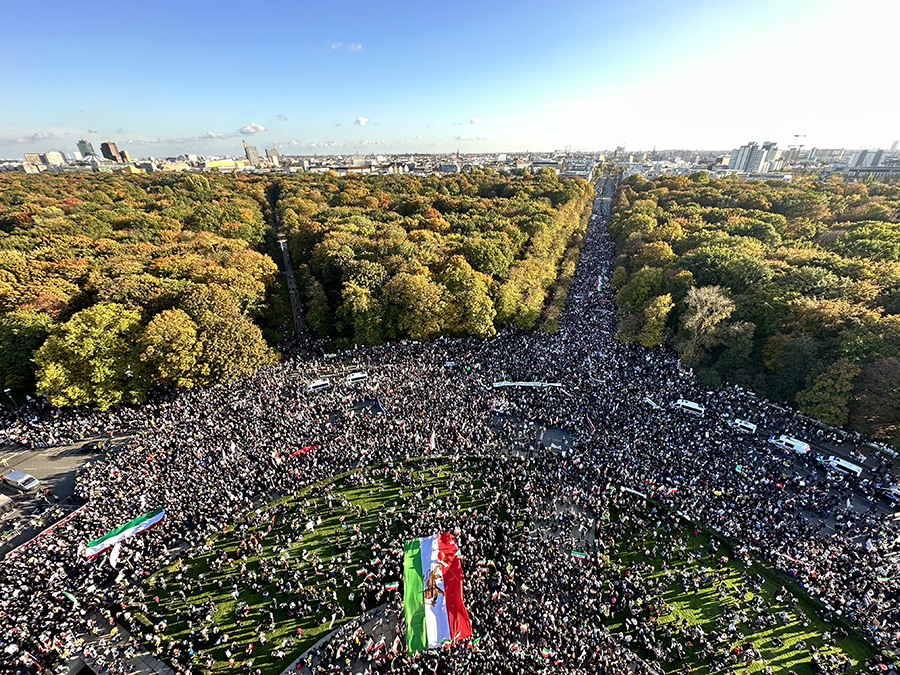 In an Oct. 10 report, the International Atomic Energy Agency (IAEA) noted that Iran informed the agency of its plans to install an additional three cascades of IR-2 centrifuges, which are used to enrich uranium. The report also confirmed that Iran had completed the installation of six cascades of IR-2 centrifuges and one cascade of IR-4 centrifuges since the last IAEA report was issued on Sept. 7. The IR-2 and IR-4 centrifuges enrich uranium more efficiently than Iran's IR-1 model, which Tehran is limited to using to produce enriched uranium under the nuclear deal, known as the Joint Comprehensive Plan of Action (JCPOA), until 2026.
Once operational, these more advanced machines will further expand Iran's uranium-enrichment capacity, which is already greater than at any point in the country's history.
If negotiations resume, there is a risk that the United States will determine that Iran's advancing nuclear program has undercut the nonproliferation benefits of the JCPOA. In such case, Washington may conclude that it is no longer worth the political price to lift sanctions as the deal requires and will abandon efforts to resurrect the accord.
The Biden administration is also taking action to increase pressure on Iran while negotiations remain stalled, including new sanctions targeting Iran's petrochemical sector announced in October.
Although Iran and the United States continue to express support for restoring the deal, domestic politics make this increasingly challenging.
The Raisi government is facing widespread protests in Iran after a young woman, Mahsa Amini, died in the hospital in September after being beaten by police for not adhering to the country's strict dress code for women. Tehran has accused foreign powers of instigating the protests.
Iranian Foreign Ministry spokesman Nasser Kananni said on Oct. 10 that the United States and Europe are linking the negotiations on the JCPOA to "recent issues in Iran." Iran will not allow any country to meddle in its internal affairs, he said.
It is unclear what linkages Kananni was referencing, given that talks on the JCPOA remain stalled. U.S. officials have said Washington can support the protestors and a nuclear deal at the same time, but it would be politically more difficult for the Europeans and the United States to reach an agreement with Iran while the government in Tehran is violently suppressing the protests, particularly before the U.S. midterm elections on Nov. 8.
In an Oct. 14 speech, U.S. President Joe Biden said that the United States stands "with the citizens, the brave women of Iran…who are demonstrating to secure their very basic, fundamental rights." Two days earlier, State Department spokesperson Ned Price said that the nuclear talks are "not our focus right now" and that the Biden administration is prioritizing "shining a spotlight" on the protestors. The administration also has lifted some sanctions, such as measures that restricted access to the internet and communications technologies, which officials say will support the protestors.
Even after the elections, the U.S. political will may not exist to restore the nuclear agreement with Iran because of the protests. "The Europeans had already lost their patience for dealing with Iran, and now we've lost our appetite" even though a deal "would still yield important nonproliferation benefits," an official from a European country that is a party to the deal said on Oct. 13.
The Biden administration is also under pressure not to reach an agreement with Iran at this time, given that a restored JCPOA would allow the Iranian government to access frozen assets and benefit from sanctions relief.
In addition to voicing support for the protestors, the EU and the United States imposed sanctions on Iranian individuals and entities involved in the crackdown. The EU also passed sanctions over Iran's sale of drones to Russia. Russia has used these drones in its war against Ukraine, including attacks on civilians.
French Foreign Ministry spokesperson Anne-Claire Legendre told reporters in an Oct. 13 press briefing that the use of drones to bombard civilian targets "likely constitute war crimes" and violates UN Security Council Resolution 2231. Under that resolution, Iran is prohibited from exporting missile systems or unmanned aerial vehicles, such as drones, that are capable of delivering a weapon of mass destruction.
That threshold is defined as carrying a 500-kilogram payload a distance of more than 300 kilometers.
If JCPOA talks resume, a deal is far from certain. A major issue preventing agreement is Iran's demands that the IAEA close its investigation into undeclared nuclear materials and activities from the pre-2003 period within a specific time frame and to refrain from further investigations.
The United States has made clear that it will not tie the IAEA's hands, but will support closing the investigation when the agency is satisfied that Iran has cooperated with its inquiries. (See ACT, October 2022.)
Mohammad Eslami, head of the Atomic Energy Organization of Iran, met IAEA Director-General Rafael Mariano Grossi on Sept. 26 to resume talks over how to address the agency's investigation, which has remained stalled since May.
Tweets from Iranian Foreign Minister Hossein Amirabdollahian suggested that the two sides had agreed on a path forward for resolving the safeguards investigation, but the IAEA made no similar statement.
Grossi confirmed that the meeting took place, but said only that there is a lot of work ahead to reach a conclusion.
Even if the IAEA issue can be resolved, the United States is concerned that if talks resume, Iran may raise new demands or attempt to reopen closed issues, as it has in the past.
Robert Malley, U.S. special envoy for Iran, told NPR on Oct. 7 that all other parties agreed to a deal to restore the JCPOA in March and then again in August.
But each time, he said, Iran countered with "some new demands, most of the time either an unrealistic demand or one that was extraneous to the nuclear talks, something that had nothing to do with it."