November 2022
By Gabriela Rosa Hernández
As Russia pressed its brutal war on Ukraine, Finland, Sweden, and Ukraine intensified their efforts to become NATO members, but all continued to face obstacles.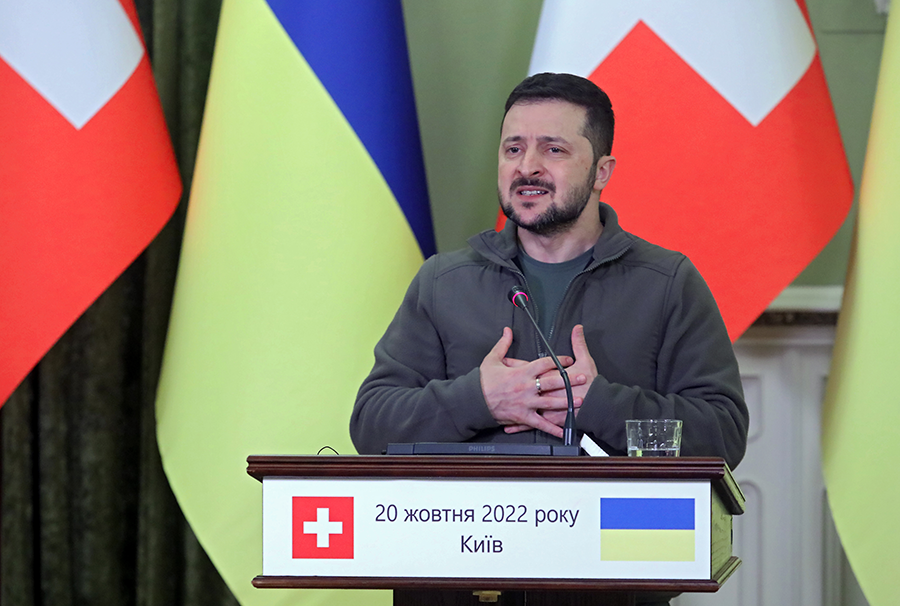 After Russia illegally annexed four Ukrainian regions on Sept. 30, Ukrainian President Volodymyr Zelenskyy announced that Ukraine had signed a fast-track application to join NATO, similar to what Finland and Sweden did in May.
"It is in Ukraine that the fate of democracy in the confrontation with tyranny is being decided," Zelenskyy said, according to The New York Times.
Although Ukraine has long aspired to NATO membership, the idea is very controversial within the alliance. Zelenskyy's government largely had set the goal aside as it focused on prosecuting the war against Russia with Western military and economic assistance.
NATO leaders responded enthusiastically when Finland and Sweden applied for membership last summer, but the reaction to the Ukrainian announcement has been noncommittal. "Right now, our view is that the best way for us to support Ukraine is through practical, on-the-ground support in Ukraine and that the process in Brussels should be taken up at a different time," U.S. National Security Advisor Jake Sullivan told reporters on Sept. 30 when asked if Ukraine's accelerated membership was possible.
Like Sullivan, NATO Secretary-General Jens Stoltenberg reiterated that every democracy in Europe had the right to apply for NATO membership and that Ukraine's application had to be taken up by all 30 alliance members. "Our focus now is on providing immediate support to Ukraine, to help Ukraine defend itself against the Russian brutal invasion," Stoltenberg said, also on Sept. 30.
NATO said at its 2008 summit that it would welcome membership bids from Ukraine and Georgia, but it has never offered them membership action plans, which assist aspiring allies in preparing for membership. The main reasons were the concerns of France, Germany, and others about the potential impact on regional stability. Russia invaded Georgia in August 2008.
On Oct. 13, Alexander Venediktov, deputy secretary of the Russian Security Council, said that Ukraine is well aware that its NATO accession could be a guaranteed escalation into World War III and that Russia's position remained unchanged, according to the TASS news agency.
After getting off to a swift start, the NATO bids of Finland and Sweden also have run into trouble. They formally submitted their applications on May 18. (See ACT, June 2022.) Since then, Turkey and Hungary have resisted joining the other allies in ratifying the new NATO accessions.
On Oct. 6, Turkish President Recep Tayyip Erdoğan suggested that Finland and Sweden should join the alliance separately and renewed his threat about blocking Swedish accession, The Washington Post reported. Previously, Turkey had accused Sweden and, to a lesser degree, Finland of aiding groups that Turkey identifies as terrorists, including the Kurdistan Workers' Party (PKK), a Turkish separatist group, and an armed group in Syria that Turkey perceives as an extension of the PKK.
"As long as the terrorist organizations are demonstrating on the streets of Sweden, and as long as the terrorists are inside the Swedish parliament, there is not going to be a positive approach from Turkey towards Sweden," Erdoğan said at a news conference after a summit of the European Political Community.
In late June, U.S. President Joe Biden welcomed Turkey's decision to agree to a trilateral memorandum, under NATO auspices, with Finland and Sweden that was supposed to pave the way for the Nordic nations to join the alliance. Finland and Sweden affirmed their support for Turkey against threats to its national security and insisted that they should join NATO together.
"When Finland, together with Sweden, eventually becomes a NATO member, our one Nordic family will finally be welded together by a common alliance, too," Finnish President Sauli Niinistö said on Oct 10.
Russia's unprovoked invasion of Ukraine has accelerated such shifts in the European security architecture by altering the threat perceptions of its Western neighbors. "The threat is real," said Col. Magnus Frykvall, commander of Sweden's Gotland Regiment during BALTOPS 2022, an annual NATO military exercise in which Finland and Sweden traditionally have trained in the Baltic Sea alongside NATO forces. "[W]e have seen what, in this case, Russia is prepared to do to a neighboring country."
It is unclear when the Hungarian National Assembly will consider Finland's and Sweden's NATO applications. Turkey's support will still be needed.