October 2022
By Shannon Bugos
The United States declared in September that any negotiation of a new nuclear arms control arrangement to follow on from the 2010 New Strategic Arms Reduction Treaty (New START) depends on the resumption of the treaty's on-site inspections of nuclear-related facilities, which Russia has impeded.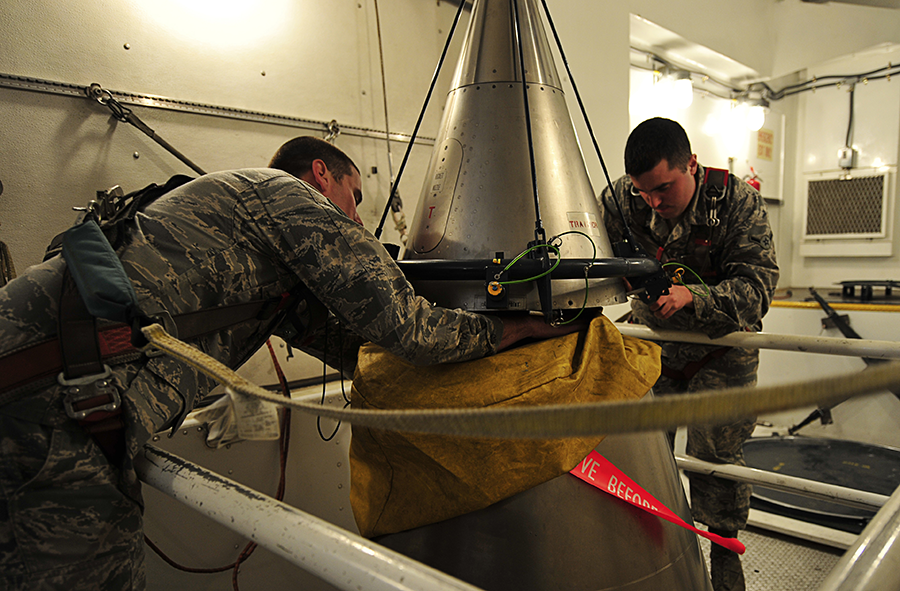 The two countries agreed to suspend inspections in March 2020 due to the COVID-19 pandemic. Although talks had been ongoing since last year to resume these inspections, Russia undermined such efforts and further extended the pause with its decision in August to prohibit inspections of its relevant facilities subject to New START. (See ACT, September 2022.)
"The first step is to resume inspections" under New START, "and we have been trying to work with the Russians toward that end," a U.S. National Security Council spokesperson said on Sept. 1. New START is the last remaining U.S.-Russian nuclear arms control agreement and will expire in February 2026. Washington paused arms control talks with Moscow following the Russian invasion of Ukraine in February. (See ACT, March 2022.)
Russia claimed that its flight crew and inspectors have faced difficulties in obtaining the necessary documents, such as visas, to carry out inspections in the United States, which has imposed, alongside U.S. allies, sanctions and restrictions on Russia due to its invasion of Ukraine.
But U.S. State Department spokesperson Ned Price said on Aug. 16 that "U.S. sanctions and restrictive measures imposed as a result of Russia's war against Ukraine are fully compatible" with New START and "don't prevent Russian inspectors from conducting treaty inspections in the United States." Another State Department spokesperson later added, "The United States has and will continue to engage Russia on the resumption of inspections through diplomatic channels," such as the Bilateral Consultative Commission established by the treaty to address implementation and verification concerns.
Although the pause of on-site inspections is concerning, U.S. officials continue to assess that Russia does not appear poised to employ nuclear weapons imminently.
Since the outset of the war, the United States has consistently monitored Russian nuclear forces for any signs of impending use, thus far seeing none.
Against this backdrop of rising tensions, the United States moved ahead with a long-planned test of an unarmed nuclear-capable intercontinental ballistic missile (ICBM), the Minuteman III, on Sept. 7. The test ICBM carried three reentry vehicles and traveled 4,200 miles from Vandenberg Space Force Base in California to a test range at the Kwajalein Atoll in the Marshall Islands.
In March, the Pentagon delayed and then cancelled an ICBM test so as not to exacerbate tensions amid the Russian war in Ukraine. It also delayed by two weeks an ICBM test in August due to heightened tensions with China over Taiwan. (See ACT, April and September 2022.)
Meanwhile, Moscow announced in mid-August the deployment of Kinzhal hypersonic air-launched ballistic missiles on Mikoyan MiG-31 fighter jets based at the Chkalovsk Air Base in the Kaliningrad enclave as part of "additional measures of strategic deterrence," according to the Russian Defense Ministry. Although the deployed missiles are conventional, the Kinzhal is thought to be nuclear capable.
Over the course of the war, Russia has used Kinzhal missiles to strike targets in Ukraine in March and possibly in May, leading a U.S. defense official to estimate that Russian forces have employed about a dozen hypersonic missiles in total. (See ACT, April and June 2022.)
"We have deployed [the Kinzhal system] three times during the special military operation" in Ukraine, Russian Defense Minister Sergei Shoigu said in an Aug. 31 interview with Russian media, "and three times it showed brilliant characteristics." U.S. defense officials, in contrast, have asserted that the Russian use of hypersonic weapons has not proved to be a game-changing decision in the war.
Russia declared that the United States would become a party to the conflict if it "cross[ed] the red line" by supplying Ukraine with longer-range missiles, such as the Army Tactical Missile System that has a range of up to 300 kilometers.
"We reserve the right to protect the Russian territory by all available means," Maria Zakharova, Russian Foreign Ministry spokesperson, said in a Sept. 15 briefing.