October 2022
By Carol Giacomo and Shannon Bugos
Despite stunning setbacks in the war against Ukraine, Russian President Vladimir Putin has escalated the fight, announcing a mobilization of 300,000 military reservists and brandishing new threats of using nuclear weapons.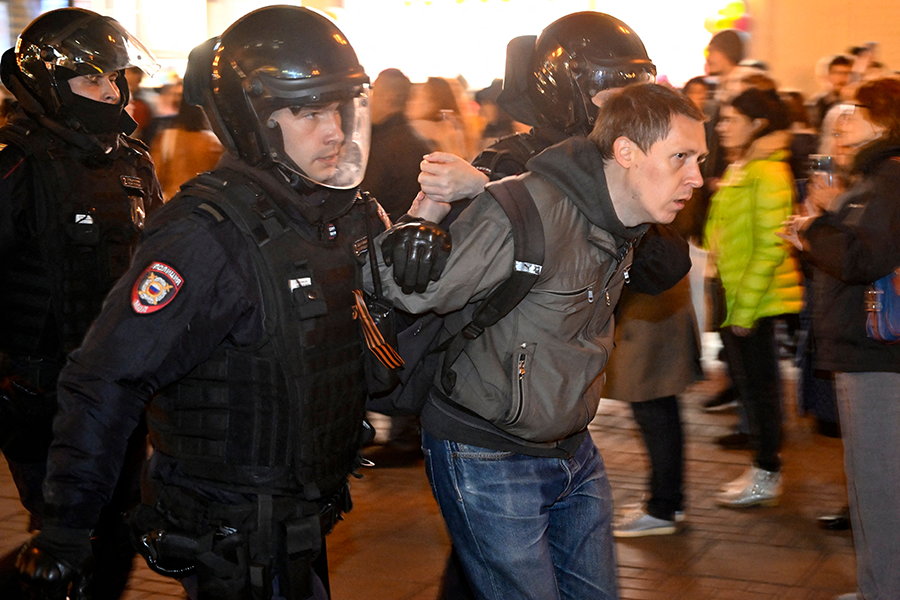 Although Russia expanded its unprovoked war on Ukraine with an invasion on Feb. 24, Putin now seeks to reframe the military campaign as a defense of Russian sovereignty against Western nations that are attempting to "weaken, divide and ultimately destroy" Russia. "The citizens of Russia can rest assured that the territorial integrity of our Motherland, our independence and freedom will be defended—I repeat—by all the systems available to us," he said in the official Kremlin translation of a speech on Sept. 21.
"This is not a bluff," he said.
Hours later, U.S. President Joe Biden used his address at the UN General Assembly in New York to push back. Referring to Russia, Biden made clear that what has happened is that "a permanent member of the United Nations Security Council invaded its neighbor" and aims to "[extinguish] Ukraine's right to exist as a state."
Biden condemned Putin's comments as "irresponsible nuclear threats" and warned him against following through, repeating the Reagan-Gorbachev admonition that "[a] nuclear war cannot be won and must never be fought."
Biden also promised that "we will stand against Russia's aggression," but assured the assembled leaders that "we do not seek another Cold War."
Putin has issued several previous threats to employ nuclear weapons against any perceived outside interference in Ukraine, but some U.S. officials and independent experts interpreted the latest threats as blunter and more serious. (See ACT, March and April 2022.)
After U.S. National Security Adviser Jake Sullivan said on Sept. 25 that the United States had warned Russia there would be "catastrophic consequences" if it used nuclear weapons, Russian Deputy Foreign Minister Sergey Ryabkov the next day said that Washington needs to "calm down and cease to inflate the situation [thus] bringing it closer to a dangerous line."
Meanwhile, Ukrainian regions under Russian control—Kherson, Zaporizhzhia, Luhansk, and Donetsk—conducted referendums on joining Russia. On Sept. 30, Putin signed decrees annexing the regions as part of Russia in violation of international and Ukrainian law.
After Putin's address, Andrey Baklitskiy, a nuclear expert with the UN Institute for Disarmament Research, tweeted that Putin's "statements go beyond the Russian nuclear doctrine, which only suggests Russian first-use [of nuclear weapons] in a conventional war when the very existence of the state is threatened."
"Putin adds 'territorial integrity' and very abstract protection of people, independence, and freedom," he wrote, adding, "Coming from the person who has the sole decision-making power regarding Russian nuclear weapons, this will have to be taken seriously."
A senior White House official, briefing reporters in New York on Sept. 21, said "the language and formula [Putin] used today is quite similar to how he's spoken before" about a potential nuclear weapons use. But the official added, "We don't see anything in terms of specific information, signals, or moves that would indicate" that any moves with nuclear or unconventional weapons is imminent.
In a Sept. 18 interview with CBS 60 Minutes, Biden refused to detail how the United States would respond to Russian nuclear use, offering only that, "It'll be consequential. [Russia will] become more of a pariah in the world than they ever have been, and depending on the extent of what they do, will determine what response would occur." According to previous media reports, the Biden administration is focusing primarily on non-nuclear responses, such as sanctions and conventional strikes. (See ACT, July/August 2022.)
Rose Gottemoeller, chief U.S. negotiator for the New Strategic Arms Reduction Treaty, warned on Sept. 13 that Putin may "strike back now in really unpredictable ways that may even involve weapons of mass destruction," such as nuclear weapons. She recommended that if this happens, the United States should not respond in kind.
"We've been concerned from the outset of this crisis with Putin rattling the nuclear saber that he might put in play for a nuclear demonstration strike," Gottemoeller said in an interview with the BBC. She said the strike could be "a single strike over the Black Sea or perhaps a strike at a Ukrainian military facility."
In the Sept. 21 briefing, the White House official described the latest Russian moves as "an act of weakness" resulting from Putin failing to achieve his strategic objectives. This is another episode where "Putin has tried to rattle his saber, tried to scare us off, tried to make us think twice about our strategy. He has not succeeded before; he won't succeed now," the official added.
Russia and many in the West expected Russian forces to overrun Ukraine within weeks after the invasion. Instead, the Ukrainians have held their ground and are even regaining lost territory. An estimated 60,000 Russian forces have been killed, thousands of vehicles have been destroyed or captured, and there have been major problems with supply chains, training, and recruitment.
Putin's decision to call up 300,000 men for military service has provoked protests and resistance and caused thousands of Russian men to flee the country.