October 2022
By Kelsey Davenport
North Korea passed a new law in September that updated its nuclear doctrine and provided greater clarity about command and control of the country's nuclear weapons. Although the central tenets of North Korea's nuclear strategy remain unchanged since 2013, the passage of the law further exacerbated tensions between North Korea and South Korea.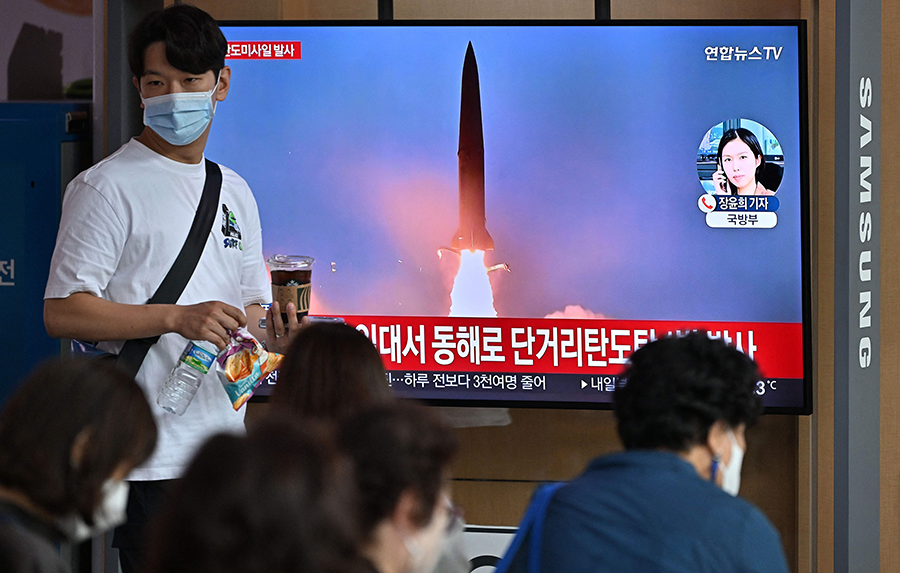 In a Sept. 9 speech heralding the law, North Korean leader Kim Jong Un said that the country's status as a nuclear weapons state "has now become irreversible" and that there will "never be any declaration of giving up our nukes or denuclearization" in future negotiations.
North Korea's willingness to denuclearize has long been questioned because it views its nuclear deterrent as necessary to protect the Kim regime and the state, but past commitments to give up nuclear weapons have never been tested by a credible negotiating process.
The United States and South Korea dismissed Kim's pronouncement and emphasized their continued goal of dismantling North Korea's nuclear weapons program. In a Sept. 12 press briefing, South Korean Defense Ministry spokesperson Moon Hong-sik said that South Korea "remains firm" in its commitment to "pursue North Korea's complete denuclearization." White House press secretary Karine Jean-Pierre said that the United States will continue to pursue "the complete denuclearization of the Korean peninsula" in close consultation with allies in the region and that U.S. policy toward Pyongyang remains unchanged.
The law also reiterated that Kim has sole authority over any decision to use nuclear weapons, but for the first time noted that "a nuclear strike shall be launched automatically and immediately" according to an "operation plan decided in advance" if the leader's command and control "is placed in danger owing to an attack by hostile forces."
This provision signals that Pyongyang is prepared to use nuclear weapons in the event of a so-called decapitation strike designed to eliminate the North Korean leadership, which South Korea and the United States have simulated in joint exercises, and to deter such an attack by demonstrating it will not neutralize the country's nuclear options.
Furthermore, the law codifies the two missions for the nuclear arsenal that Kim laid out in an April 2022 speech. In those remarks, he reiterated that the primary mission of the North Korean nuclear arsenal is to deter an attack, but also suggested that nuclear weapons will be used to repel an attack if deterrence fails. Prior to Kim's speech, North Korean missile testing suggested that the country was developing repellent capabilities.
The law states that the nuclear forces "shall carry out an operational mission for repulsing hostile forces' aggression" to achieve victory if "war deterrence fails."
In addition to laying out these two missions, the law enumerates circumstances under which North Korea could use nuclear weapons. They could be interpreted broadly to apply to a range of scenarios. The law, for instance, references the use of nuclear weapons if a "fatal military attack against important strategic objects" is "judged to be on the horizon" or if necessary for "taking the initiative in war." These ambiguous statements would allow for using nuclear weapons first against a non-nuclear-weapon state or conducting a preemptive nuclear strike.
Moon said that if North Korea attempts to use nuclear weapons against South Korea, the North will face "an overwhelming response" from the U.S.-South Korean alliance. He also noted that South Korea is enhancing its own deterrence capabilities.
U.S. Defense Department press secretary Brig. Gen. Pat Ryder said Kim's speech was "unhelpful and destabilizing" but the United States has a "tried and true policy and process" for deterring North Korea.
The United States and South Korea also continue to reevaluate alliance capabilities in response to North Korea's evolving nuclear capabilities, including at the third meeting of the Extended Deterrence Strategy and Consultation Group, which took place Sept. 16 in Washington.
A joint statement released after the meeting described the new North Korean law as "escalatory and destabilizing" and said any nuclear attack by Pyongyang would be met with an "overwhelming and decisive response." The United States also committed to continue deploying strategic assets in the region to "deter and respond" to North Korean threats, the statement said.
Although the new law is consistent with Kim's pronouncements regarding North Korean nuclear policy, its passage by a largely symbolic legislature is unlikely to inhibit Pyongyang if future circumstances require changes to the nuclear policy. The law, for instance, states that North Korea "as a responsible nuclear weapons state" will not share or "transfer nuclear weapons, technology, and equipment" or weapons-grade nuclear materials. But North Korea's record of assisting states in the past with illicit nuclear activities and ballistic missile programs suggests its willingness to assist proliferators under certain conditions.
Activity at North Korean nuclear sites suggests that the country continues to engage in activities that could be used to expand its stockpile of fissile material available for nuclear weapons to meet evolving deterrence requirements. International Atomic Energy Agency (IAEA) Director-General Rafael Mariano Grossi told the agency's board of governors on Sept. 11 that there are indications that North Korea's five-megawatt electric reactor, which produces plutonium, continues to operate and that the expansion of the centrifuge enrichment facility at the Yongbyon nuclear complex is externally complete.
Grossi also reported that the North Korean nuclear test site "remains active and prepared to support a nuclear test," although his agency did not observe extensive work at the location over the summer. He said the reopening of the test site is "deeply troubling."