June 2022
By Michael Klare
Running throughout the Defense Department budget request for fiscal year 2023 is the widespread expectation that unmanned weapons systems, such as drone ships, planes, and ground vehicles, will play an increasing role in future U.S. military planning. There is no single heading for such systems in the overall budget, but each military service incorporates unmanned weapons systems of one sort or another in its individual request.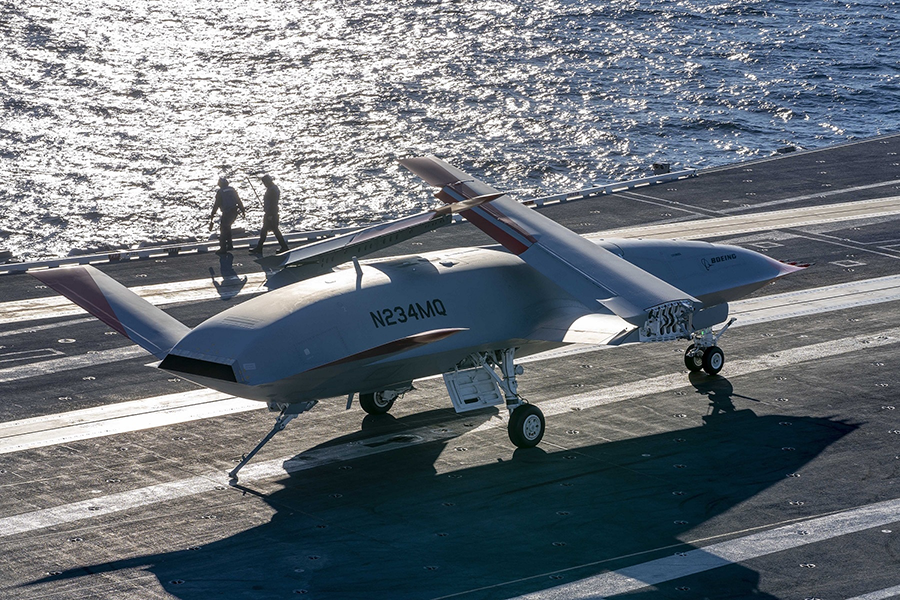 The proposed budget, released April 15, also includes substantial funding for research on artificial intelligence (AI), robotics, automated command and control, and other technologies related to the development of unmanned systems.
Unmanned weapons, the budget documents indicate, will replace or supplement manned systems in a growing array of combat tasks. The Air Force, for example, speaks of its Next Generation Air Dominance program, which is to incorporate advanced drone aircraft serving alongside next-generation fighter planes. This program, it says, will provide "survivable, persistent, and lethal options through a mix of manned, unmanned, and optionally-manned aircraft."
The Pentagon's request for research, development, testing, and evaluation includes $1.7 billion for this program, but how that money will be spent is not explained. The Air Force request also includes $187 million for enhancements to the MQ-9 Reaper combat drone and $111 million for work on the MQ-4C Triton high-altitude surveillance drone.
As with the Air Force, the Navy projects a widening role for unmanned systems in its future combat formations. "Unmanned platforms play a vital role in our future fleet," it affirmed in the defense budget overview. "Successfully integrating unmanned platforms—under, on, and above the sea—gives our commanders better options to fight and win in contested spaces."
To supplement conventional, human-crewed warships in future naval contests, the Navy is developing prototypes for a medium and a large unmanned surface vessel. Each is to serve as a model for a "reconfigurable, multi-mission vessel designed…for unmanned missions [to] augment the Navy's manned surface force," the Pentagon's request states. The Navy is seeking $339 million for continued development of these vessels in 2023, with an additional $61 million for unmanned undersea vessels.
In addition, the Navy requested $1.2 billion for the MQ-25 Stingray drone, which is to be deployed on carriers and perform aerial refueling and surveillance functions. The request also incorporates $748 million to procure an initial batch of four MQ-25s, $758 million for three MQ-4Cs, and $190 million for five MQ-9s.
Like its sister services, the Army emphasized the integration of unmanned systems into its future combat formations, requesting $116 million for a tactical unmanned ground vehicle and millions more for research on related technologies.
The Pentagon request also seeks increased investment in advanced computing and information technologies, particularly those, such as AI, that can be incorporated into automated command-and-control systems. To support research on the underlying technologies, the request includes $1.1 billion for "core AI." It also provides substantial funds for automated command-and-control systems that will incorporate these technologies, including the Air Force's advanced battlefield management system, which is budgeted at $231 million in 2023.