June 2022
By Shannon Bugos
Russia simulated launches of nuclear weapons during military exercises in the Kaliningrad enclave in May, according to its defense ministry, even as Russian diplomats attempted to downplay the likelihood of Russia employing nuclear weapons in Ukraine.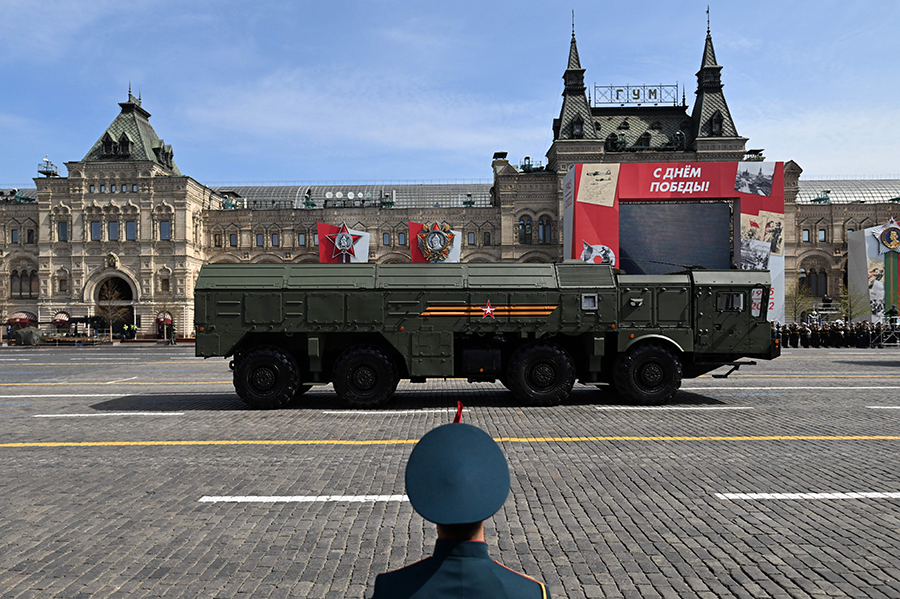 The Russian exercise included "electronic launches" of dual-capable, road-mobile Iskander-M ballistic missiles against targets such as airfields, equipment depots, and military command posts. The Russian Defense Ministry said that more than 100 troops participated in the simulation launched from Kaliningrad, which is located between the NATO countries of Lithuania and Poland along the Baltic coast. Russia has used conventional Iskander-M missiles extensively in Ukraine.
Despite the nuclear simulation and continued threatening rhetoric from Russian President Vladimir Putin, Foreign Ministry officials have dismissed the prospect of Russia employing nuclear weapons in the war in Ukraine.
When questioned about the possibility of nuclear war, Russian Foreign Minister Sergey Lavrov asserted on May 1 that "Russia has never ceased its efforts to reach agreements that would guarantee the prevention of a nuclear war." He emphasized that Moscow has agreed twice in the past year to reaffirm the 1986 Reagan-Gorbachev principle that a nuclear war cannot be won and must never be fought.
Konstantin Gavrilov, head of Russia's delegation on arms control in Vienna, said more directly on May 4 that "we by no means pursue any nuclear war-related aims on the territory of Ukraine." Alexey Zaitsev, Russian Foreign Ministry deputy spokesperson, echoed this on May 6, saying that nuclear weapons "are not applicable to the implementation of the tasks set in the course of the special military operation in Ukraine."
Zaitsev pointed to four scenarios in which Moscow might use nuclear weapons, including when the state's existence is perceived to be in jeopardy. The scenarios are outlined in the Russian nuclear deterrence policy released in June 2020. (See ACT, July/August 2020.)
The remarks by the Foreign Ministry officials differ from Putin's statements since the start of the war in Ukraine, in which he has threatened to use nuclear weapons if any country attempts to intercede on Ukraine's behalf. (See ACT, March 2022.)
"If anyone intends to intervene from the outside and create a strategic threat to Russia that is unacceptable to us, they should know that our retaliatory strikes will be lightning fast," Putin reiterated on April 27. "We have the tools we need for this…[and] we will use them if necessary."
U.S. President Joe Biden has described such rhetoric as irresponsible and dangerous. "No one should be making idle comments about the use of nuclear weapons or the possibility that they'd use that," he said on April 28.
Pentagon spokesperson John Kirby commented on the Russian war game and threats of nuclear use, dismissing the prospect of a U.S. or NATO reaction. "Has that exercise or has this rhetoric resulted in us changing the footprint on NATO's eastern flank? No," he told reporters on May 5.
Nevertheless, Director of National Intelligence Avril Haines assured Congress on May 12 that the United States "will remain vigilant in monitoring every aspect of Russia's strategic nuclear forces."
Thus far, neither the United States nor NATO has mirrored Putin's decision in February to raise the alert level of Russian nuclear forces. Adm. Charles Richard, head of U.S. Strategic Command, testified in March that he sees no need to change U.S. nuclear force posture. Kirby said on May 5 that the United States is "comfortable and confident that our strategic deterrent posture is well placed and robust enough to defend the homeland, as well as our allies and partners." (See ACT, April 2022.)
Haines said that "there is not a sort of an imminent potential for Putin to use nuclear weapons." But she added that he may engage in some further signaling of Russian disapproval of U.S. support for Ukraine "by authorizing another large nuclear exercise involving a major dispersal of mobile intercontinental missiles, heavy bombers, [and] strategic submarines."
Meanwhile, Defense Secretary Lloyd Austin resumed communication with his Russian counterpart, Sergey Shoigu, with an hour-long phone call on May 13, the first since the invasion of Ukraine began on Feb. 24.
During the call, Austin "urged an immediate ceasefire in Ukraine and emphasized the importance of maintaining lines of communication," according to the Pentagon readout. A senior defense official added that the department had "been consistently asking for this conversation," but it was not until that week when Shoigu finally agreed.
Chairman of the Joint Chiefs of Staff Gen. Mark Milley then spoke with his Russian counterpart, Chief of Russian General Staff Gen. Valery Gerasimov, on May 19, also for the first time since the war started.
Moscow and Washington created a Russian-U.S. deconfliction line at the operational level between the Russian Defense Ministry and U.S. European Command in March, but there has been no communication at the most senior level until now.
China has called for restraint. "No one wants to see the outbreak of a third world war," Chinese Foreign Ministry spokesperson Wang Wenbin told reporters on May 23.