April 2022
By Jeff Abramson
Western countries are expediting billions of dollars in weapons deliveries to Ukraine after Russian forces invaded the country with a diverse arsenal of controversial arms and escalated strikes on civilian targets.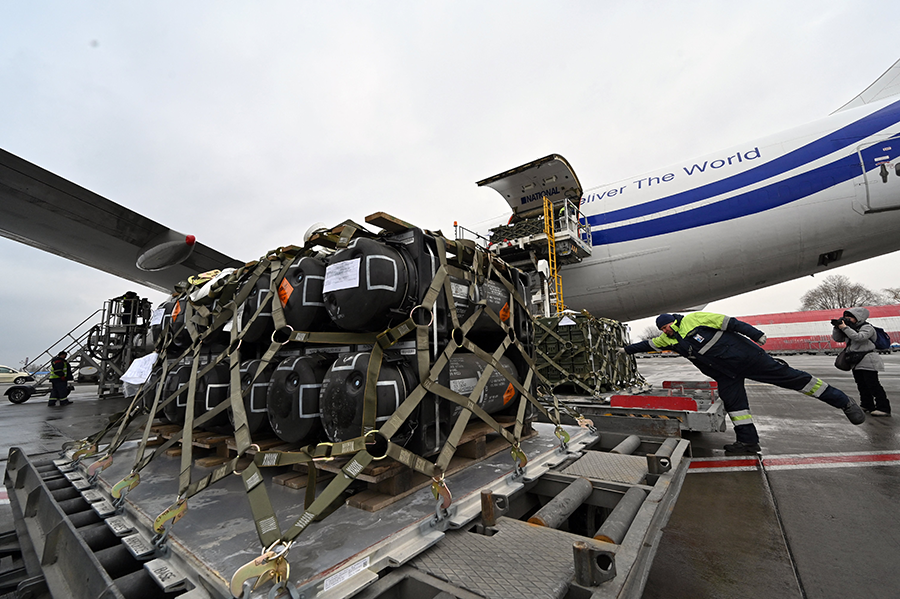 Despite widespread condemnation of Russian aggression and an increasingly dire situation in Ukraine, the United States and its allies resisted calls by Ukraine for direct military engagement and the supply of fighter jets that could put U.S. and NATO forces directly in conflict with Russian troops.
As the United States began warning the international community of Russian invasion plans in December, it authorized a $200 million drawdown of military equipment from its existing stocks for delivery to Ukraine. In January and February, as Russian forces massed along Ukraine's borders, countries such as Estonia, Latvia, Lithuania, and the United Kingdom also began delivering military equipment, including portable anti-tank Javelin and shoulder-fired anti-aircraft Stinger missile systems.
After Russia launched the war on Feb. 24, more than a dozen additional countries quickly moved to send military supplies to Ukraine, rushing processes that often take months or years, while imposing comprehensive economic and other sanctions on Russia and its leaders.
Almost immediately, the United States authorized another $350 million in military assistance. On March 16, after Ukrainian President Volodymyr Zelenskyy addressed the U.S. Congress via video link, the Biden administration announced an additional $800 million in assistance, including 800 Stinger and 2,000 Javelin missile systems, 1,000 light anti-armor weapons, and 6,000 AT-4 anti-armor systems. In total, the administration has announced or provided more than $2 billion in military aid to Ukraine since January 2021.
Critically, Germany, which previously refused to send lethal aid to Ukraine, decided on Feb. 26 to transfer 1,000 anti-tank weapons and 500 Stinger systems and permit other countries to reexport German weapons. The European Union and other countries also announced plans for weapons deliveries, including Australia, Belgium, Canada, Croatia, the Czech Republic, Denmark, Estonia, Finland, France, Germany, Greece, Italy, Lithuania, Luxembourg, the Netherlands, North Macedonia, Norway, Poland, Portugal, Romania, Slovakia, Slovenia, Spain, Sweden, Turkey, the United Kingdom, and the United States.
As Zelenskyy continued calls for direct intervention to "close the sky" over Ukraine from Russian aircraft and for the provision of other military assistance, U.S. President Joe Biden made clear that he would not contribute U.S. forces directly into the war zone or establish a no-fly zone, despite pressure from many members of Congress.
One complicating factor is that the Ukrainian military is trained on Soviet and Russian systems and would find it easier to operate those systems if they could be transferred from the stocks of European countries that have such weapons.
In early March, the administration rejected an offer by Poland to donate MiG fighter jets to the United States, which would then be passed along to Ukraine. Pentagon spokesperson John Kirby said on March 9 that such an arrangement would provide "little increased capabilities at high risk." Later in the month, there was discussion of countries such as Slovakia possibly providing Russian S-300 or other anti-aircraft systems to Ukraine. Russia warned it would target weapons supplies to Ukraine, creating escalation concerns.
The weapons that have been provided were altering the battle as Ukrainian forces fought back, destroying Russian tanks and aircraft.
Meanwhile, Russia increasingly targeted civilian areas, drawing international condemnation and a quick decision by the chief prosecutor for the International Criminal Court to open a war crimes investigations. Hundreds of incidents of civilian targeting had been documented by late March. A strike on a drama theater in Mariupol that had "children" written on the ground outside so as to be visible from the air was one of the more high-profile examples cited in the U.S. media and by U.S. Secretary of State Antony Blinken.
On March 18, the spokesperson for the UN high commissioner for refugees said that more than 4 million people had fled Ukraine and millions more were internally displaced. The UN Office for the High Commissioner for Human Rights recorded 3,090 civilian casualties in the country, but said there were likely many more. "Most of the civilian casualties recorded were caused by the use of explosive weapons with a wide impact area," the office said.
Cluster munitions and "vacuum" bombs drew particular attention for their use in or potential impact on civilian areas. Human Rights Watch and others documented Russian use of cluster munitions starting as early as Feb. 24 in multiple locations in Ukraine. Some 110 countries are state-parties to the Convention on Cluster Munitions, which bans the use of weapons that deliver submunitions that often maim civilians during a strike or long afterward when "duds" that initially failed to explode are disturbed and later detonate. On March 2, the UK as president of the convention said it was "gravely concerned," and many countries have called out Russia for using these weapons.
That same day, before 141 countries voted for a UN General Assembly resolution calling for Russia to end its invasion, U.S. Ambassador Linda Thomas-Greenfield said Russia was "preparing to increase the brutality of its campaign against Ukraine," specifically mentioning "cluster munitions and vacuum bombs." Vacuum bombs, also known as thermobaric weapons, release a fuel in the air that is later detonated to create powerful explosions and shockwaves, typically targeting buildings and bunkers. There is evidence that Russia deployed this weapon as part of its TOS-1A system surfaced early in the war, amid concern that they could harm civilians.
On March 29, Human Rights Watch accused Russian forces of using banned antipersonnel mines in the eastern Kharkiv region of Ukraine. The mines, which can indiscriminately kill and maim people within a 16-meter range, are outlawed by the 1997 International Mine Ban Treaty.