April 2022
By Shannon Bugos
With its invasion of Ukraine stalled in key cities, Russia has defended President Vladimir Putin's decision to raise the alert level of Russian nuclear forces, employed nuclear-capable hypersonic weapons for the first time in combat, and reportedly requested military assistance from China. The moves underscore the unpredictable nature of the war.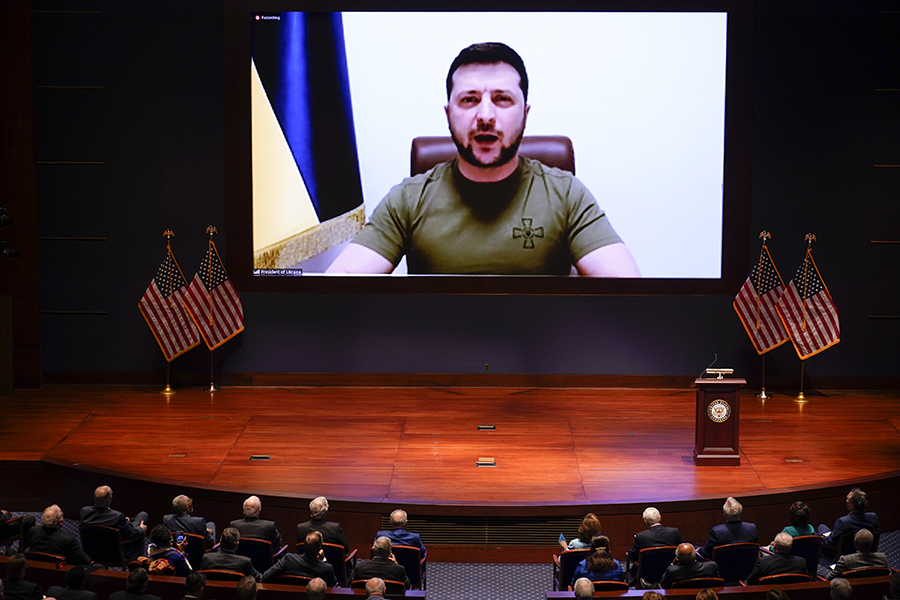 "Talk of nuclear war has already begun," Russian Foreign Minister Sergey Lavrov said on March 3. "It is not us who started the talk about a nuclear war," he added, instead accusing France, Ukraine, the United Kingdom, the United States, and NATO of making threatening statements about nuclear weapons use.
But on March 29, Kremlin spokesperson Dmitry Peskov lowered the rhetoric, telling PBS that "no one is thinking about … using a nuclear weapon" and that the war in Ukraine has "nothing to do with" any threat to Russia's existence. The latest version of Russian nuclear deterrence policy in 2020 details four scenarios under which Moscow might deploy its nuclear arsenal, including a threat to the nation's existence.
Three days after ordering an invasion of Ukraine in February, Putin commanded Russian nuclear forces to move to a "special regime of combat duty." (See ACT, January/February 2022.) The next day, Defense Minister Sergei Shoigu informed Putin that all nuclear command posts were reinforced with additional personnel.
But a senior U.S. defense official said on March 3 that Putin's order is still "not completely clear to us" and "we continue to watch this very, very closely." Lt. Gen. Scott Berrier, director of the Defense Intelligence Agency, shared his assessment on March 17 that the order appears "to refer to heightened preparations designed to ensure a quick transition to higher alert status should the situation call for it."
U.S. President Joe Biden on Feb. 28 dismissed the idea that the public should worry about nuclear war, and Lavrov said on March 10 that he does not believe that a nuclear war is likely. Yet, UN Secretary-General António Guterres warned on March 14 that "the prospect of nuclear war is now back within the realm of possibility."
Nuclear experts and U.S. officials have suggested that Putin's threatened use of nuclear weapons is aimed at deterring any U.S. or NATO interference in Ukraine and projecting an image of an indomitable Russia.
"Russia is attempting to use these forces as a shield for conventional aggression," Caitlin Talmadge, a professor of security studies at Georgetown University, wrote in The Wall Street Journal on March 3. "Putin is betting that despite the conventional military might of the U.S. and its allies, they will shrink from confrontation at least partly out of fear of nuclear escalation."
Berrier told the House Armed Services Committee on March 17 that "[a]s this war and its consequences slowly weaken Russian conventional strength, Russia likely will increasingly rely on its nuclear deterrent to signal the West and project strength to its internal and external audiences."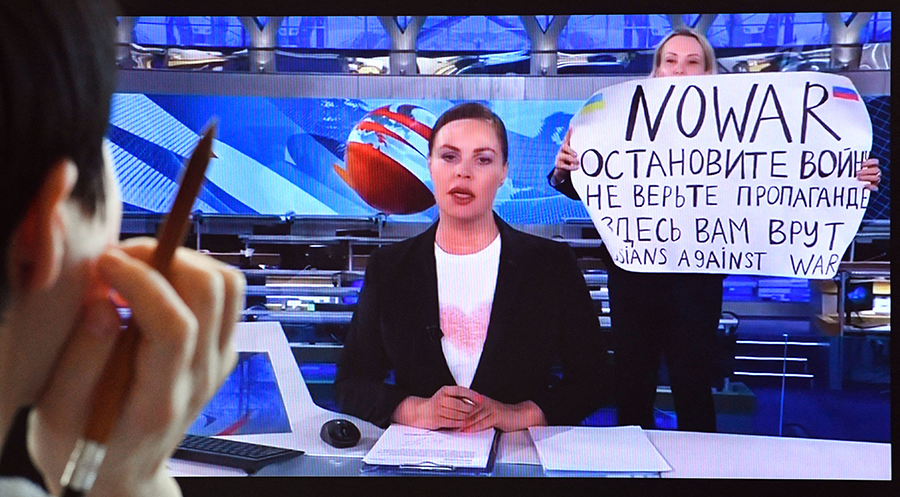 Neither the United States nor NATO made reciprocal changes to the status of their nuclear forces. "I am satisfied with the posture of my forces," Adm. Charles Richard, head of U.S. Strategic Command, informed Congress on March 1. "I have made no recommendations to make any changes."
U.S. Defense Secretary Lloyd Austin also chose to delay a test of a Minuteman III intercontinental ballistic missile scheduled for early March "in an effort to demonstrate that we have no intention in engaging in any actions that can be misunderstood or misconstrued" by Russia in the wake of Putin's nuclear order, Pentagon spokesperson John Kirby announced on March 2. The delay is not "going to change our strategic deterrent posture one bit," Kirby added.
Sen. James Inhofe (R-Okla.), ranking member on the Senate Armed Services Committee, criticized Austin's decision, describing it as a "disappointing" and "hollow" gesture given Russian aggression in Ukraine.
Meanwhile, the Pentagon revealed on March 3 the creation a few days earlier of a bilateral Russian-U.S. deconfliction line at the operational level between the Russian Defense Ministry and the U.S. European Command.
"When we tested it, [Russia] did pick up the other end," Kirby said, describing the communication channel as "valuable" because it will aim to reduce the risks of any potential miscommunication or escalation between the two nuclear powers.
Yet, three weeks later, Kirby revealed that calls from Austin and Gen. Mark Milley, chairman of the Joint Chiefs of Staff, to their Russian counterparts had gone unanswered.
Early in its invasion of Ukraine, Russia appealed to China for military aid and additional economic assistance, according to media reports quoting unnamed U.S. officials who declined to provide further details.
Russia and China denied the allegation, which first surfaced on March 13. "China is not a party to the [Ukraine] crisis," Chinese Foreign Minister Wang Yi responded a day later. The ministry's spokesperson, Zhao Lijian, said the United States "has been maliciously spreading disinformation targeting China."
Peskov commented that "Russia has an independent potential to continue the operation" in Ukraine and therefore has "no reason" to request external aid.
U.S. National Security Adviser Jake Sullivan warned on March 13 that China will "absolutely [face] consequences for large-scale sanctions evasion efforts or support to Russia to backfill them." Sullivan met the next day in Rome with Yang Jiechi, a member of the Chinese Communist Party's Politburo and director of the foreign affairs commission, for a "candid" and "intense" discussion that included the war in Ukraine, said a senior U.S. official.
Biden and Chinese President Xi Jinping followed that meeting with a call on March 18, during which Biden "described the implications and consequences if China provides material support to Russia as it conducts brutal attacks against Ukrainian cities and civilians," according to the White House readout.
The White House has criticized China for assisting Russia in spreading disinformation by claiming that the United States has been funding biological and chemical weapons labs in Ukraine.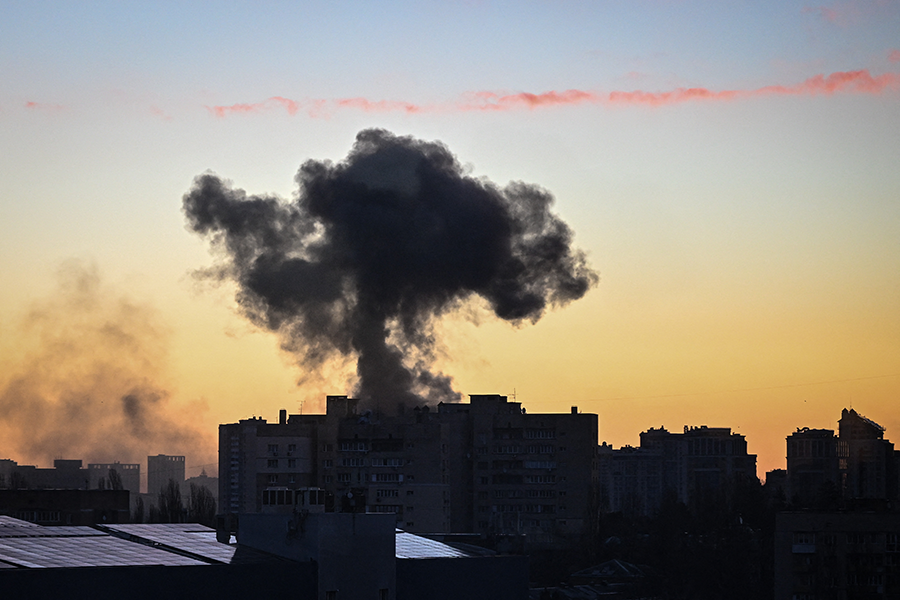 Putin and Xi have met 38 times since 2013 and issued a joint statement on Feb. 4 that underscored the close relationship between the two countries. Thus far, China has provided some humanitarian aid to Ukraine, but has yet to condemn the invasion or support what it calls "outrageous" sanctions against Russia.
China pledged in 2013 "to provide Ukraine with corresponding security guarantees" if Ukraine suffered a nuclear attack. This vague statement, ratified by the Chinese legislature in 2015, adds further uncertainty to Beijing's stance on the invasion.
Meanwhile, Russia has claimed that it used Kinzhal hypersonic air-launched ballistic missiles to destroy "a large underground warehouse of missiles and aviation ammunition of Ukrainian troops" in the Ivano-Frankivsk region in western Ukraine on March 18, as well as to strike a large fuel depot in the Mykolaiv region in southern Ukraine the following day.
Although these attacks would mark the first use of new hypersonic weapons in combat, Austin said on March 20 that even if Moscow's claim proved true, he would not view the use of the Kinzhal system as "a game changer."
Biden confirmed on March 21 that Russia did use a hypersonic weapon because "it's the only thing that they can get through [Ukraine's air defenses] with absolute certainty." Kirby later specified that the Pentagon ascertained the use of a Russian hypersonic weapon "at least in one instance."
Russia's use of the Kinzhal system is "certainly possible" but, if true, would be "a bit of a head-scratcher" as to why these particular targets necessitated its use, a senior U.S. defense official said on March 21.
The Pentagon has assessed that the possible motivations behind the alleged use of the Kinzhal system could be that Moscow is running low on precision-guided munitions after launching more than 1,370 various missiles as of March 28, aiming to create some new momentum in the invasion, or wanting to gain leverage at the negotiating table.
Adding to the speculation, The Drive's War Zone reported on March 19 that the first supposed strike with the Kinzhal system did not occur in western Ukraine but in "a heavily bombarded rural area in the far eastern area of Ukraine." The news site also suggested that the Kinzhal missile was likely not used in this particular instance as claimed.
The Kinzhal system is believed to be an Iskander-M road-mobile, short-range ballistic missile modified for use on MiG-31K jets. The purported Kinzhal missiles used in March were conventional, although the system is thought to be dual capable.
Russia's war on Ukraine continues to creep closer to NATO borders, with the firing of an estimated 30 cruise missiles on a Ukrainian military training facility in Yavoriv, located about 15 miles from the Polish border, on March 13. The attack killed at least 35 people and injured 134.
The Russian fighter jets that carried out the attack took off from Saratov and were aiming for the International Peacekeeping and Security Center, which in the past has served as a site for U.S. and NATO troops to provide training for the Ukrainian military.
A few days later, Russia launched missiles at an aircraft repair facility near an airport in Lviv, a major city about 43 miles from Poland in western Ukraine.
"We will collectively defend and protect every inch of NATO territory," Biden said on March 24 following an emergency summit of NATO leaders in Brussels. But he has repeatedly emphasized that NATO will avoid direct confrontation between the alliance and Russia because doing so would lead to "World War III."
"We have a responsibility to ensure the conflict does not escalate further because this would be even more dangerous and more devastating," NATO Secretary-General Jens Stoltenberg said after the summit. The alliance also announced four new battlegroups in Bulgaria, Hungary, Romania, and Slovakia, in addition to those in Poland and the Baltics.
Ukrainian and Russian diplomatic delegations have met multiple times over the first few weeks of the war, but details of their discussions have been murky. Ukrainian President Volodymyr Zelenskyy said on March 20 that he stands prepared to negotiate directly with Putin. "Without negotiations, we cannot end this war," he said.