April 2022
By Leanne Quinn
Amid growing concerns that Russian President Vladimir Putin could use weapons of mass destruction (WMD) in Ukraine, the Biden administration has gathered behind the scenes a group of national security officials to prepare potential responses should chemical, biological, or nuclear weapons be deployed.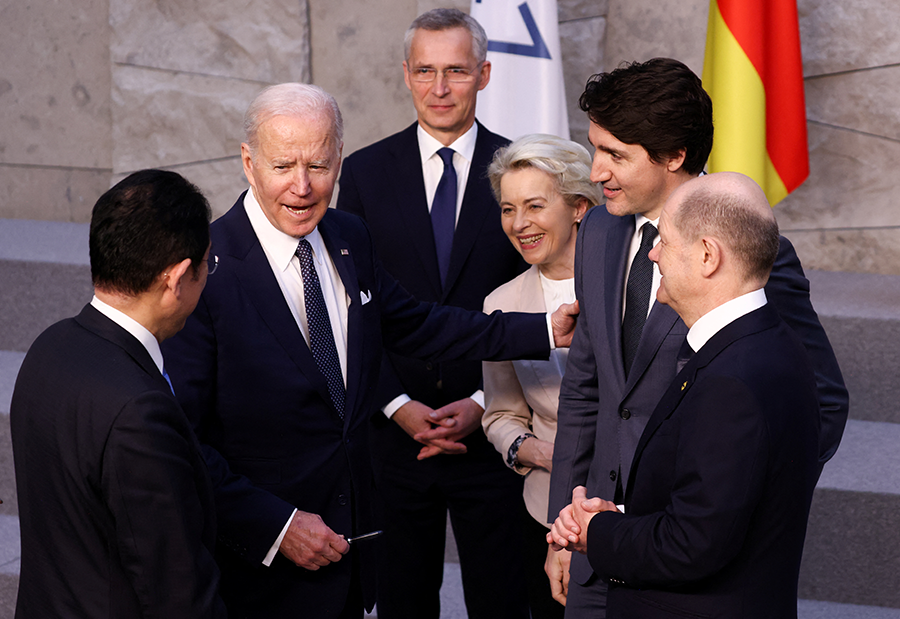 Dubbed the Tiger Team, the group also is brainstorming options for the United States and NATO if Russian forces go beyond the Ukrainian border and attack a NATO member in a strike against a convoy carrying weapons and aid to Ukraine. The team meets three times a week in classified sessions, according to a March 23 report by The New York Times.
U.S. President Joe Biden has said that, desperate over Russia's failure to dominate in the war against Ukraine, Putin could be preparing to use chemical or biological weapons in battle.
Putin's "back is against the wall, and now he's talking about new false flags he's setting up, including asserting that we in America have biological as well as chemical weapons in Europe. Simply not true," Biden said on March 21 at a Business Roundtable event.
"They are also suggesting that Ukraine has biological and chemical weapons in Ukraine. That's a clear sign he's considering using both of those," he said.
Ahead of an emergency meeting of NATO leaders in Brussels on March 24, Biden and NATO Secretary General Jens Stoltenberg put the focus on growing evidence that Russia was preparing to use chemical weapons. Stoltenberg said NATO would give Ukraine special equipment to help protect against chemical, biological, radiological and nuclear threats.
Their comments came as Russian forces struggled to make progress in their increasingly brutal assault on Ukraine, which began on Feb. 24.
Russia is a signatory to the Chemical Weapons Convention (CWC) and to the Biological Weapons Convention, which outlaw those armaments. As recently as January, Russia joined the United States and other major nuclear-weapon states in declaring that "a nuclear war cannot be won and must never be fought."
Speaking at a U.S. Senate hearing on March 10, CIA Director William Burns stated that Russia's use of chemical weapons "either as a false flag operation or against Ukrainians" is a possibility. The Russians have "used those weapons against their own citizens, they've at least encouraged their use in Syria and elsewhere, so it's something we take very seriously," Burns said.
Russia could potentially employ chemical weapons in a variety of ways. Russia could use a chemical weapon
"for assassinations against military and political leadership, … to clear buildings, [or] on the military battlefield. They could use it to go after bomb shelters because chemical agents can penetrate into buildings," Andrew Weber, a top nonproliferation official in the Obama administration, said during an MSNBC interview.
Biden stated on March 11 that "Russia would pay a severe price if they used chemical weapons."
When asked at a March 14 press briefing what those consequences could entail, White House spokesperson Jen Psaki responded, "[T]that would be a conversation that we would have with our partners around the world." She predicted there would be a "severe reaction from the global community."
In a March 16 telephone call, U.S. National Security Adviser Jake Sullivan delivered a similar warning to Nikolai Patrushev, secretary of the Russian Security Council, about the "consequences and implications" of any possible Russian decision to use chemical or biological weapons in Ukraine.
The United States and Russia have been publicly trading allegations about chemical and biological weapons across multiple international forums.
In December 2021, Russian Defense Minister Sergei Shoigu claimed that U.S. military contractors were secretly smuggling chemical weapons components into Ukraine for mercenaries to use. Russia did not provide any evidence to back up its claim, which the United States and Ukraine have categorically denied.
Pushing the issue further, Russia called for a special meeting of the UN Security Council on March 11 to discuss Russian claims that Ukraine was attempting to "clean up" traces of a military biological program funded by the United States. Vasily Nebenzya, Russian ambassador to the United Nations, charged that the United States operates at least 30 biological weapons laboratories in Ukraine.
At the UN, U.S. Ambassador Linda Thomas-Greenfield insisted "there are no Ukrainian biological weapons laboratories supported by the United States, not near Russia's border or anywhere." She confirmed that the United States has supported Ukraine's public health laboratory infrastructure, which played an important role in assisting Ukraine's COVID-19 response, but said none of these labs has anything to do with biological weapons.
Izumi Nakamitsu, the UN undersecretary-general and high representative for disarmament affairs, also dismissed the Russian claims. "The United Nations is not aware of any biological weapons programs" in Ukraine, she told the Security Council meeting.
During a meeting of the Organisation for the Prohibition of Chemical Weapons (OPCW) Executive Council on March 8–11, the United States and 48 other nations sponsored a joint statement condemning Russian disinformation about chemical weapons in Ukraine.
Joseph Manso, the U.S. ambassador to the OPCW, called Russia's allegations against the United States "preposterous" and said Russia's disinformation campaign was "a means to distract from its transgressions and aggressions." In an attempt to underscore the U.S. commitment to the CWC, Manso announced that the United States would host a virtual chemical demilitarization transparency event on March 22 for OPCW delegates. That meeting, led by Bonnie Jenkins, the U.S. undersecretary of state for arms control and international security, highlighted the progress the United States has made in destroying its chemical weapons stockpile and reaffirmed that the destruction efforts would be finished by the treaty-mandated deadline of September 2023.
As a member state of the CWC, the international treaty that bans the use or stockpiling of chemical weapons, Russia was obligated to destroy its chemical weapons arsenal. The OPCW verified that Russia finished destroying its declared stockpile of 40,000 metric tons in September 2017.
Despite this, the U.S. State Department said in April 2021 it "cannot certify that Russia has met its obligations for its complete declarations" of its chemical weapons production and development facilities and stockpiles. The United States and other Western governments have accused Russia of the attempted assassination of Russian defector Sergei Skripal and his daughter Yulia in 2018 and of Alexei Navalny, Russia's leading opposition leader, in 2020. A chemical nerve agent called Novichok was used in both cases.