April 2022
By Daryl G. Kimball
Russian President Vladimir Putin's decision to launch a massive assault on independent, democratic, non-nuclear Ukraine has unleashed a war that has killed thousands, displaced millions, and raised the risk of nuclear conflict.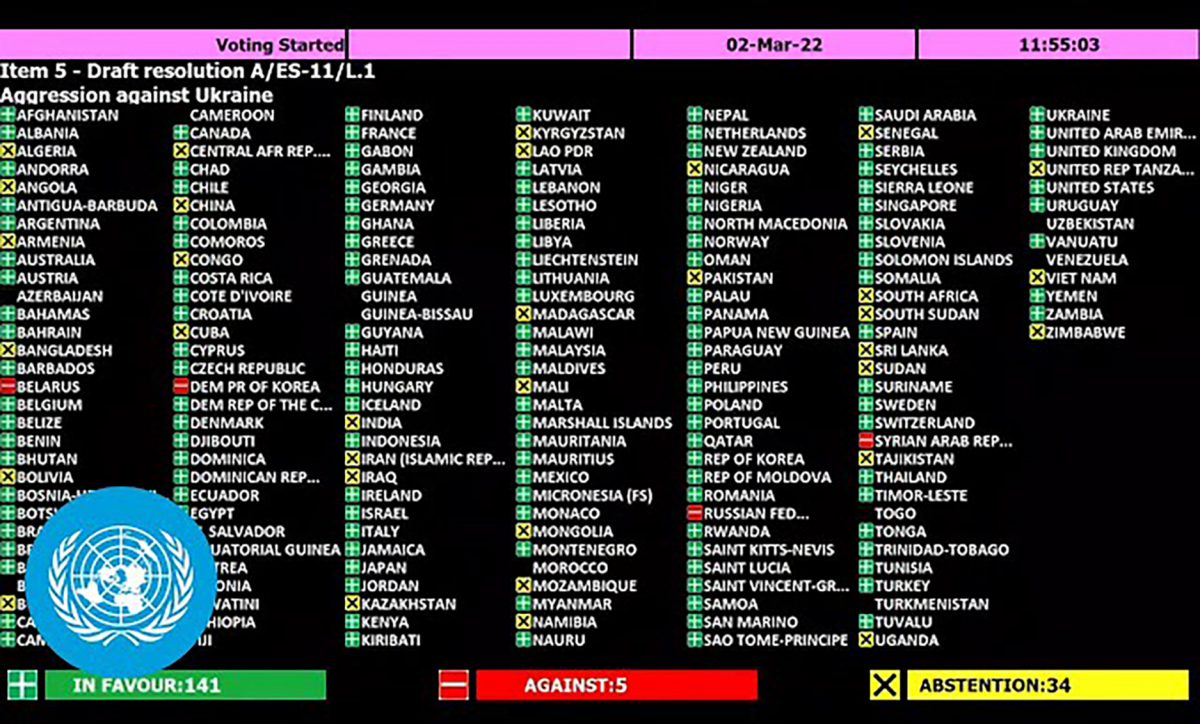 Instead of reverting to destabilizing Cold War-era behaviors, leaders and concerned citizens in the United States, Europe, and elsewhere need to embrace new thinking and strategies about nuclear weapons and disarmament that move the world from the shadow of nuclear catastrophe.
Putin and other Russian officials have made implied nuclear threats and put their strategic nuclear forces on a heightened state of readiness to ward off a direct U.S. or NATO military intervention in Ukraine. It is not a new or uniquely Russian idea. U.S. officials also claim that U.S. strategic nuclear forces create "maneuver space" to "project conventional military power."
Nuclear threats and alerts were not uncommon and were no less dangerous during the Cold War. Such rhetoric and orders to raise the operational readiness of nuclear forces can be misinterpreted in ways that lead to nuclear countermoves, escalation, and a nuclear attack.
Biden wisely has not matched Putin's nuclear taunts, but the risk of escalation is real. A close encounter between NATO and Russian warplanes, which could result if NATO imposed a no-fly zone in Ukraine, could lead to a wider conflict. Because Russian and U.S. military strategies reserve the option to use nuclear weapons first against non-nuclear threats, fighting could quickly go nuclear.
Russian nuclear doctrine states that nuclear weapons can be used in response to an attack with weapons of mass destruction or if a conventional war threatens the "very existence of the state." Right now, these conditions do not exist. But if the Kremlin believes a serious attack is underway, it might use short-range, tactical nuclear weapons to tip the military balance in its favor.
Unfortunately, U.S. President Joe Biden's new Nuclear Posture Review states that the "fundamental role" of the U.S. arsenal will be to deter nuclear attacks while still leaving open the option for nuclear first use in "extreme circumstances" to counter conventional, biological, chemical, and possibly cyberattacks.
There is no plausible military scenario, and no legally justifiable basis for threatening or using nuclear weapons first, if at all. Once nuclear weapons are used between nuclear-armed states, there is no guarantee it will not lead to an all-out nuclear exchange.
New thinking is needed. The adoption of policies prohibiting the first use of nuclear weapons would increase stability. But even that would not eliminate the dangers of nuclear deterrence strategies and arsenals, which depend on maintaining the credible threat of prompt retaliation in response to a nuclear attack.
U.S. and European citizens need to mobilize and press their leaders to pursue even bolder initiatives to steer the nuclear possessor states away from nuclear confrontation and arms racing.
For example, UN General Assembly members, particularly those who negotiated the 2017 Treaty on the Prohibition of Nuclear Weapons, should consider a "uniting for peace" resolution in response to the immediate threat of nuclear use. Such resolutions have been used in rare cases when the UN Security Council, lacking unanimity among its five permanent, nuclear-armed members, fails to act to maintain international peace and security.
Such a resolution could build on the March 2 vote in the General Assembly condemning Russia's invasion and Putin's decision to increase the readiness of his nuclear forces and would recall the assembly's declaration of November 1961 that said that "any state using nuclear…weapons is to be considered as violating the Charter of the UN, as acting contrary to the laws of humanity and as committing a crime against mankind and civilization."
An updated resolution could declare that the use or threat of use of nuclear weapons is contrary to international law and mandate negotiations on legally binding security guarantees against unprovoked attacks from states possessing nuclear weapons.
The resolution could mandate that any state that initiates a nuclear attack shall be stripped of its voting privileges at the United Nations and recommend collective measures to restore the peace under Chapter VII of the UN Charter. Such an initiative would reinforce the nuclear weapons taboo at a critical juncture.
Responsible states must also come together on a meaningful disarmament plan at the nuclear Nonproliferation Treaty (NPT) review conference in August. Although Putin's war has derailed U.S.-Russian talks for now on further cuts in their bloated strategic arsenals and new agreements to limit short- and intermediate-range nuclear weapons systems, they are still bound by their disarmament obligations under Article VI of the NPT.
The last remaining U.S.-Russian arms reduction agreement, the New Strategic Arms Reduction Treaty, expires in 2026. Without commonsense arms control guardrails, the dangers of unconstrained global nuclear arms racing will only grow.
Putin's war on Ukraine is a sobering reminder that outdated nuclear deterrence policies create unacceptable risks. The only way to eliminate the danger is to reinforce the norm against nuclear use and pursue more sustainable path toward their elimination.