January/February 2022
By Jeff Abramson
Despite continuing controversy over U.S. military assistance to Saudi Arabia, a divided Congress in December failed to block the sale of air-to-air missiles to Riyadh and to prohibit some support for the Saudi war in Yemen. Critical to the debate was what constitutes "offensive" weaponry and military action.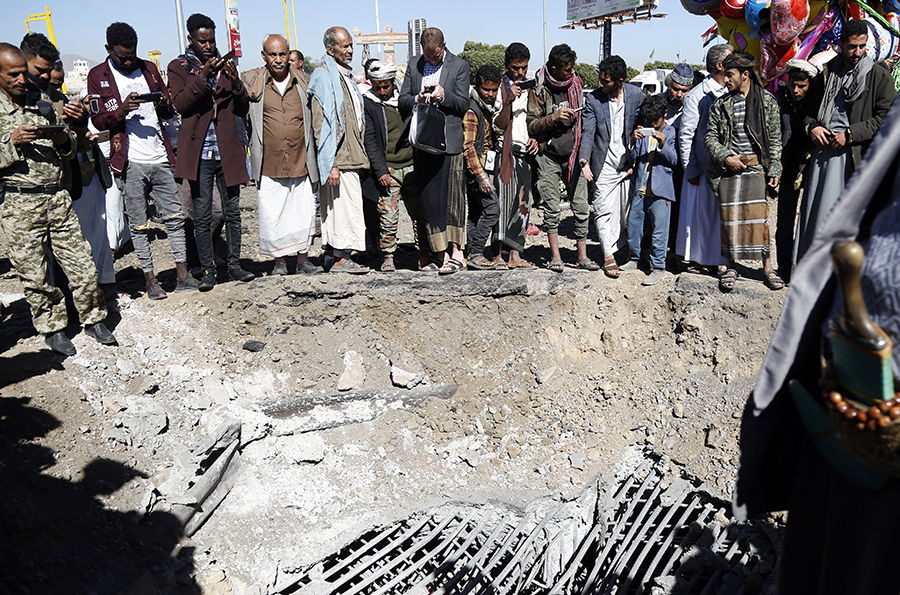 The Biden administration notified Congress in early November of its desire to sell 280 Advanced Medium Range Air-to-Air Missiles and associated launchers to Saudi Arabia for $650 million. Amid intense debate about the sale, the administration made clear that it believed the deal was consistent with President Joe Biden's Feb. 4 pledge to end support for "offensive operations" in the war in Yemen, where a Saudi-led coalition has been fighting with the Houthi rebels since 2015. The administration claimed in a Dec. 7 policy statement and elsewhere that the missiles could not be used against ground targets and that "Saudi Arabia uses these munitions to defend against aerial cross-border attacks, such as Houthi explosive-laden drones."
The Houthis and the Saudi-led coalition have been accused of atrocities in the Yemen war, which in 2021 was marked by the continued advance of Houthi forces, especially around Marib, and by Saudi-led airstrikes. The Houthis do not have an air force, but have used drones in attacks on Saudi Arabia. The Saudi-led coalition has continued a controversial blockade of Houthi-controlled sea- and airports, exacerbating the humanitarian crisis in the country.
Opponents of the air-to-air missile deal generally cited reasons other than whether these were "defensive" weapons. On Nov. 12, Rep. Ilhan Omar (D-Minn.), who introduced a resolution of disapproval for the sale in the House, said, "It is simply unconscionable to sell weapons to Saudi Arabia while they continue to slaughter innocent people and starve millions in Yemen, kill and torture dissidents, and support modern-day slavery." Sens. Rand Paul (R-Ky.), Mike Lee (R-Utah) and Bernie Sanders (I-Vt.) introduced the Senate resolution on Nov. 18, arguing in part that the war was not approved by Congress and the weapons would reward Saudi bad behavior inside the kingdom, as well as exacerbate suffering in Yemen. The senators were later joined by six Democratic co-sponsors, many of whom had signed a letter in May encouraging Biden to "leverage all influence and tools available, including the potential impact on pending weapons sales…to demand that Saudi Arabia immediately and unconditionally stop the use of blockade tactics."
On Dec. 7, a majority of Senate Democrats, including Majority Leader Chuck Schumer (D-N.Y.), voted to advance the resolution of disapproval. No Republicans, aside from Paul and Lee, supported the resolution, which failed by a 30–67 vote.
Sen. Chris Murphy (D-Conn.), who had co-sponsored numerous bipartisan resolutions of disapproval during previous administrations, did not support the resolution. (See ACT, January/February 2021.) Also not supporting the resolution was Senate Foreign Relations Chair Bob Menendez (D-N.J.), who said in a statement, "The weapons up for discussion today are being used in this context to defend against these aerial attacks. As air-to-air missiles, they are largely incapable of attacking civilian targets or infrastructure, a critical factor in my decision to support this sale."
Menendez added that protecting civilians remained a priority and that he would continue to hold up other sales to Saudi Arabia, indicating "there are many other sales that have not moved forward, that
I have not permitted to get out of the [c]ommittee." Although he did not say what these sales might be, his comments suggest that so-called offensive weapons that could more easily be used against civilians would remain controversial to influential Democratic senators such as himself.
Separately, in the National Defense Authorization Act for fiscal year 2022 approved in December, Congress extended prohibitions on in-flight refueling by U.S. military planes of Saudi and other non-U.S. aircraft active in hostilities in Yemen. But the final version of the legislation did not retain measures that had been in the House version that prohibited support to offensive operations more broadly. Instead, the measure contained a policy statement on protecting civilians and required a report on whether Saudi Arabia had "undertaken offensive airstrikes...resulting in civilian casualties." (See ACT, November 2021.) In a November policy statement, the Biden administration argued that stronger prohibitions were not needed because it "already has ceased support for Saudi-led coalition offensive operations in Yemen."