November 2021
By Julia Masterson
North Korea claims to have conducted its first test of a new hypersonic missile, an achievement of "great strategic significance," according to state media. The Hwasong-8 missile is presumed to be capable of carrying a nuclear or conventional warhead.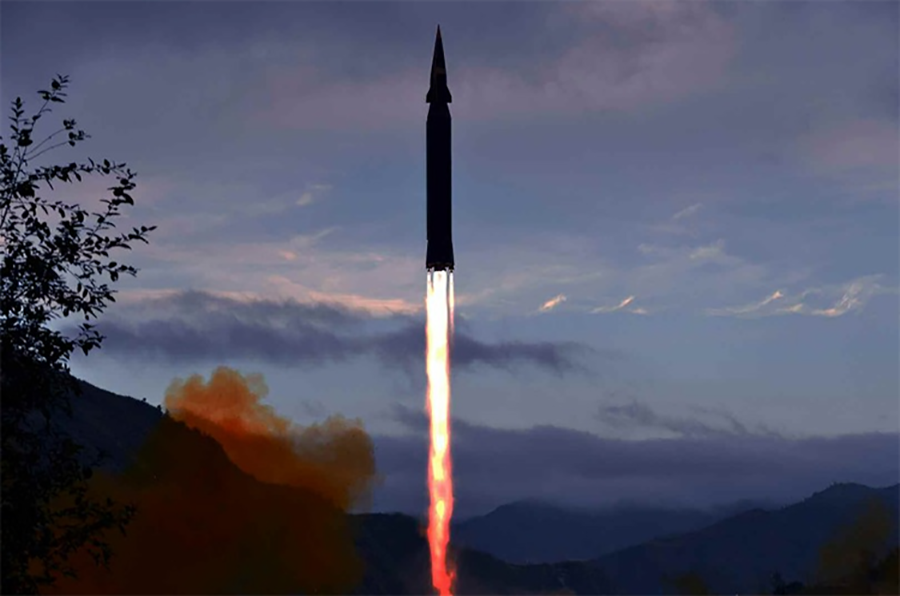 Following the Sept. 28 test, North Korean state media said that development of the hypersonic missile was "one of 5 top-priority tasks facing the strategic weapon sector" and released a photograph of the launch, which showed a vehicle resembling the shape of a hypersonic glide vehicle on top of a shortened version of an intermediate-range ballistic missile. Glide vehicles are a new type of hypersonic weapon, which can fly at least five times the speed of sound and are distinguished from traditional ballistic missiles by their ability to maneuver and operate at lower altitudes.
North Korea claimed that "the test results proved that all the technical specifications met the design requirements."
North Korean leader Kim Jong Un first alluded to the new hypersonic weapon in January 2021 during the 8th Party Congress of the Workers' Party of Korea. A "hypersonic gliding warhead" featured on a longer wish list of strategic weapons, including tactical nuclear weapons, a new intercontinental ballistic missile (ICBM), and a military reconnaissance satellite.
Because of their increased speed and greater maneuverability, hypersonic missiles are well equipped to evade ballistic missile defenses. In their analysis of the launch, South Korean military officials assessed that North Korea's hypersonic missile appears to be in the early stages of development and is unlikely to be fielded in the near future. But once operational and deployed, a North Korean hypersonic missile, especially one paired with a nuclear warhead, could pose significant strategic risks to the region.
The South Korean Joint Chiefs of Staff said in a statement that U.S.-South Korean joint military assets remain capable of detecting and intercepting North Korean missiles.
The U.S. intelligence community is still completing its analysis of the launch, but Gen. Glen Vanherck, commander of U.S. Northern Command, said on Sept. 30 that "right now, it would be my assessment that the homeland would be safe and secure from a hypersonic capability as North Korea claims they have tested."
The Hwasong-8 contains a fuel ampoule, a technology that allows for liquid-fueled missiles to be filled during production and stored in airtight canisters, thus rendering them launch ready. Missile experts have described North Korea's adaptation of a fuel ampoule as a "big step" and a "significant milestone." According to a statement released Sept. 28 by KCNA, Pyongyang's state media, all North Korean missile fuel systems will be transitioned to ampoule use.
The Sept. 28 launch marked North Korea's third missile test of the month. North Korea also tested new cruise missiles and ballistic missile delivery system in September. (See ACT, October 2021.)
During a meeting of defense officials on Oct. 11, Kim displayed a cache of ICBMs while condemning the United States and South Korea for causing tension in the region. Kim pledged to continue developing advanced strategic weapons systems as outlined during the January 2021 party congress, but insisted they would all be self-defensive in nature.
Pyongyang's first hypersonic test also came in the wake of a speech by Kim Song, North Korean permanent representative to the United Nations, on Sept. 27 before the UN General Assembly.
"Our state is a growing reliable deterrent that can control the hostile forces in their attempts for military invasion," he said. But he was careful to note that Pyongyang "would never violate nor endanger the security" of the United States and South Korea and North Korea's other neighbors.